New 'Cobra Kai' Teaser Trailer: How Does Daniel LaRusso Fit Into 'The Karate Kid' Sequel Series?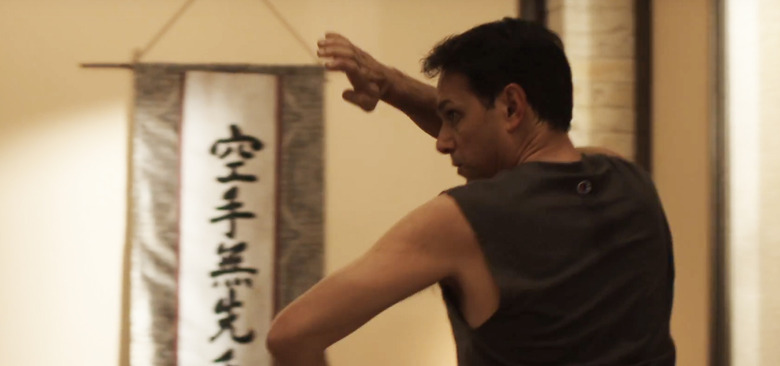 It looks like YouTube is going to keep teasing The Karate Kid sequel series Cobra Kai little by little until they announce the release date. Ralph Macchio returns as Daniel LaRusso, the title character from the 1984 movie, while William Zabka reprises his role as bully Jonny Lawrence. But the tables may be a little turned this time.
Jonny decides to repoen the Cobra Kai dojo that once gave his life purpose, something he's struggled to find in his older years as a septic tank cleaner who has a somewhat depressing existence. However, that decision doesn't sit too well with Daniel LaRusso for some reason. A new Cobra Kai trailer shows us this new dynamic.
Watch the Cobra Kai Trailer
It looks like karate is still very much a part of Daniel LaRusso's life, even though he now also runs a car dealership with his wife (Courtney Henggeler). We get to see a glimpse of him at work at that dealership, where he apparently brings karate to the sales floor when it's required. In this case, he kicks a drink out of the hand of someone who was likely mocking his skills.
However, maybe the tables have turned a bit and Daniel LaRusso becomes the bully in this story. After all, it looks like he rubs Jonny's face in the victory he claimed over him all those years ago. And again, for some reason, he's totally against the opening of the Cobra Kai dojo. Maybe he thinks that Jonny will just train a new generation of bullies.
In reality though, it seems Jonny is doing some good by taking a convenience story clerk named Miguel, who is being bullied himself, under his wing. Xolo Maridueña plays the young trainee, making Lawrence a mentor.
Meanwhile, Daniel has a daughter who he appears to be training with in a quick shot. Her name is Samantha and she's played by Mary Mouser. Is there a chance that romance could spark between her and Miguel? Or will they become rivals like their fathers once were? That remains to be seen.
Josh Heald (Hot Tub Time Machine) wrote Cobra Kai with Harold & Kumar franchise creators Jon Hurwitz and Hayden Schlossberg, and they're all executive producing the series with Susan Ekins, Will Smith, James Lassiter, and Caleeb Pinkett.
There's no specific release date for Cobra Kai yet, but it'll hit YouTube Red sometime this year.