At Least Two 'Dune' Films Are Being Planned By Denis Villeneuve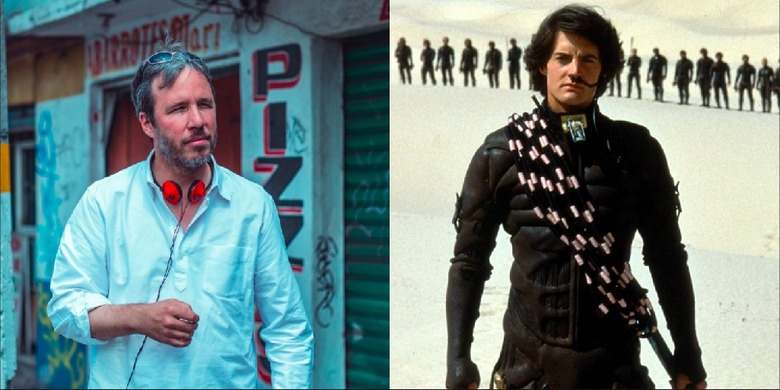 Denis Villeneuve is in the sci-fi community's good graces after tackling the behemoth that was Blade Runner 2049 with elegance and nuance. For his next project, the French-Canadian director has long set his sights on an even more daunting project: Dune.
First brought to the big screen by David Lynch in 1984's poorly received adaptation, Frank Herbert's novel is considered one of the greatest works of science-fiction, and one that is essentially unfilmable. But the Villeneuve Dune remake may have a solution to that.
While speaking at the Montreal's Place des Arts' Théâtre Maisonneuve for the Rendez-Vous du Cinema Quebecois this week, Villeneuve gave an update on his Dune remake (via The Playlist):
"Dune will probably take two years to make. The goal is to make two films, maybe more."
Fans of Herbert's novel can breathe a sigh of relief. The 1965 novel is a famously dense work of fiction filled with political, scientific, and social themes that any director would have trouble condensing into a two-hour film. The Playlist notes that the book also features a significant time jump, which would make an ideal place to split the story — similar to Warner Bros. and the It adaptation.
Indeed, lengthy sci-fi films may just be Villeneuve's style. His original Blade Runner 2049 cut came in at four hours long, and the director even flirted with the idea of cutting the film into two parts.
Dune's book sequels are equally dense, expanding the world introduced in Dune and spanning generations. It's unclear whether Villeneuve will adapt the entire Dune franchise, or stick solely to the original novel. But if he does, this franchise could end up stretching over 10 films!
There's little known otherwise about Villeneuve's adaptation — other than his polarizing comments that his Dune will be a "Star Wars for adults" — as the film is still in the early stages of development.
Dune has long been a passion project of Villeneuve's. The director has been working on the film adaptation for more than a year, with screenwriter Eric Roth boarding the project last spring.
Villeneuve will be the latest director to attempt to bring Dune to life. Lynch's 1984 feature film starring Kyle MacLachlan is an infamous blip on the prestigious director's career, and a highly ambitious adaptation by avant-garde director Alejandro Jodorowsky only spawned a fascinating documentary about how it failed. SyFy also produced a popular miniseries called Frank Herbert's Dune in 2000 and a 2003 sequel Frank Herbert's Children of Dune.