/Answers: Our Favorite "Kids On An Adventure" Movies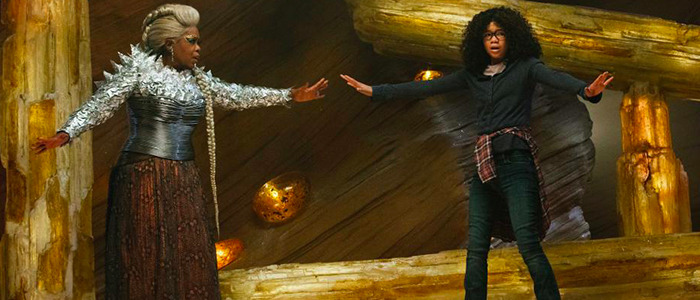 Every week in /Answers, we answer a new pop culture-related question. In this edition, we celebrate the release of A Wrinkle in Time by asking "What is your favorite 'kids on an adventure' movie?"
Vanessa Bogart: Stand By Me
While there are many colorful tales of children expressing their imaginations through impossible journeys and learning powerful life lessons through magic and wonder, my favorite childhood adventure was always the one about the four foul-mouthed boys in 1959 who go on a long trek to find the body of a dead boy.
Based on a novella by Stephen King, Stand By Me is a raw and unfiltered coming-of-age story in the way that only King can write. The tender moments between Gordie (Wil Wheaton), Chris (River Phoenix), Teddy (Corey Feldman), and Vern (Jerry O' Connell) are made all the more sincere in contrast to the crass humor, uncomfortable language, and dark subject matter. Stand By Me taught me something new every time I watched it throughout my adolescence. There was a good 10 year period growing up where it felt like an ever-changing and evolving movie that perfectly formed around whatever life-lesson that I didn't know I needed at the time.
Having guided me into adulthood, I can now watch Stand By Me as a perfectly complete film, fully illuminated with everything I learned from it.
Chris Evangelista: The Monster Squad
While most people my age seem to hold The Goonies up as the ultimate "foul-mouthed kids go on a life-threatening adventure" flick, I've never really cared for the film. It's loud, it's overblown, and the kids are constantly yelling over each other at once. I was not a Goonies kid.Instead, my allegiances were with The Monster Squad, the 1987 Fred Dekker film written by Shane Black. Perhaps it was because I was obsessed with monsters, particularly of the Universal Pictures variety, but The Monster Squad has had a special place in my heart ever since I first saw it. And best of all, it still holds up. And not in a nostalgic, rose-colored-glasses sort of way. No, the film is well made – equally funny and scary, with some pretty gory special effects.Best of all: it's kind of sweet. Even now, as a cynical, cold-hearted adult, I can't help but tear up when the film lays on the emotional moments between Phoebe and her best friend, Frankenstein (the monster, not the doctor).The plot: monsters – Dracula, the Wolfman, The Mummy, the Creature from the Black Lagoon, and yes, Frankenstein's Monster – are all real, and they're all hanging out in one particular California town. The only ones who can stop these creatures of the night are a gang of horror-movie obsessed kids. It's scary, it's funny, it's often very offensive and dated (it was the '80s), but most of all, it's a hell of a lot of fun.
Ethan Anderton: Last Action Hero
Yes, this movie is undoubtedly flawed thanks to studio interference and some missed opportunities. But the premise of this movie and the final cut we got is exciting and promising enough that I can't help but love how ambitious it is. You could even call it Ready Player One before Ernest Cline ever even imagined creating his own virtual pop culture mash-up.
Last Action Hero imagines a world in which the characters of movies essentially exist in the same universe. The logistics of this particular world offer up some inconsistencies, with Sylvester Stallone taking the place of the real Arnold Schwarzenegger in movies like Terminator 2: Judgment Day. But a world where the rules and tropes of a movie are commonplace as the confines of reality is so much fun. Then take a kid who is obsessed with movies and throw him into that world and you've got a fun formula for a movie and one hell of an adventure for another kid to daydream about.
Even though Last Action Hero isn't executed to its full potential, having Arnold Schwarzenegger play around with his big screen persona is enough to keep it entertaining. While the third act opens up infinitely more possibilities than it has time to explore, when I was a kid (seven years old at the time this movie came out), the idea of entering the world of movies was a dream come true, and I'll always love this entertaining but flawed adventure.
Jacob Hall: Where the Wild Things Are
Spike Jonze's Where the Wild Things Are is unlike any other "kids on an adventure" movie ever made, mainly because it's not a movie made for kids. Despite being based on a beloved children's book, Jonze made a movie for adults. Adults who read Where the Wild Things Are when they were young. Adults who remember the pain and joy of childhood. Adults with the capacity to look back  and reflect on the strange beauty and raw terror of what it's like to be young. Childhood is about infinite discovery, but it's also about not knowing anything. The world is huge and you're lost in the dark without a flashlight. All you can do is dream and scream, play and rebel. Being a kid is a miracle...but it hurts.
Jonze brilliantly uses Maurice Sendak's tale of a boy and his monster friends to remind us of what it was like to be a kid. The hulking creatures, triumphs of visual effects, stand in for us and everyone we knew: goofy, fun-loving animals who are unaware of the pain they cause and don't know how to deal with the hurt they feel. Where the Wild Things Are is a difficult movie, and that meant it was a box office disappointment when it hit theaters in 2009, but time has been kind to it. It's a remarkable film that's less about kids on an adventure and more about what it feels like to be a kid on an adventure. Kids will probably hate it. And then they'll grow up. And they'll see themselves in it. And they will remember.
Hoai-Tran Bui: The Goonies
Murderous gangs, treasure maps, and of course, kids on bikes. It's the holy trifecta of a great "kids on an adventure" movie, and it's the reason why The Goonies is such a non-stop, delightful ride. While it doesn't quite have the elegance of the era's foremost kid adventure movie, E.T., The Goonies holds a special place in my heart. Because it's just so darn silly.
The Goonies feels like it was made for kids by kids. The story, about a group of friends who go on a hunt for legendary pirate treasure to stave off a development forcing them out of their homes, is exactly what a child would imagine a real adventure to be. Led by a baby Sean Astin and Josh Brolin in his first role, the group of teens has a crackling chemistry that you can't replicate. Many kid adventure movies follow a hero who's an outcast or a loner, but this never feels like the case here. The Goonies is about community, and a group of friends who stay together through thick and thin — even if a few of the older kids feel like bonafide babysitters.The Goonies doesn't take itself too seriously, which is what makes it so paramount in this particular genre. The stakes are high, but the dangers don't quite feel real — it's like going on a theme park ride where you know you will come out okay in the end. The villainous Fratellis are cartoonish at best, and the abundance of skeletons that the kids run into only makes The Goonies feel more like a fantasy. But what a great fantasy it is.
Matt Donato: The Pagemaster
Some 20-or-so years ago, my VHS copy of ?The Pagemaster? unraveled from being replayed on the regular. Spinning then rewinding, each watch an animated landscape of limitless adventure. Did I see myself as 10-year-old Richard Tyler, who lived a calculated life without peril? Not at the time, but looking back now helps illuminate why I was so drawn (ha) to Macaulay Culkin's literary soul-searching. My own risk-aversion ended up steering me towards dark fantasies with sinister illustrations, as I sought comfort in the words of Patrick Stewart, Whoopi Goldberg, and Frank Welker.
To no shock, Lil' Donato's favorite anthropomorphic novel sidekick was Horror (Welker) – his world ruled by Dr. Jekyll and Mr. Hyde (Leonard Nimoy). Adventure (Stewart) and Fantasy (Goldberg) earned their place as guardians of the library realms, but, unsurprisingly, Horror was my buddy. A misfit defined by his goofy nature, sometimes teased but still allowed to play hero. Because, yeah – deduce away at that meaning. Never sell cinema short and what it can mean to someone.
Plus, I'm the horror guy. Don't internet bylaws demand my commitment to brand?
The Pagemaster? is a dashing 1990s callback to cartoon designs that never sacrifice detail or composure. Whether not-real Richard faces Mr. Hyde, Moby Dick or Long John Silver's pirate crew, artist strokes sense danger and define overwhelming circumstances (Ahab's rage-red harpoon attack). Monsters are created from color and sketched lines in ways that CGI cannot replicate, most memorably as Moby Dick's incensed eyes charge furiously from the deep. These are the moments that gripped me as a child, granting a lively scare I didn't even know I was looking for – and what a (visual) page-turner it is.
Lindsey Romain: Adventures in Babysitting
The boys get the bulk of adventure-based movies (one of the reasons I'm so excited for A Wrinkle in Time), and while I love so many of them, my favorite of the genre is Adventures in Babysitting. I wanted to be Elisabeth Shue, the beautiful babysitter with her suburban-girl glamor. She was so cool, but so real to me; her beauty masking a downright anxious core, one that gets her and the kids she sits for into a whole mess of trouble. The characters don't chart some magical land or solve some beyond-their-years mystery. Instead, they get lost in inner-city Chicago and have to find their way home before their parents arrive.
It's a silly movie loaded with terrible Chicago stereotypes – knife fights on the El, drug dealers, car jackers, south side blues clubs – but it's imbued with so much heart and chutzpah that I love it anyway. It certainly doesn't make me miss babysitting, but it does make me miss being a kid like the youngest daughter, Sara, a delightful little weirdo who's obsessed with Thor and lost in the whimsy of her own imagination. To her, the city isn't a scary place, but some magical realm ripe for exploring. As a Chicagoan, I wish I could look at the city around me with that same innocence again. That's the power of a good adventure story. 
Ben Pearson: Attack the Block
A lot of the classics have already been picked by my fellow writers, so I'll go with something a little more modern. Joe Cornish's 2011 sci-fi comedy Attack the Block is as confident and exciting a directorial debut as I've seen in years. The film opens with a group of teen gang members terrorizing a young woman, but they quickly join forces when an alien invasion occurs near their crappy apartment building. Many films in this genre are pretty wholesome, but this ain't one of 'em. It's packed with drugs and swearing, but there's also a sweetness that permeates its characters' supposedly tough exteriors.
Attack the Block is an invasion story, but it's also about the responsibilities of growing up – especially for Moses, the gang's leader. John Boyega burst on the scene in a huge way with that role, mixing fun catch phrases ("Allow it!"), impressive physicality, and a deep sadness beneath his eyes; that combination instantly announced him as a star in the making. Through it all, the teen gang members (who have nicknames like "Pest," "Biggz," and "Mayhem") alternate between braggadocios swagger and being genuinely terrified by the neon-mouthed aliens that are hunting them. It's a magnificent sci-fi adventure film that I would have loved to have been obsessed with when I was 12 years old.