Vin Diesel To Star In 'Bloodshot' Movie Adapted From Valiant Comics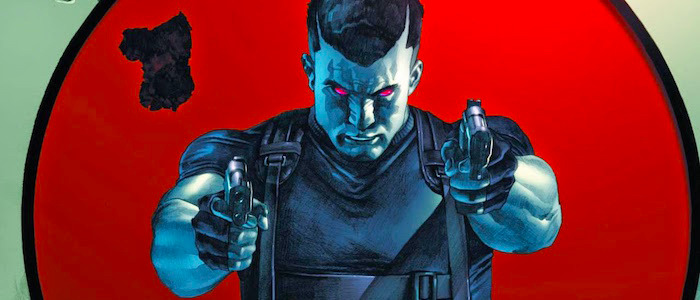 Vin Diesel is hitching himself to a whole new franchise. The Fast and the Furious, xXx and Guardians of the Galaxy actor will star in sci-fi action flick Bloodshot, adapted from the Valiant comic book series. More on the Bloodshot movie below.
Mr. Vin Diesel will lend his gravely voice and tough-guy persona to a new sci-fi/action film with franchise potential. Deadline reports Diesel will take the lead in Bloodshot, based on the Valiant comic book series of the same name. The film will be helmed by Dave Wilson, a frequent collaborator of Deadpool director Tim Miller.
Deadline says the film will be "in the tone of the classic 1980s tentpoles like Robocop, Terminator and Total Recall." Per ComicVine, "Bloodshot is a former soldier with powers of regeneration, technomancy and meta-morphing made possible through nanites injected into his blood. After escaping from his masters at Project Rising Spirit, Bloodshot seeks to discover his true identity and other purpose besides killing."
Bloodshot is just one character in the Valiant Expanded Universe. The character was created in the 90s by Kevin VanHook, Don Perlin, and Bob Layton. Eric Heisserer, who wrote the fantastic script for Arrival, is handling screenwriting duties.
Jared Leto was previously announced as being in-talks to play the film's villain, but there's been no new word on that. Disel's possible interest in the project was first announced back in January. Now, his involvement is official.
Bloodshot From Page To Screen
The character – a gun-toting super-soldier built-t0-kill – seems very much like a '90s comic book holdover. Hopefully Heisserer's script will bring some nuance to the whole affair. Heisserer previously spoke with /Film about his Bloodshot script:
"Hopefully, if we do everything right, the casual viewer, who might see a trailer or poster or something and make a snag judgment based on that...if they see enough advance buzz from tastemakers out there who say 'This is something very different and unique and you should take a look at it,' then I think we have a chance. And if it doesn't resonate with people like you out there, it's because we didn't differentiate ourselves enough or we leaned into a trope or some cliche that the titles themselves have a done an amazing job of avoiding. Hopefully, that never happens."
Heisserer added: "I'm actually really excited about Bloodshot. I've done some work...in fact, I've just turned in a draft with a director attached and I'm very excited to see if that moves the needle at Sony."
Valiant Comics has been hoping to break into Hollywood for a while now. Valiant characters may not be household names like Marvel and DC heroes, but there was a time when Deadpool wasn't a household name either. Now, everyone knows about the character and his penchant for poop jokes.
Bringing on Dave Wilson – who worked at Blur Studio, the visual effects and animation company co-founded by Deadpool director Tim Miller back in 1995 – gives Bloodshot a quasi-Deadpool-connection that Valiant no doubt approves of.
Sony hopes to start shooting Bloodshot in July.