New 'His Dark Materials' Adaptation Coming From Tom Hooper, Starring 'Logan' Actress Dafne Keen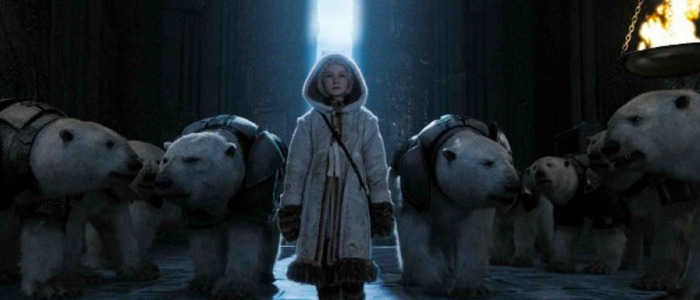 Philip Pullman's His Dark Materials series is getting adapted for the screen, again. The King's Speech director Tom Hooper will helm a new BBC adaptation of the YA fantasy series, and Logan breakout Dafne Keen will star. Also, rumor has it that Hamilton's Lin-Manuel Miranda has joined the cast as well. More on the new His Dark Materials adaptation below.
Pullman's His Dark Materials saga made the leap from page to screen in 2007 with The Golden Compass. The film was a disappointment, despite featuring a killer cast including Nicole Kidman, Daniel Craig, and Eva Green. At the time, studios were clamoring to adapt more YA books into film franchises to compete with the popular Harry Potter movies. Alas, The Golden Compass floundered at the box office, and the film series died before it could get started.
Now, Deadline reports His Dark Materials is getting another shot, thanks to The King's Speech director Tom Hooper. Dafne Keen, who made quite an impression as Laura in Logan, has been cast to star in Hooper's film as Lyra, the main character of the series. On top of that, Baz Bamigboye, a reporter for the Daily Mail, is claiming Hamilton's Lin-Manuel Miranda has joined the cast as well.
Exclusive: @Lin_Manuel cast as balloonist- adventurer Lee Scoresby in 8-part @BBCOne /@BadWolf_TV adaptation of @PhilipPullman #HisDarkMaterials @HisDarkMatTV .Shoots from this summer .Series to be directed by Oscar-winning director #TomHooper. pic.twitter.com/rlqL15JO0X

— Baz Bamigboye @Deadline (@BazBam) March 8, 2018
Entertainment Weekly says Miranda is "in talks" and "close to signing." They also confirm that the eight-part series will cover the three main books in the His Dark Materials series:  Northern Lights (1995, published as The Golden Compass in North America), The Subtle Knife (1997), and The Amber Spyglass (2000).
BBC One ordered the adaptation, penned by Wonder screenwriter Jack Thorne, in 2015. Since then, Hooper has been working behind-the-scenes to land the directing gig, and now he has it. In Philip Pullman's books, the main character Lyra lives in a parallel world in which human souls can take the form of lifelong animal companions. Here's a synopsis for the three main books:
These thrilling adventures tell the story of Lyra and Will—two ordinary children on a perilous journey through shimmering haunted otherworlds. They will meet witches and armored bears, fallen angels and soul-eating specters. And in the end, the fate of both the living—and the dead—will rely on them. Phillip Pullman's spellbinding His Dark Materials trilogy has captivated readers for over twenty years and won acclaim at every turn. It will have you questioning everything you know about your world and wondering what really lies just out of reach.
The books have religious undertones – the stories are inspired, in part, by Paradise Lost – and have met with a fair share of controversy. Religious groups have criticized the books for promoting atheism, and Pullman, for his part, hasn't shied away from the controversy. According to the author, the books aren't so much anti-God as they are anti-organized religion. Whether or not these potentially controversial themes will make it into Hooper's film remains to be seen.
The eight-part series is rumored to air on BBC One in late 2019 or early 2020.