Joker Origin Movie Will Use The Villain's Comedian Origins From 'The Killing Joke'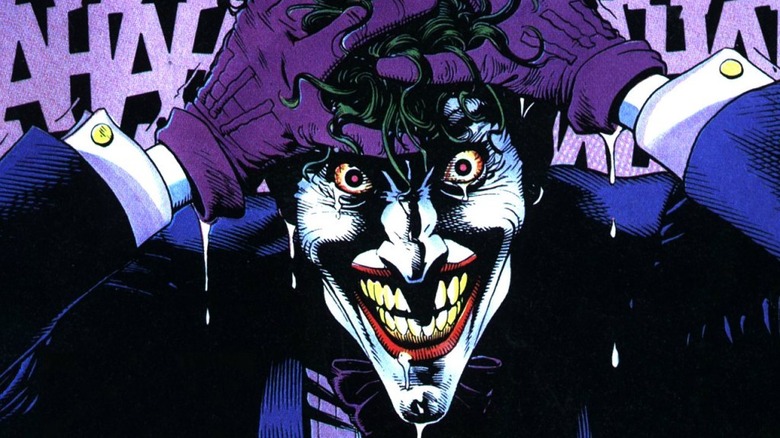 I'm still having trouble wrapping my head around the news that The Hangover director Todd Phillips is directing a Joker origin movie that's being executive produced by Martin Scorsese, because that combination sounds like something that sprang from a particularly unhinged game of Mad Libs. But now a new report sheds some light on how this version of the Clown Prince of Crime becomes the legendary villain we know and love – and it sounds like the film will be paying homage to one of the most famous Batman comics of all.
According to a new report from The Wrap, the untitled Joker origin movie "will portray Batman's arch-nemesis as a failed 1980s comedian" who develops the Joker persona after "bombing with audiences." That's straight out of The Killing Joke, the 1988 one-shot by writer Alan Moore and artist Brian Bolland which offers a similar origin story for the Joker. In that comic, we see flashbacks of the Joker as a failed stand-up comic who's basically forced into a life of crime. During a heist gone wrong, he falls into a vat of chemicals and transforms into the Joker as we know him today.
The Wrap points out that Martin Scorsese's involvement with this project now makes a lot more sense, considering Scorsese directed The King of Comedy, a 1983 film starring Robert De Niro as a delusional comedian who thinks he deserves major success. According to the site's insiders, the Joker origin movie "will include nods to" The King of Comedy. That's a little on the nose, isn't it? Then again, I guess the recent bunch of DC films haven't really cared too much about subtlety.
Joaquin Phoenix (Walk The Line, Her) is reportedly "close to a deal" to play the Joker in the movie, though only a week ago he was saying he had no idea that the film even existed. This prequel film is expected to be the first under a new banner of DC Films that will focus on spin-offs, prequels, and other stories set outside the timeline established in movies like Man of Steel, Wonder Woman, and Justice League. The untitled Joker origin movie is reportedly hoping to begin production in late 2018, but The Wrap cautions that rewrites from 8 Mile scribe Scott Silver could push it back a bit later than that.
Zack Snyder has always been a filmmaker who loves recreating iconic moments from comics on screen, and it seems as if his influence on the DC movies has extended to this project, which is pulling heavily from The Killing Joke. As long as Phillips and his team don't take this as an opportunity to attempt to adapt the entire Killing Joke comic into a movie, I'm interested in seeing what they do with this because the idea of the Joker once being a failed stand-up makes sense if you're trying to keep him in a grounded, somewhat realistic world. What do you think?