'Call Me By Your Name' Sequel Details Revealed, Actors Apparently Confirmed To Return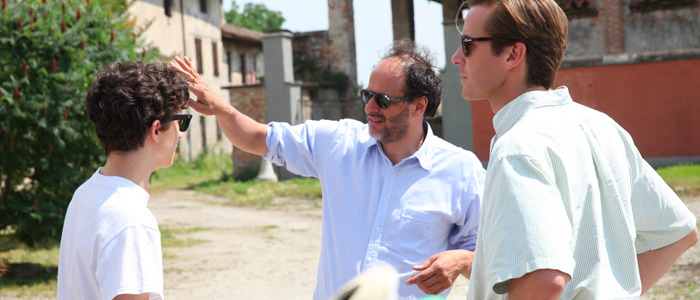 We've known that Call Me By Your Name, last year's romantic indie drama from director Luca Guadagnino, was going to get a sequel for a little while now. The filmmaker has mentioned it a few times, but only in vague terms – until last Sunday night on the Oscars red carpet. There he revealed some new Call Me By Your Name sequel details, and seemed to confirm that actors Armie Hammer and Timothee Chalamet will return to reprise their roles.
Speaking with USA Today, Guadagnino confirmed that he's already hard at work on a follow-up to his sensual indie romance, and provided a few more Call Me By Your Name sequel details:
"I'm already conceiving the story with André Aciman, and it's gonna happen five or six years afterwards, so almost in 1990. It's gonna be a new movie, a different tone. You'll see a lot of the East Coast of America – they're going to go around the world."
When pressed whether the original cast of Hammer and Chalamet will be coming back to play Oliver and Elio, Guadagnino responded, "Of course! How can we not?" But it's unclear whether that means that he and Aciman – who wrote the original novel on which the first film is based – are merely writing the film with those actors in mind, or if Hammer and Chalamet have literally already signed on to be a part of the sequel. They've all spoken very highly of their time filming together, so even if the actors aren't signed yet, I don't imagine it'll be too tough to convince them to reunite and continue the story.
Guadagnino previously teased the idea that he might actually end up making more than one Call Me By Your Name sequel, invoking Michael Apted's Up series of documentaries that revisit with the same subjects every seven years. It remains to be seen how long fans will have to wait to see Elio and Oliver reunite on the big screen. When asked when he expects to start filming Call Me By Your Name 2, Guadagnino simply said, "We have to get there with the script, but we will." Previously, though, the director mentioned that in three years, Timothee Chalamet's actual age would align with what Elio's age should be in this sequel, so we could be looking at a 2021 release.
Meanwhile, Guadagnino's next project is a remake of Dario Argento's 1977 Italian horror film Suspiria. "It's a movie about guilt, and it's about motherhood," the director told Variety about that project. "It has no primary colors in its color palette [unlike the original]. It's the opposite of Call Me. Call Me is light, warm, and summer-ish, and Suspiria is winter-ish, evil, and really dark."