'Ready Player One' Box Office Tracking Falling Short Of Expectations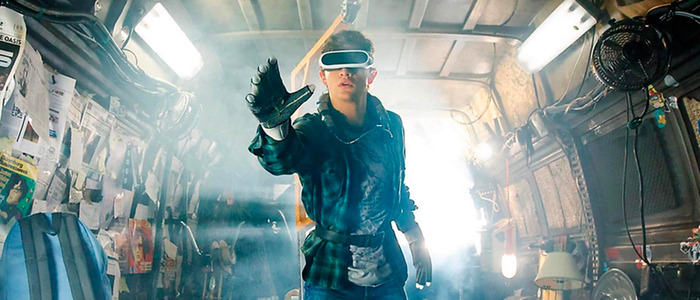 Despite an over-abundance of marketing, Steven Spielberg's Ready Player One is tracking for a disappointing $35 million-plus debut weekend. Warner Bros. had been hoping for something in the $50 million range, but that's growing increasingly unlikely. Perhaps if they added even more pop culture references that might help? More on the Ready Player One box office below.
Warner Bros. has been pushing Steven Spielberg's Ready Player One for months now. The marketing blitz began with a trailer at SDCC last July, and hasn't let up since. Yet The Hollywood Reporter reveals that Spielberg's pop-culture epic is tracking for a soft $35 million-plus debut at the North American box office for its impending Marc 29, 2018 release. That's far below the projected $50 million opening Warners were hoping for.
There's still plenty of time to make one last big marketing push for the film. There's a Ready Player One event set for SXSW, and rumor has it the movie will be the secret film screened at the festival. Positive word-of-mouth from SXSW could certainly increase interest in the film.
Box office isn't everything – there are plenty of great movies that fail to break even. Still, there was a sense that this might be a big blockbuster return for Spielberg, who has spent the last few years creating mostly adult-oriented dramas that garner rave reviews but don't set the multiplexes on fire. With it's barrage of special effects and numerous pop-culture references, Ready Player One seemed tailor-made to draw big crowds. On top of that, the Ready Player One is an adaptation of an Ernest Cline novel with a built-in fanbase. In short, everyone was hoping for a slam-dunk here.
Ready Player One Trailer
You can likely expect an increase in marketing as the film draws closer to opening. Then there's always a chance positive opening weekend buzz could give it legs and increase box office returns.
Ready Player One is set in the near future, and revolves around a virtual world littered with '80s pop culture references – some of which are taken directly from Spielberg's own movies – known as the OASIS. When the creator of the OASIS dies, players attempt to find an "Easter egg" hidden within the network that could lead to real-life riches.
In the near future, gamers compete inside a massive video game universe to find an "Easter egg" hidden by the network's recently deceased creator which promises real life riches. Wade Watts (Tye Sheridan) becomes the first player to successfully navigate the first level of the test, sparking a high-stakes international race to crack the game's code. Steven Spielberg directs this dystopian adventure based off the 2011 sc-fi novel by Ernest Cline.