'Outlaw Johnny Black' Trailer Promotes Crowdfunding Campaign For The 'Black Dynamite' Sequel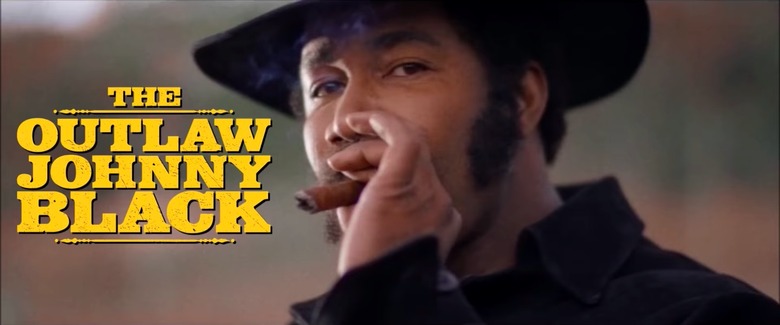 Black Dynamite who? Michael Jai White is now Outlaw Johnny Black, the gun-slinging cowboy about to tear a new satirical hole in the Western movie.
The Outlaw Johnny Black is the semi-sequel to the cult comedy classic Black Dynamite, a fantastic and uproariously funny satire of blaxpoitation movies. And now the first Outlaw Johnny Black trailer promises that the movie is coming soon. Eventually With your help.The Outlaw Johnny Black trailer promotes the film's crowdfunding campaign on Indiegogo and on White's own Jaigantic Studios site. Shot all in one day, the trailer gives us a taste of what the Western parody will be like, but don't get your hopes up yet. The movie is a long way from getting started.
Outlaw Johnny Black Trailer
"He's a hootin', tootin', six-gun shooting, romancing, rain-dancing, horse-prancing, card-dealing, faith-healing, land-stealing, unruly and truly groovy kind of guy."
Shot in a day, the Outlaw Johnny Black trailer definitely captures the over-the-top tone of the original Black Dynamite, introducing a hero who fights hard and loves harder. It's charmingly low-budget, but it totally works as a parody of classic Western blaxploitation films — which, yes, is a genre that exists.
The Western parody stars and is written by White, and also stars Kym Whitley (The Boondocks), Tommy Davidson (In Living Color), and Byron Minns (Adult Swim's animated Black Dynamite series) — all of whom appeared in the original Black Dynamite.
Black Dynamite was a 2009 cult hit directed by Scott Sanders and starred Michael Jai White as the titular kung-fu fighting action star who decides to clean up the community. It was a hilarious send-up of '70s blaxpoitation movies, and remains a  modern comedy classic. Now, nearly 10 years later, White is seeking money to produce a fan-funded film that is independently produced and distributed completely his his production company, Jaigantic Studios.
In an interview with The AV Club, White talked about the pressure of living up to the legacy of Black Dynamite, and bring back its mile-a-minute comedy pace with Outlaw Johnny Black:
It's going to have the same sensibilities and layered humor, where you have the ridiculous and the deep and the outlandish all at the same time, along with the physical humor. I just believe that great humor should be layered, you know? Like a cartoon that appeals to adults and children alike, and everybody takes their own message [from it].
The Indiegogo campaign has an lofty goal of $1 million to fan-fund the film, and fans who donate more (around the five-figure range) get the privilege of being shot in the back or punched in the jaw by Outlaw Johnny Black. The campaign ends on March 31, 2018.