Hulk Hogan's Gawker Lawsuit Might Become A Limited TV Series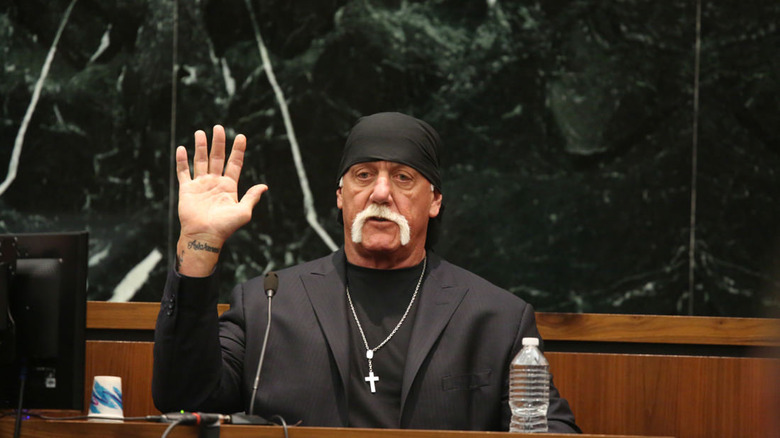 The great "privacy" or "freedom of speech" debate that played out during the Hulk Hogan Gawker lawsuit may be getting a feature film adaptation. Or at least a limited TV series.
It was a scandal that rocked the journalism and wrestling worlds — two communities who don't usually overlap.
In 2012, Gawker published extracts from a sex tape between Hogan and Heather Clem, the wife of radio personality Bubba the Love Sponge. Hogan brought Gawker Media to court in 2016, winning $140 million in damages. The steep damages sent Gawker spiraling into bankruptcy, and the website was quickly shuttered.
Ryan Holiday wrote a book about the entire case — which was revealed to be bankrolled by Silicon Valley billionaire Peter Thiel. Thiel was outed as gay by Gawker in 2007. Now the book, Conspiracy: Peter Thiel, Hulk Hogan, Gawker and the Anatomy of Intrigue has been optioned by producer David A. Neuman, Variety reports.
Neuman intends to adapt Conspiracy as a feature film or a limited TV series. In a statement announcing the rights acquisition, he said:
"Conspiracy clearly has the big, compelling story and character elements to make an Oscar-contending film, in the vein of a Social Network or Big Short."
But he also set his sights a little lower, also considering a limited-run series. "We're very far along in exploring both options," Neuman said.
Neuman's Blackrock Productions is in talks to package a writer/director, screenwriter, or showrunner to the project.
The Hulk Hogan Gawker lawsuit, known as Bollea v. Gawker, has actually been brought to the big screen before. At Sundance 2017, Brian Knappenberger premiered a documentary on the case titled Nobody Speak, which took an unflattering look at Peter Thiel's role in the case and questions what precedent the lawsuit establishes on free speech.
In contrast to the documentary, Neuman's version seems to take a much more pro-Thiel stance. The case tackles issues of homophobia, sexual transgressions, privacy, and freedom of speech — which makes it ripe for an American Crime Story-style series adaptation. Or, in lesser hands, a Lifetime movie. But it would be difficult to make a film with so many lurid details into an Oscar-nominated film, something on the same level as The Social Network or The Big Short.
But I could be wrong. Perhaps this is the next prestigious, compelling character drama. After all, Aaron Sorkin and David Fincher turned a story about Facebook into one of the best biopics of the last decade.