New 'Mission: Impossible – Fallout' Photos Show Tom Cruise's Latest Insane Stunt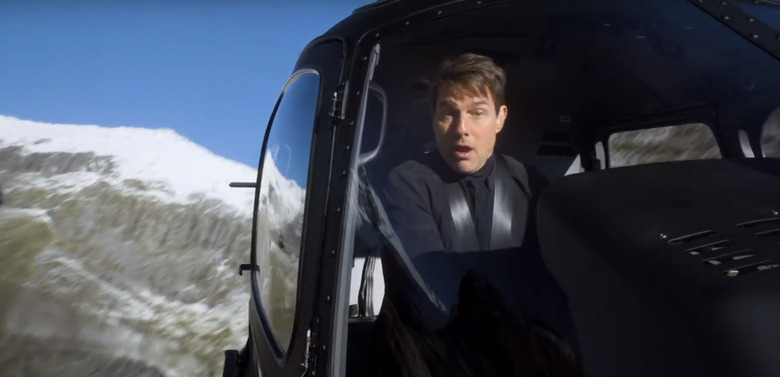 If there's any movie that deserves to be titled Death Wish, it's the sixth Mission: Impossible movie.
Seemingly every Mission: Impossible – Fallout photo has touted star Tom Cruise's latest insane, death-defying stunt. And the latest photo is no different. And it takes the movie's title quite literally.
Did you know that Tom Cruise does his own stunts at risk of life and limb? Well, prepare to be reminded every week until the release of Mission: Impossible – Fallout later this summer.
I kid — I do admire Cruise's dedication to these breathtaking stunts, but every time a new photo of his latest stunt is released, I can't help but be concerned about his wellbeing. But Mission: Impossible – Fallout director Chris McQuarrie assures us that there's nothing to worry about. "Remember, kids. We are professionals," he quips in his Instagram post about the lead-up to a stunt where Cruise jumps out of an airplane.
Cruise shared the photo of the stunt itself on Twitter, which shows him parachuting out of the plane.
Remember, kids. We are professionals. Don't try this at home...
A post shared by Christopher McQuarrie (@christophermcquarrie) on
Dropping in. Summer '18. #MissionImpossibleFallout pic.twitter.com/QV0ruZyVbi

— Tom Cruise (@TomCruise) March 7, 2018


Mission: Impossible – Fallout wrapped up production a few weeks ago. But earlier this week, McQuarrie and Cruise were seen shooting in Abu Dabi, presumably to film this extra stunt that will be added to the film.
So that will be not one but two stunts that feature Cruise dangling/free-falling from an aircraft. Talk about "fallout."
Chris McQuarrie directs Mission: Impossible – Fallout, which stars Cruise, Rebecca Ferguson, Ving Rhames, Simon Pegg, Michelle Monaghan, Alec Baldwin, Sean Harris, Henry Cavill, Vanessa Kirby, Sian Brooke, and Angela Bassett.
The best intentions often come back to haunt you. MISSION: IMPOSSIBLE – FALLOUT finds Ethan Hunt (Tom Cruise) and his IMF team (Alec Baldwin, Simon Pegg, Ving Rhames) along with some familiar allies (Rebecca Ferguson, Michelle Monaghan) in a race against time after a mission gone wrong. Henry Cavill, Angela Bassett, and Vanessa Kirby also join the dynamic cast with filmmaker Christopher McQuarrie returning to the helm.