Pop Culture Imports: French Whimsy, Spanish Heists, Canadian Zombies, Swedish Satire, And Brutal Korean Vengeance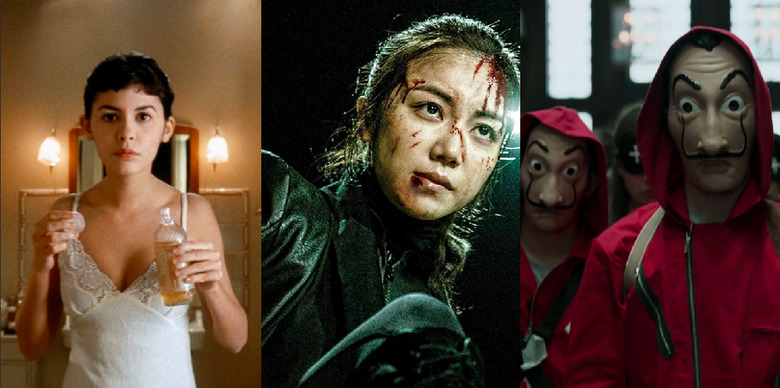 (Welcome to Pop Culture Imports, a column that compiles the best foreign-language movies and TV shows streaming right now.)
It's almost mid-March, which means there's a slew of new foreign titles on Netflix, Amazon Prime, Hulu, and more. As the weather tries to make up its mind over whether it's winter or spring, why not stay in and binge-watch some great foreign movies and shows instead?
This month, we have a beloved French romantic-comedy, an Oscar-nominated Swedish satire, an over-the-top Korean revenge thriller, and one of the best Netflix original TV series you've never heard of. So fire up the subtitles and get ready to watch the best foreign movies and TV shows streaming right now.
1. Amélie — Amazon Prime
Country: France
Genre: Romance/Comedy
Director: Jean-Pierre Jeunet
Cast: Audrey Tautou, Mathieu Kassovitz, Jamel Debbouze, and Rufus.
I couldn't write this column without mentioning one of today's most beloved foreign movies. Amélie is the whimsical French comedy that captured the imaginations of audiences around the world when it was released in 2001, and whose poster papered the walls of every college cinephile. But its tremendous popularity — which inspired a Broadway musical and even a species of frog (yes, really) — should not distract from how damn good this movie actually is.
Amélie follows the quirky title character played by a magnetic Audrey Tatou as she resolves to devote her life to helping strangers find happiness. Misdiagnosed at a young age with a rare heart defect, Amélie grows up isolated but with an active, slightly kinky imagination. While she works as a waitress at a cafe in Paris, Amélie is content to observe — and occasionally meddle in — the lives of the sad, lonely people that she sees every day. But unexpectedly, Amélie runs into her own chance at love.
Every frame in Amélie is a treat for the eyes. Jean-Pierre Jeune brings his usual fantastical flair to the romantic-comedy, but tones down his macabre stylings, instead using bright colors and playful effects to produce the same joie de vivre that his heroine possesses.
Watch This If You Like: The Shape of Water, Pushing Daisies, Wes Anderson movies, sunshine.
2. The Square — Hulu
Country: Sweden
Genre: Drama
Director: Ruben Östlund
Cast: Claes Bang, Elisabeth Moss, Dominic West, and Terry Notary.
The Square simultaneously has everything to say, and nothing at all. But isn't that art?
Ruben Östlund's absurdist satire about the hedonism and hypocrisy of the art world is a strange one. The Oscar-nominated film is a meandering, surreal, and strangely violent story about the respected curator of contemporary Swedish art museum who finds himself besieged by all manner of crises, physical and existential. Christian (Claes Bang) thinks of himself as a good person: he gives money to the homeless (when he can spare the cash), tries to save a screaming woman, and proudly advertises an upcoming exhibit about altruism. But things begin to unravel when his wallet gets stolen and he resorts to a cowardly trick to get it back. Soon, his precious museum exhibit is under attack over a horrendously tone-deaf marketing campaign, and he's hounded by the victims of his own selfishness.
The Square threatens to buckle under the weight of its own pretension, despite taking a blowtorch to the very nature of elitism. Still, it's a fascinating and funny film that you won't be able to look away from.
Watch This If You Like: The Lobster, In the Loop, The Discreet Life of the Bourgeousie, pretending to like modern art.
3. Money Heist — Netflix
Country: Spain
Genre: Crime series
Creator: Álex Pina
Cast: Úrsula Corberó, Paco Tous, and Alba Flores.
Don't pay attention to this show's horribly generic international title. Money Heist is a thrilling and addictive Spanish heist series that avoids all the pitfalls of predictable crime dramas. Known as La casa de papel in Spanish (roughly translated to House of Paper), Money Heist follows a ragtag group of thieves who are recruited by the mysterious "Professor" (Álvaro Morte) to pull off the greatest heist in history. The goal: enter the Royal Mint of Spain and print 2.4 billion euros. The problem: they have to occupy the museum for 11 days while holding 67 people museum occupants hostage.
The stylish, whip-smart series is one of the best recent TV series that Netflix has produced. Boasting a phenomenal cast and a tightly wound plot, Money Heist never has a dull moment. Apart from being packed with action and twists, Money Heist is boosted by its compelling character drama. We're introduced to the group of misfit thieves by the volatile Tokio (Úrsula Corberó), a young woman with a seedy past who gets drawn into The Professor's scheme. But each member of the misfit team is elevated from flat caricatures by the actors' phenomenal performances and the show's frequent flashbacks. The heist narrative makes Money Heist feel overwhelmingly familiar, but for its entire 13-episode run, the series manages to stay fresh and exciting. And you can soon look forward to season 2.
Watch This If You Like: Ocean's Eleven, Prison Break, Reservoir Dogs, Salvador Dali masks.
4. The Villainess (South Korea) — Hulu
Country: South Korea
Genre: Action
Director: Jung Byung-gil
Cast: Kim Ok-bin, Shin Ha-kyun, Sung Joon, Kim Seo-hyung, and Jo Eun-ji.
The Villainess is a bloody revenge flick that moonlights as a romantic-comedy. And it's amazing.
Kim Ok-bin stars as Sook-hee, a young assassin who violently bursts onto the screen in an frenetic first-person POV opening scene in which she slaughters an entire building of gangsters. But after she's carried away by police, grinning psychotically, Sook-hee wakes up in a strange facility, the newest recruit of a South Korean intelligence agency that trains young women to be sleeper agents. Discovering that she's pregnant and yearning for a normal life, Sook-hee accepts a 10-year contract with the agency and takes on a new identity as an actress. Unbeknownst to her, the agency sends a male agent next door to her to handle her, and the two end up falling in love.
There's nothing we haven't seen before in The Villainess, but director Jung Byung-gil gleefully marries together several genres and tropes in a concoction that seems almost absurd. The brazen, brutal action scenes are interspersed between tragic melodrama, but somehow, it all works — raising the stakes and heightening the drama. And Kim gives a breakout performances as Sook-hee, a truly tragic heroine who could give the Bride a run for her money.
Watch This If You Like: Oldboy, John Wick, Kill Bill, Korean versions of Lady Macbeth's monologue.
5. Ravenous — Netflix
Country: Canada
Genre: Horror
Director: Robin Aubert
Cast: Marc-André Grondin, Monia Chokri, Brigitte Poupart, Luc Proulx, Charlotte St-Martin, and Micheline Lanctôt.
More meditative character drama than horror film, Ravenous is not like your typical zombie movie. Titled Les Affamés in French, this film follows the residents of a small town in rural Quebec dealing with the aftermath of a zombie outbreak.
Eerie and quiet, Ravenous is a slow-burner of a film, with sparks of dark humor. The film seems uninterested in a story for the vast majority of the film, instead choosing to linger on several jaded characters as they survive the outbreak. A pair of friends banter and smoke as they burn their family members in the woods. Three woman chug beer on a porch after hacking up a zombie. A woman shirks guns, carrying only her accordion. Only midway through the movies do these characters meet — and even then the pace never picks up.
Instead, you're only left with a feeling of all-consuming dread. That dread is aided by the stark, surreal imagery that's scattered throughout the film: zombies standing still around an altar of piled-up chairs, a zombie woman constantly pulling a crying doll's string, zombie children luring in survivors. It's an unsettling film that offers a new take on a tired genre.
Watch This If You Like: 28 Days Later, Shaun of the Dead, The Walking Dead, creepy zombie religions.