New Alamo Drafthouse Video Store Will Offer Free VHS Rentals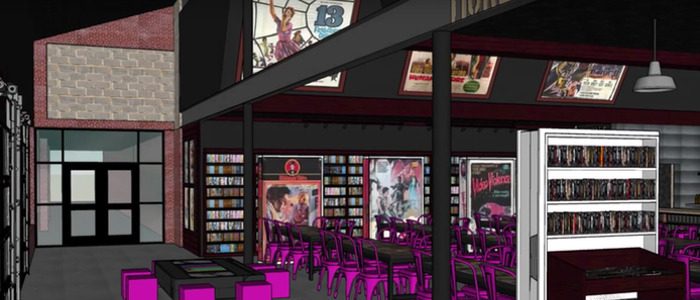 Word of an Alamo Drafthouse video store arrived at the end of last year. Now here's an update: the VHS rentals will be free. Video Vortex, coming to Alamo Drafthouse Raleigh in North Carolina, will offer free rentals, VCR loans and 40+ local draft beers. (Sorry; the beers aren't free.)
Remember Video Vortex? The Alamo Drafthouse video store we reported on last year? It's still happening, and the concept just got a whole lot more enticing. Not only will Drafthouse bring back the archaic, nostalgic brick and mortar video store – the video rentals will be free. The store will feature over 75,000 titles, with a wealth of foreign language movies, documentaries and independent films. And if you're in the area, you can just pop in and rent one (or more) for free.
"For me, one of the most thrilling aspects of Video Vortex is the ability to connect with renters and cultivate diverse exchange about film culture," says manager Josh Schafer. "Making personal connections and offering recommendations through a knowledgeable and passionate staff, it's something that slays an algorithm any day. Being able to continue the age-old video-store tradition of fostering a movie-loving community is going to be a really fun, exciting and special experience for everyone involved."
Younger readers may not remember VHS tapes, but they were glorious plastic rectangles we used to slide into big, bulky machines. The tapes would then play movies, and occasionally, we'd have to adjust the tracking or slide in a video head cleaner for better picture.
Home video has vastly improved since the days of VHS, offering up crystal-clear image and sound. Still, there's a nostalgic charm to VHS that appeals to many. On top of that, there are thousands upon thousands of films that have yet to be transferred onto Blu-ray or streaming. Some of those films may never make the jump to Blu-ray or Netflix, but there's a chance you might be able to snag them at Video Vortex. If you're in the Raleigh, North Carolina region, that is.
Video Vortex Preview Video
In addition to free rentals, Video Vortex will also offer several other accoutrements:
VCRs and blu-ray players available for rent.
Crowlers (canned growlers) available to take home any of the 40-plus local draft beers along with your free movies
A selection of board games curated by the Mondo game team, available for purchase and for free play in the beer garden or patio.
Mondo game, toy, poster and music release parties.
A grab-and-go selection of bombers and six-packs of local and hard-to-find beers.
Video-store themed cocktails, milkshakes and non-alcoholic drinks designed by Alamo Raleigh beverage director Jason McCoon.
VIDEO VORTEX will be home to VHStival, an annual VHS festival highlighting the best treasures of VHS-only releases as well as a VHS tape trading convention. The first event is scheduled for the weekend of 

October 27th
Integration of video store programming into the Alamo Drafthouse Cinema; shows like VIDEO VORTEX (the namesake of the bar itself) which features the best VHS-only films of the '80s and '90s and 

Saturday

 Morning Cartoon Party, which features curated themes of cartoon classics and oddities to be enjoyed with a smorgasbord of all-you-can-eat sugary breakfast cereal.
Giant obelisk replicas of classic VHS clamshell tapes curated from the personal collection of Josh Schafer, VIDEO VORTEX manager and VHS Culture Captain.
At-table VCRs, allowing folks to grab a movie off the shelf and enjoy in the bar.
A gallery of over 50 large format Italian and French exploitation posters featuring movies available for rent from the VIDEO VORTEX archive.
"Slumber party packs," a combo pack of pizza, crowlers of beer and movies to go for the ultimate "Alamo-at-home" experience.
The opening date for the new Drafthouse and Video Vortex have yet to be announced, but keep your eye on the Video Vortex site for future info.