'Star Wars: The Last Jedi' Deleted Scene Reveals A Different Fate For Phasma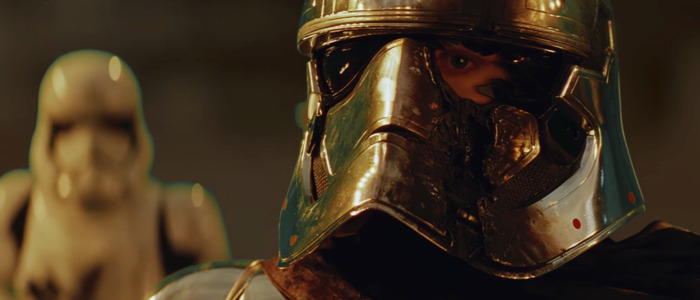 A newly revealed Star Wars: The Last Jedi deleted scene gives Gwendoline Christie's Captain Phasma much more screentime than the finished film. If you thought Phasma was a bit shortchanged in The Last Jedi, this deleted scene is for you. See it below. Beware of spoilers.
I loved Star Wars: The Last Jedi, but one of the (few) complaints I had with the film was the way it handled the return of Captain Phasma. Much like Boba Fett, Captain Phasma seems pretty cool, and has a neat costume – but the franchise doesn't know what to do with her as a character. When I heard she was coming back for The Last Jedi, I had hoped the Force Awakens sequel would give her a bit more to do. Alas, the character only briefly appeared for one scene and then quickly died. That's not how it originally played out, though!
The Star Wars Show has revealed a deleted/alternate Last Jedi scene that changes the Phasma scene considerably. It's much better than what ended up in the final film, and I wish director Rian Johnson had used this take instead. Check it out for yourself.
Star Wars: The Last Jedi Deleted Scene
This deleted scene gives Phasma and John Boyega's Finn a much more dramatic confrontation. Finn is quick to point out that Phasma was the one who helped turn off the shields on Starkiller Base – a revelation that makes Phasma's troops turn on her. Without missing a beat, Phasma shoots down her own troops and comes close to killing Finn. But Finn gets the upper-hand, blasting Phasma to her death (maybe).
Some of the special effects work here isn't completed, so there are a few rough spots. But overall, I love the way this deleted scene plays out. I'm not quite sure why Johnson cut it – the only reason I can think of is for pacing. The Last Jedi is the longest Star Wars movie to date, and since this scene occurs near the conclusion, it makes sense to sacrifice the scene.
Phasma In Episode 9?
Both the above deleted scene, and the scene used in The Last Jedi seem to heavily imply Phasma is toast. But when it comes to Star Wars, never say never. There's always a chance J.J. Abrams could bring the character back for Star Wars: Episode IX. For her part, Gwendoline Christie is interested in returning. When asked by The Times if Phasma would be back for more, the actress replied:
"In truth, I don't know. And that scares and upsets me because I really want to see this character explored. I'm actually very invested in the character now...And that's genuine. That's not just chat. It has opened up a chain of stories and events in my mind about who Phasma is."
I'm all for bringing Phasma back one more time – but if that happens, I really hope the finished film gives her a bit more to do than show up in one scene and then get bumped off.
Star Wars: The Last Jedi will be availably digitally in HD and 4K Ultra HD and via Movies Anywhere March 13, and on 4K Ultra HD Blu-ray and Blu-ray disc March 27. The release will include 14 deleted scenes.