'The Grinch' Trailer: The Mean Green Menace Returns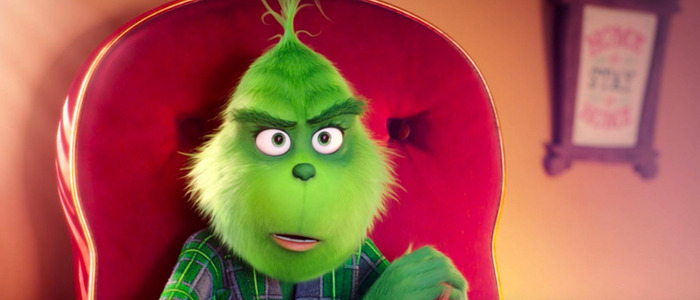 That mean green bastard The Grinch is back in an all-new animated movie. Yes, that nasty wasty skunk is returning to ruin Christmas for the Whos down in Whoville, so you better get out of his way. The new The Grinch trailer awaits you below, in all its green glory.
Then he got an idea. An awful idea. The Grinch got a wonderful, awful idea! And that idea was another remake of How The Grinch Stole Christmas.
Dr. Suess's classic about a really grumpy monster who hates the holidays was immortalized in a 1966 TV special animated by Chuck Jones and featuring the voice of Boris Karloff. The character got the big screen treatment in 2000 with Ron Howard's live-action How The Grinch Stole Christmas. In that film, Jim Carrey was buried under ten tons of green makeup and hammed it up big time, giving audiences a headache in the process. Now we have The Grinch, an animated take on the tale from Peter Candeland and The Secret Life of Pets director Yarrow Cheney. Will this latest take live-up to the 1966 film? Watch the new The Grinch trailer and decide for yourself.
The Grinch Trailer
Well, that certainly looks colorful. One thing the new The Grinch has going for it: the Grinch is voiced by Benedict Cumberbatch. Cumberbatch has made a career playing jerks, and he has a distinct voice, so he'll probably do a good job. The Grinch is the latest animated film from Illumination and Universal Pictures, the folks behind those endless Minions movies, as well as The Secret Life of Pets and Sing. The Grinch looks to be more of the same. Whether that's a good thing or not is up to you!
The Grinch was originally supposed to open November 2017, but will now hit theaters November 9, 2018.
Each year at Christmas they disrupt his tranquil solitude with their increasingly bigger, brighter and louder celebrations. When the Whos declare they are going to make Christmas three times bigger this year, the Grinch realizes there is only one way for him to gain some peace and quiet: he must steal Christmas. To do so, he decides he will pose as Santa Claus on Christmas Eve, even going so far as to trap a lackadaisical misfit reindeer to pull his sleigh.
Meanwhile, down in Who-ville, Cindy-Lou Who—a young girl overflowing with holiday cheer—plots with her gang of friends to trap Santa Claus as he makes his Christmas Eve rounds so that she can thank him for help for her overworked single mother. As Christmas approaches, however, her good-natured scheme threatens to collide with the Grinch's more nefarious one. Will Cindy-Lou achieve her goal of finally meeting Santa Claus? Will the Grinch succeed in silencing the Whos' holiday cheer once and for all?