'Agents Of S.H.I.E.L.D.' Season 5 Finale May Be The Final Episode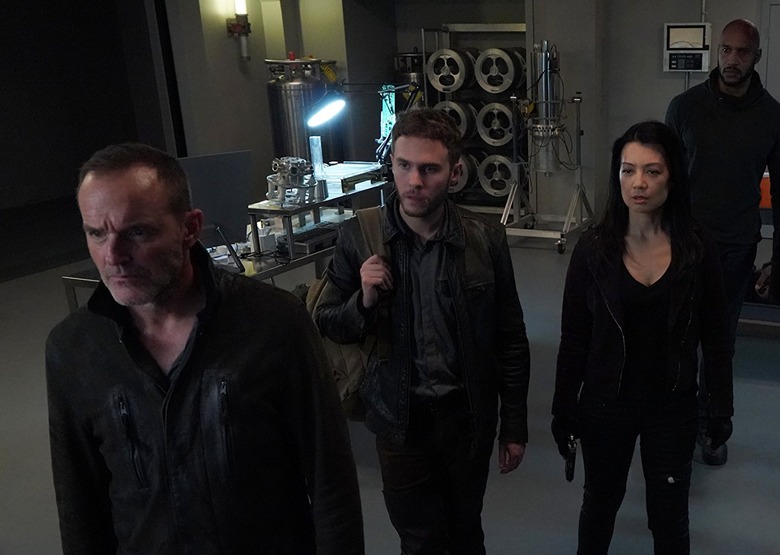 The most under-appreciated Marvel series may be coming to an end.
Marvel's Agents of S.H.I.E.L.D. has long been on the bubble, but its executive producers have recently announced that the show's upcoming season 5 finale may also serve as a series finale.Agents of S.H.I.E.L.D. executive producers Jed Whedon, Maurissa Tancharoen, and Jeffrey Bell told Entertainment Weekly that they're writing the final episode of the show's ongoing fifth season as a series finale.
"Right now, we're writing a series end," Bell said, "because as far as we know, this could be it."
Agents of S.H.I.E.L.D. has consistently been one of the most tightly plotted and inventive shows in the Marvel TV pantheon. However, it is often overlooked in favor of the grittier Netflix series, or the brilliant but short-lived Agent Carter starring Hayley Atwell. To be fair, the first season stumbled quite a bit as it tried to nail down its tone (was it a silly spy romp or a serious espionage series?), but it really took off once it was freed from the confines of constant Marvel movie tie-ins. The character-driven twists have galvanized the series, as have brief sojourns with weirder comic book characters like the Inhumans and Ghost Rider.
But the series has frequently been shuffled off to worse time slots, finally settling in at the dreaded Friday night graveyard shift for its fifth season. Though season 5 saw a creative burst, ratings have been at a record low, averaging 3.6 million total viewers and a 1.1 in the coveted 18-49 demo. There's been no confirmation that the series has been cancelled yet, but Jed Whedon told EW that they are preparing for the worst:
"You always want to leave the idea that there's more stories, it's a question of whether or not we will tell them. We have our end, and we'll stick to it regardless, and we think it'll work either way."
Maybe It's Time for S.H.I.E.L.D. to End
However, Tancharoen said that this is nothing new for the show. Agents of S.H.I.E.L.D. has never been a ratings juggernaut, so writers would pen a season finale that could often double as the series finale:
"What we don't want to do is get to the end of the series and have gone off of something where you're like, 'Well, now it makes no sense.' We want there to be a sense of resolution for the audience and a reward for the audience for being on this whole journey. We don't want to leave them hanging with something that didn't get paid off. That being said, not everybody is going to die in the finale, so those people will live on with stories to tell."
Tancharoen seems hopeful that the series could be renewed for a sixth season. But I'm going to play devil's advocate a bit and say that maybe it is time for the series to say goodbye.
As one of the few fans who has stuck by Agents of S.H.I.E.L.D. since the beginning (kind of — I skipped most of season 1 until that amazing shake-up following the H.Y.D.R.A. takeover in Captain America: Winter Soldier), season 5 has been the first time I dropped off. The season had a promising start, but its apocalyptic setting has left the series direction-less.
The series' 100th episode teases the return of Gabriel Luna's scene-stealing Ghost Rider (yay!), but it also teases the return of Phil Coulson's tiresome dance with death (no!). The show has had some bright moments — the Jemma Simmons-centric "4,722 Hours" episode is still a standout — but it feels like it lost sight of its characters in favor of crazy plots. Maybe it's time to throw in the towel..