'Tomb Raider' Clips: Alicia Vikander Recreates Action-Packed Scenes From The Video Games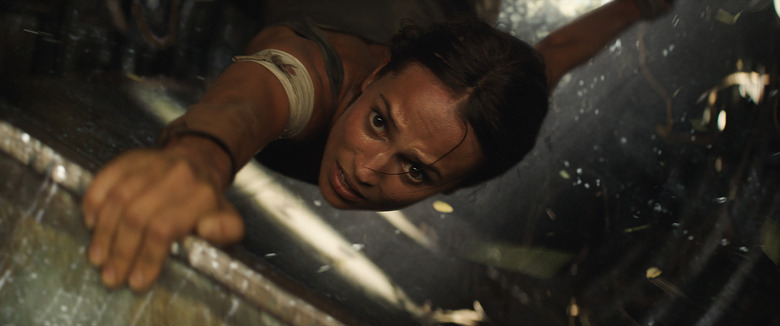 New Tomb Raider clips have been released from the Alicia Vikander-fronted reboot of the popular video game franchise. And as you'd expect, they are packed full of action.
Vikander stars as Lara Croft, the iconic action heroine from the long-running video game franchise Tomb Raider. The games were adapted to films once before, with Angelina Jolie in the lead role.
But now, Vikander gives a modern take on the character, which is based more heavily on the rebooted version first seen in the 2013 video game, Tomb Raider.
Tomb Raider Clips
This first clip is being marketed as an exact recreation of a scene from the 2013 Tomb Raider video game. There is even a YouTube video comparing the scenes side-by-side.
The second clip is equally action-packed, featuring Vikander's Lara Croft escaping from a boat in the midst of a treacherous storm.
You can watch two more clips at the bottom of this post.
Watching these clips, I have to wonder: Who is this movie for? The first adaptations were modestly successful but critically lambasted, skating by on the star power and charisma of Angelina Jolie. The video games are popular, to be sure, but are fans jostling for a new feature film?
Alicia Vikander is a talented, Oscar-winning actress, no question. But she is by no means at the same level of international stardom that Jolie was when she played Lara Croft. And she has made some questionable choices after her slew of scene-stealing performances in Ex Machina, The Man from U.N.C.L.E., and The Danish Girl. Tomb Raider seems destined to hew closer to Tulip Fever than any of her more acclaimed films.
So, is Tomb Raider for the video game fans or the fans of the original films? It feels like the former — especially with the meticulous recreation of scenes from the 2013 video game. But will that be enough to boost the movie's box office, especially since adaptations of popular video games are rarely successful? We'll see when Tomb Raider hits theaters later this month.
Here is the official synopsis for Tomb Raider:
Lara Croft is the fiercely independent daughter of an eccentric adventurer who vanished years earlier. Hoping to solve the mystery of her father's disappearance, Croft embarks on a perilous journey to his last-known destination — a fabled tomb on a mythical island that might be somewhere off the coast of Japan. The stakes couldn't be higher as Lara must rely on her sharp mind, blind faith and stubborn spirit to venture into the unknown.
Roar Uthaug directs Tomb Raider, which also stars Dominic West, Walton Goggins, Daniel Wu, and Kristin Scott Thomas.Tomb Raider is set to hit theaters on March 16, 2018.