'Star Wars: The Last Jedi': Rian Johnson Reportedly Scrapped J.J. Abrams' Episode 8 Story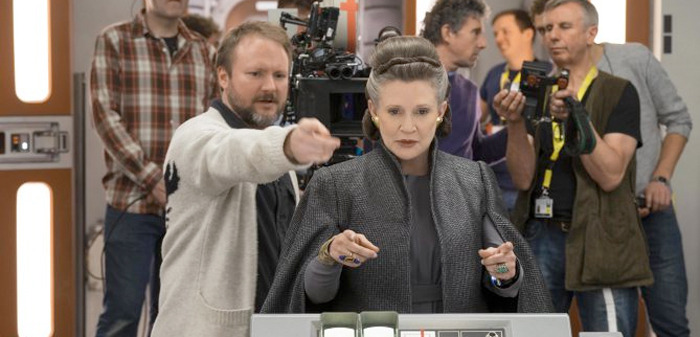 With a massive franchise like Star Wars, you would expect that Lucasfilm wants the entire story planned out. But after Rian Johnson's radical, controversial The Last Jedi threw Star Wars tradition out the window, fans began wondering if there even is a master plan.
The answer: there might have been a plan once, but not anymore. According to Last Jedi star Daisy Ridley, when Abrams signed on to direct 2015's The Force Awakens, he also mapped out the entire story for the new Star Wars trilogy. But the original JJ Abrams Episode 8 story was scrapped by Johnson.
In an interview with French media outlet Le Magazine GEEK, Ridley revealed that Abrams had written the broad strokes for the entire new Star Wars trilogy. But when Johnson signed on to direct Episode 8, he scrapped Abrams' early drafts to write The Last Jedi from scratch. She says (via a translation from The Playlist):
"J.J. wrote 'Episode VII,' he also wrote drafts for 'VIII' & 'IX.' Then Rian arrived and re-wrote ['The Last Jedi'] entirely. I believe there was some sort of general consensus on the main storylines that would happen in the trilogy, but apart from that, we agreed that every director should probably make his movie his own way. Rian and J. J. Abrams met many times to discuss 'The Last Jedi,' although 'Episode VIII' is very much mostly Rian's and I do believe Rian didn't keep anything from the first draft of the 'Episode VIII' script."
It should be noted that this is based on a translation from a French interview, but it's an intriguing new bit of information.
Now, we know that Johnson didn't just step into the director's chair immediately after Abrams left. In /Filmcast's lengthy interview with Johnson earlier this year, Johnson shared that he began writing his Last Jedi script before The Force Awakens had begun production. He would refer back to Abrams' Force Awakens script while writing, and even had a role in the cliffhanger ending of Force Awakens.
It was a collaborative process. We learned back in 2015 that Abrams and Johnson had plenty of conversations about each other's films, helping to shape the new chapters of the Skywalker Saga:
There were a handful of things we talked about that were going to be helpful to him. Some were very easy to do, and some things were things that I didn't want to do for other reasons, but I tried to be as accommodating as I could. And its so cool to see what happens next in a way that only someone as talented as Rian could do.
Like Ridley says, Lucasfilm emphasized the filmmakers first. While keeping things in canon was important, each film was a product of their separate directors. But could the reaction to Johnson's film be part of the reason why Abrams was brought back on board for Episode 9? Is Lucasfilm returning to Abrams' original plan for the new Star Wars trilogy? We'll have to wait until December 20, 2019 to find out.