MoviePass CEO Says He Was Kidding, Company Is Not Tracking Your Location [Update]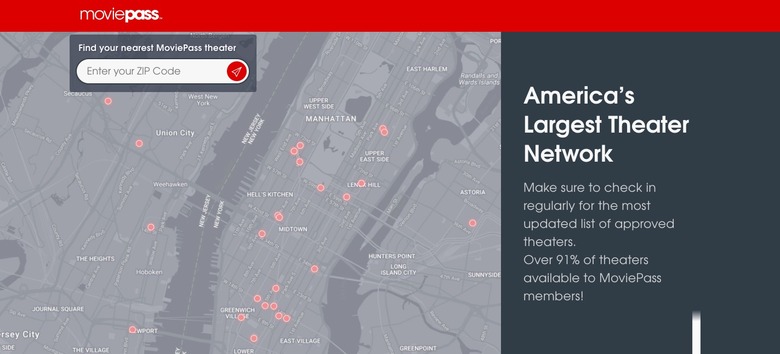 Update: In an interview with Wired, MoviePass CEO Mitch Lowe says he was just joking about the notion of the company tracking its users' locations. "I was just being in a funny mood and just said it sarcastically. We are not tracking people." But this official statement from the company seems to tell a different story:
"Today, MoviePass released a new app update, including the removal of some unused app location capabilities. While part of our vision includes using location-based marketing to enhance the moviegoing experience for our members, we aren't using some of that functionality today. Our members will always have the option to choose the location-based services that are right for them today and in the future."
That reads as if they actually were tracking users (beyond a one-time check to confirm you're in range of a theater when you try to buy a ticket), but they've now removed some of that functionality. The drama continues. Our original article follows.
A day after MoviePass announced that it would be taking steps to improve its customer service, the ticket-buying subscription service is here to remind you that it's still a little sketchy.
MoviePass CEO Mitch Lowe reportedly boasted that the app has been collecting data about its users' locations before and after they enter a movie theater. Yes, that app you're using to get free movie tickets is watching you.
"We know all about you," Lowe said at a keynote at the Entertainment Finance Forum in Hollywood, Media Play News reported. Now, I wasn't exactly there, but that sounds more than a little ominous.
"We get an enormous amount of information," Lowe continued. "We watch how you drive from home to the movies. We watch where you go afterwards."
It is true that MoviePass taps into your location service as a part of the check-in process. But we all assumed that the GPS function would cease once you close the app. Instead, it seems that Lowe has confirmed that the MoviePass app tracks your location for a significant amount of time outside of the movie theater.
We've reported before that MoviePass has been collecting user data with the intent of possibly selling it off. This is not an uncommon practice with big companies — there's a whole legally questionable market based on selling data to advertising companies. It's how you get personalized ads whenever you open Facebook.
But the revelation that MoviePass is adding GPS locations to those user data packages raises pivotal questions of privacy. In a statement to clear up these questions, MoviePass released a statement explaining that they are only "exploring" location data, but won't sell it:
At MoviePass our vision is to build a complete night out at the movies. We are exploring utilizing location-based marketing as a way to help enhance the overall experience by creating more opportunities for our subscribers to enjoy all the various elements of a good movie night. We will not be selling the data that we gather. Rather, we will use it to better inform how to market potential customer benefits including discounts on transportation, coupons for nearby restaurants, and other similar opportunities. Our larger goal is to deliver a complete moviegoing experience at a price anyone can afford and everyone can enjoy.
But it's not just a question of privacy, but transparency. Use of location-based data is mentioned only once in MoviePass' privacy policy. The policy says a user's location is checked only to verify whether they are near the specified theater where they intend to purchase a movie ticket. It's not a good look for MoviePass just a day after it started its customer service overhaul.