'Lost In Space' Trailer: Danger, Will Robinson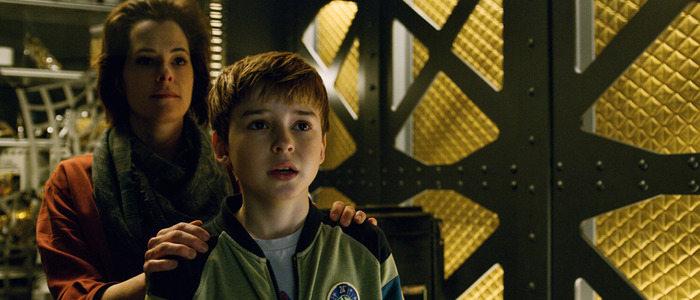 Lost In Space is about to blast off for a whole new set of adventures on Netflix. The new rebooted series updates the classic sci-fi TV series, which tells the tale of the futuristic Robinson family who find their intergalactic mission dangerously off-course. A new Lost In Space trailer awaits you below.
The original Lost In Space launched in 1965 and held on for 83 episodes, chronicling the trials and tribulations of the Robinson family as they attempt to return home after their intergalactic mission goes haywire. Now the series gets a slick new update courtesy of Netflix. After a quick announcement teaser a few weeks ago, a brand new Lost In Space trailer is here to sound the classic alarm: "Danger, Will Robinson." Check it out.
Lost In Space Trailer  
This new Lost In Space has some talented folks in front of and behind the camera. The Descent director Neil Marshall will be helming a few episodes, and, perhaps best of all, Parker Posey will appear in the show as the often-villainous Dr. Smith. I sincerely hope Posey chews all the scenery just as much as original Dr. Smith Jonathan Harris. Other cast members include Tobey Stephens as John Robinson, the commander of the expedition; Molly Parker as Maureen Robinson, an aerospace engineer and also John's wife. Taylor Russell, Mina Sundwall and Max Jenkins play the Robinson kids, and Ignacio Serricchio plays Don West. And then, of course, there's the Robot.
This isn't the first Lost In Space reboot. In 1998, Stephen Hopkins helmed the truly terrible big-screen Lost In Space, which featured Matt LeBlanc, William Hurt, Gary Oldman and a CGI space monkey. It was really bad. Thankfully, Netflix's Lost In Space looks much better.
Lost In Space premieres on Netflix April 13, 2018.
Set 30 years in the future, colonization in space is now a reality, and the Robinson family is among those tested and selected to make a new life for themselves in a better world. But when the new colonists find themselves abruptly torn off course en route to their new home they must forge new alliances and work together to survive in a dangerous alien environment, light-years from their original destination. Stranded along with the Robinsons are two outsiders who find themselves thrown together by circumstance and a mutual knack for deception. The unsettlingly charismatic Dr. Smith (Posey) is a master manipulator with an inscrutable end game. And the roguish, but inadvertently charming Don West (Ignacio Serricchio) is a highly-skilled, blue-collar contractor, who had no intention of joining the colony, let alone crash landing on a lost planet.