Andrea Riseborough Might Get Cursed In 'The Grudge' Remake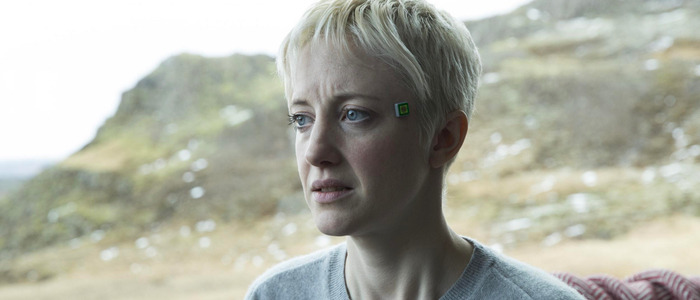 Sony is moving forward with The Grudge remake, and they have their eyes on a great actress for the lead. Andrea Riseborough, who appeared in Birdman, The Death of Stalin, Oblivion and the most-recent season of Black Mirror, is in talks to star in the horror remake.
Andrea Riseborough, a stellar performer who continues to stand-out in any project she appears in, might join The Grudge remake. Deadline reports Riseborough is "circling" the film, which will be directed by The Eyes of My Mother filmmaker Nicolas Pesce. Riseborough would play a "detective and young single mother."
Normally I'd be somewhat indifferent about yet another Grudge remake, but this project intrigues me. For one thing, Nicolas Pesce is a horror filmmaker to watch. His 2016 black and white indie horror film The Eyes of My Mother is one of the most disturbing movies I've ever seen; we're talking pure nightmare fuel here, folks. Throwing Riseborough into the mix would only make the film even better. I'm actually excited about a Grudge remake now. How surprising!
What You Need to Know About The Grudge
The Grudge began its life as the Japanese horror-series Ju-On. There are a whopping total of 12 Ju-On films, which all primarily revolve around a haunted house where the brutal murder of a mother and son (and cat) unleashed a curse that attaches itself to nearly everyone who sets foot in the home. Ju-On received an American remake in 2004 with The Grudge. Original Ju-On helmer Takashi Shimizu directed the film, which starred Sarah Michelle Gellar as an American exchange student living and working in Tokyo as a care worker. Gellar's character ends up at the cursed house, which triggers a wave of death and other spooky stuff. Here's the original synopsis:
This American remake of director Takashi Shimizu's popular Japanese movie franchise The Grudge puts Buffy the Vampire Slayer alumna Sarah Michelle Gellar back into the line of supernatural fire. When Karen (Gellar), an American student working with a Japanese health center for college credit, comes across a mysterious curse, she quickly finds herself embroiled in a fight for her own sanity, and, ultimately, her very survival. Known as a "grudge," the curse was born inside of a house after its inhabitants died while consumed by rage — according to legend, the curse touches all who come into contact with it, and will torment those unlucky individuals until they, too, become part of the grudge . Each time the curse finds a new victim, it is, in a sense, reborn, and will continue on its path unless Karen can free herself from its control over her. This version of The Grudge is also directed by Shimizu, and features Jason Behr, Clea DuVall, Kadee Strickland, William Mapother, and Bill Pullman in supporting roles.
The 2004 film was followed by the 2006 sequel The Grudge 2, which stars Amber Tamblyn as Gellar's sister, who comes to Tokyo to find out what happened to her sibling. The conclusion of the American remake series came in 2009 with the utterly forgettable The Grudge 3.
This new Grudge film will presumable restart the franchise from scratch again, while telling the same familiar story of the cursed house and the pesky, contortionist ghosts who inhabit it. Pesce will write and direct the new film, which is based on a script by Midnight Meat Train writer Jeff Buhler.