'Christopher Robin' Trailer: What If Christopher Robin Grew Up?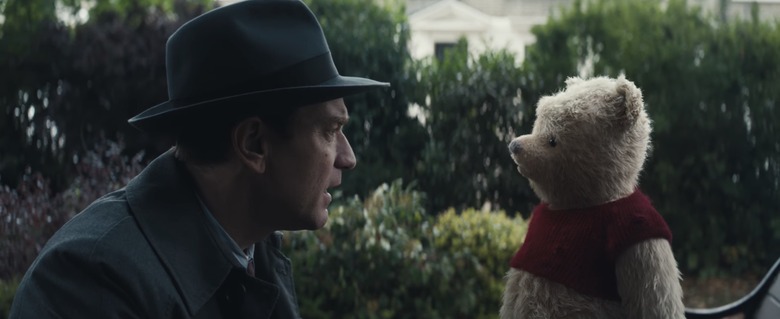 Disney is taking a Hook-like approach to the Winnie the Pooh series with Christopher Robin. The new live-action film asks the question: what would happen if Winnie's best human buddy Christopher Robin grew up? The Christopher Robin trailer below provides an answer.
Christopher Robin is the latest Disney film to take a classic animated property and give it a live-action spin. But this film has a twist: rather than simply remake the animated original scene-for-scene, Christopher Robin serves as something of a sequel. In the film, Christopher Robin, the young boy whose imagination conjured up Winnie the Pooh, Piglet and the rest of the inhabitants of the Hundred Acre Wood, has grown into adulthood (in the form of Ewan McGregor). As is the case for most adults, the joys of childhood have been extinguished within Christopher Robin, and now it's up to his childhood animal friends to help show him the way. Watch the Christopher Robin trailer below.
Christopher Robin Trailer
The biggest takeaway here: this premise is very similar to Steven Spielberg's Hook, which focused on a grown-up Peter Pan (as played by Robin Williams) returning to the land of his childhood. Will Christopher Robin feature the infamous Hook Boo Box? Probably not, but we can dream. Christopher Robin comes from World War Z director Marc Forster, with a screenplay by Alex Ross Perry and Allison Schroeder. In addition to McGregor as the titular character, Christopher Robin also stars Hayley Atwell as Christopher Robin's wife Evelyn; Bronte Carmichael as Christopher Robin's daughter Madeline; and Mark Gatiss as Keith Winslow, Robin's boss. The film also features the voices of Jim Cummings as Winnie the Pooh; Chris O'Dowd as Tigger; Brad Garrett as Eeyore; Toby Jones as Owl; Nick Mohammed as Piglet; Peter Capaldi as Rabbit; and Sophie Okonedo as Kanga.
Christopher Robin will be the second live-action take on the story of Winnie the Pooh in less than a year. The 20017 film Goodbye Christopher Robin told the story of the creation of the character, with Domhnall Gleeson playing Winnie the Pooh author A.A. Milne.Christopher Robin opens August 3, 2018.
 In the heartwarming "Christopher Robin," the young boy who embarked on countless adventures in the Hundred Acre Wood with his band of spirited and lovable stuffed animals, has grown up and lost his way. Now it is up to his childhood friends to venture into our world and help Christopher Robin remember the loving and playful boy who is still inside.