Netflix Announces 'Black Mirror' Season 5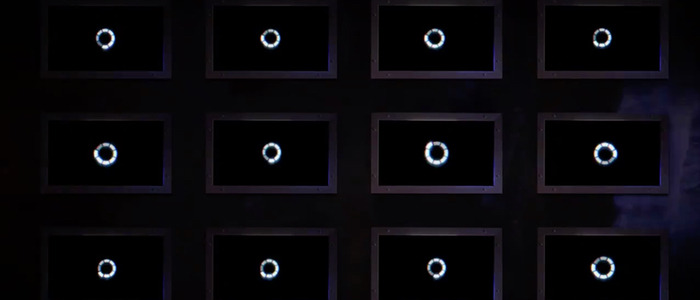 We may receive a commission on purchases made from links.
Black Mirror, the misery-inducing sci-fi anthology series that teaches us all about the dangers of technology, just got the go-ahead for yet another season on Netflix. Black Mirror season 5 will bring all-new depressing-yet-entertaining tales of technological terror.
Netflix went ahead and announced Black Mirror season 5 via a cryptic new video that's in line with the overall theme of the hit series. Charlie Brooker's sci-fi anthology show began life on Channel 4 in the UK before Netflix gave it a whole new life on their streaming service. The new teaser for season 5 offers no new footage, but hints that "the future will be brighter than ever." See for yourself.
Black Mirror Season 5 Teaser
The future will be brighter than ever. pic.twitter.com/slVeg3VPd7

— Black Mirror (@blackmirror) March 5, 2018
The most recent season of Black Mirror was a mixed bag. Some episodes – like the Jodie Foster-directed "Arkangel" and the Star Trek riff "USS Callister" were memorable, while others left something to be desired. But that seems to be par for the course with the series, which isn't always great but occasionally offers up truly fantastic episodes like "San Junipero".
Details about Black Mirror season 5 are practically non-existent at this point, but you can rest assured the new season will feature more tales of angst and terror revolving around technology, and perhaps there will be one or two episodes with a happy ending to shake things up as well. Whatever happens in season 5, it will likely unfold over only six episodes, like the previous two Netflix series. Creator Charlie Brooker said in the past that six episodes is just the right number needed per season, adding, "It puts us just on the cusp of a nervous breakdown, so it's working! I think even a number seven would just do us in."
Black Mirror season 5 likely won't arrive on Netflix until the end of the year. There's also a Black Mirror book in the works. Titled Black Mirror: Volume I: A Literary Season, the book is described as "Black Mirror in book form" and will "roam through the imaginations of some of the leading names in contemporary fiction. This collection will challenge you to see the world in a different—and more disturbing—light." The book is currently listed for a 2025 release date, but I have a feeling that's just a placeholder until the official date is announced.
Black Mirror is an anthology series that taps into our collective unease with the modern world, with each stand-alone episode a sharp, suspenseful tale exploring themes of contemporary techno-paranoia. Without questioning it, technology has transformed all aspects of our lives; in every home; on every desk; in every palm – a plasma screen; a monitor; a Smartphone – a Black Mirror reflecting our 21st Century existence back at us. The series is created and written by Charlie Brooker, and executive produced by Brooker and Annabel Jones.