'Frozen' And 'Coco' Songwriter Robert Lopez Earned A Double EGOT At The 2018 Oscars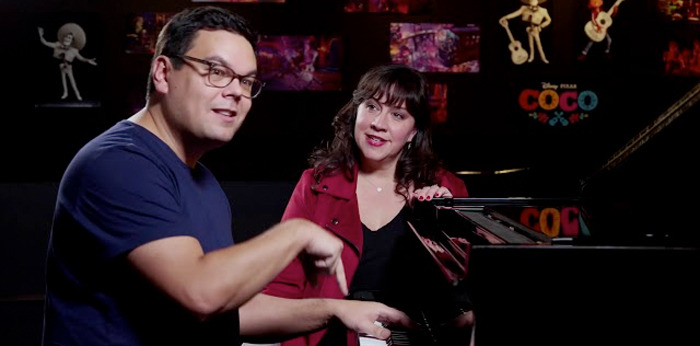 Though you may not know Robert Lopez by name, you certainly know his work. Teamed with his wife Kristen Anderson-Lopez, he's responsible for infecting your kids with the tune "Let It Go" and all of the other original songs from Disney's hit animated musical Frozen. Last night Lopez added more acclaim to his career by making awards history after winning yet another Oscar.
Robert Lopez and his wife Kristen Anderson-Lopez won the Oscar for Best Original Song (again) for their work on the song "Remember Me" from Coco. While this is an honor in itself, it turned out to be an even bigger deal for Robert, because he became the first person ever to get a double EGOT. That's right, at 43 years old, Lopez has won an Emmy, Grammy, Oscar and Tony twice.
What's even crazier is that Lopez accomplished this task in a relatively short period of time.
Lopez won his first Oscar for writing "Let It Go" with Kristen Anderson-Lopez in 2013. The second one he took home last night after the lovely "Remember Me" beat out the lively "This Is Me" from The Greatest Showman and three other nominees. His work on the Disney movie also resulted in him winning Grammys for Best Compilation Soundtrack for Visual Media and Best Song Written for Visual Media.
Outside of Frozen, Lopez earned a third Grammy for Best Musical Theater Album for Book of Mormon. That's where more Broadway accolades come into play, because he's won every Tony he's been nominated for. That includes Best Original Score for Book of Mormon and Best Original Score for the R-rated puppet comedy Avenue Q.
As for the Emmys, he won two Daytime Emmys for doing work on the animated series Wonder Pets. And that's how you double EGOT.
How Hard Is It to EGOT?
There's a reason that Lopez earning a double EGOT is historical, and that's because getting an EGOT even once is exceptionally rare.
In the entire history of the Emmys, Grammys, Oscars and Tonys, only 12 people have ever earned an EGOT. Here they are:
Richard Rodgers (Composer)
Helen Hayes (Actress)
Rita Moreno (Actress/Singer)
John Gielgud (Actor/Director)
Audrey Hepburn (Actress)
Marvin Hamlisch (Composer)
Jonathan Tunick (Composer/Conductor)
Mel Brooks (Actor/Director/Composer)
Mike Nichols (Director/Actor)
Whoopi Goldberg (Actress/Host)
Scott Rudin (Producer)
Robert Lopez (Composer)
Since Lopez was the youngest person to EGOT at 39 years old, and it took him a little over four years to do it again, it's very likely he could end up with a triple EGOT in the next few years.