'Roseanne' Reboot Trailer: The Connors Are Back For More Laughs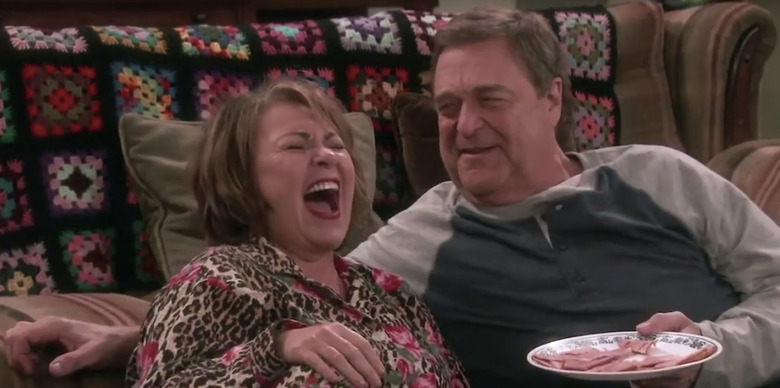 Later this month, America's favorite blue collar family from the '90s is returning for a new round of episodes. The Connors were a groundbreaking sitcom family going through the trials and tribulations of middle class life in ABC's series Roseanne. The series became famous for tackling issues that other sitcoms never touched, and they're about to do it all over again.
A revival of Roseanne is coming to ABC at the end of March, and all of the original cast members are returning for more family shenanigans. Roseanne Barr (Roseanne), John Goodman (Dan), Laurie Metcalf (Jackie), Sara Gilbert (Darlene), Michael Fishman (DJ) and Lecy Goranson (Becky) are all reprising their roles from the original series, and the first Roseanne reboot trailer with new footage from the show debuted during the Oscars last night. Do The Connors still have it?
Watch the Roseanne Reboot Trailer
Right from the get-go, the return of the series has to address how the show ended in May of 1997. That's because in the finale, it was revealed that Dan (John Goodman) died of a heart attack. The entire season dealing with The Connors winning the lottery was nothing more than a fictional creation of Roseanne, who had been dabbling with writing fiction after Dan built her a writing room to call her own.
As you can see, there's a tongue-in-cheek joke about Dan's death as he's awoken from a deep sleep. It appears he's also suffering from sleep apnea since he's wearing that breathing aparatus. Hopefully the resolution of the final season for this reboot will be a little more clever than a quick throwaway joke. Showrunner Bruce Helford said at the Television Critics Association event back in January:
"There's little clues and openings as we go along that explain certain things as much as possible jibe with the original ending there," Helford said. "There was a lot of dream sequence to it because Roseanne was coming out of a dream and that affected certain things. And then Roseanne's writing is acknowledged as well and her work as a writer and how that affected things."
Other Returning Faces
In addition to the series regulars, there are plenty of other familiar faces returning from the original series. For example, Scrubs star Sarah Chalke will have a new role on the series after playing the second iteration of Roseanne's daughter Becky in later seasons of the show. Johnny Galecki will also take some time to return as Darlene's boyfriend David, but just for one episode since he's been much busier with a series regular role on The Big Bang Theory at CBS.
The Roseanne reboot will also bring back Estelle Parsons as Roseanne and Jackie's mother Beverly; Sandra Bernhard as Roseanne's friend Nancy; James Pickens Jr. as Dan's poker-playing friend Chuck; Natatlie West as Roseanne and Jackie's friend Crystal Anderson, who just so happens to be Dan's step-mother; and Adilah Barnes as Roseanne and Jackie's childhood friend Anne Marie Mitchell.
New Characters Coming Too
But there will be new characters entering the series as well. Emma Kenney (Shameless) will be playing Harris, the daughter of Darlene and David. This character actually debuted in the final season of the show when Darlene gave birth prematurely, and now she's a teenager. Apparently Harris is ready to prove that she can do better than her parents and grandparents, eager to move up the socioeconomic ladder.
Other characters include Ames McNamara as David and Darlene's eight-year old son Mark; Jayden Rey as DJ's daughter Mary; and Christopher Lloyd guest starring on an episode as Lou, Beverly's boyfriend.
Roseanne returns to ABC on March 27, 2018 at 8 p.m. ET.