The Nebula Capsule Projector Helped Me Watch Netflix On My Ceiling While Lying In Bed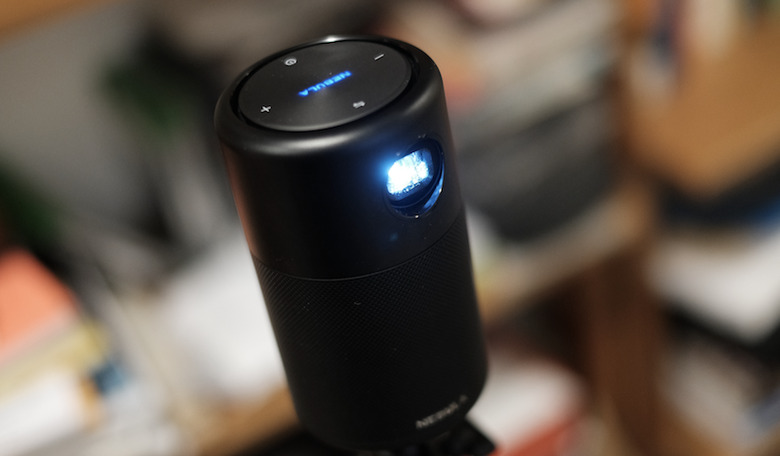 We may receive a commission on purchases made from links.
While a video projector can be the cornerstone of a decent home theater system, it can also be a finicky beast. Projectors kick out a ton of heat and noise, they aren't super portable, and they often require additional augmentation like a device to actually input a video signal, or speakers so that you can actually hear what's happening.
That's why I was so intrigued when I first saw an Indiegogo campaign for Anker's Nebula Capsule Projector last fall. It actually seemed too good to be true. A projector that was the size of a Coke can, with a speaker built in that was running a version of Android with video apps? For under $500? (It retails on Amazon right now for $300). The prospect was so exciting that I threw caution to the wind and backed the campaign.
I wanted to understand if the Nebula Capsule really could do everything it claimed to. More importantly, I wanted to see if it could help me realize a long-time dream: Watching Netflix projected on my ceiling while lying in bed. Keep reading for our full Nebula Capsule Projector review.
Is The Nebula Capsule Projector Worth It?
I got the Nebula Capsule a few weeks ago and have used it several times per week since. In general, the projector lives up to its promise. It really does provide a decent projector experience contained in a small, light unit. The major apps are all present and accounted for and they mostly work, although some functionality is disabled (e.g. you can't log into your YouTube account, but you can view trending videos and search for specific ones).
The included remote is pretty neat and you can also use your smartphone as a remote — just download the Capsule app and connect it to the projector via bluetooth. The sound quality is decent, and more than enough to overcome the fan noise. The projector even allows you to change modes and use it as a bluetooth speaker. Battery life runs around 4-5 hours per charge, although I usually leave mine plugged in with an extra-long mini-USB cable.
There are a few downsides. The resolution of the device is not very impressive (854x480), and you won't have any luck using it in a room that has even minor illumination. Furthermore, a recent software update seems to have affected the functionality of my Netflix app, and made it so my unit had difficulty maintaining the image over a long period of time. It feels like they're still working out the kinks in this technology.
That said, overall, I'd recommend this for anyone looking for a portable projection solution.
Nebula Capsule Projector Review Video
More importantly, I can now watch Netflix projected on the ceiling while lying in bed. All I have to do is put the Nebula onto a GorillaPod, strap it to my headboard, change the orientation of the image in the Settings app, and I'm good to go. This isn't due to laziness (well, it's not just due to laziness). I actually have some back and neck issues that prevent me from sitting up or leaning up in bed. The ability to watch Dark without moving my head is extremely appealing, and I now try to take advantage of it whenever possible.
Saturday night is lying in bed at 845pm and watching Netflix projected on the ceiling until losing consciousness. #BestLife pic.twitter.com/zX1U4otVCy

— David Chen – Please Subscribe to My Newsletter (@davechensky) February 18, 2018
It seems trite to saym but despite all its flaws, the Nebula Capsule feels like a glimpse of the future. I can imagine a day several years from now where these products are much cheaper, even more portable, and easy to take with you everywhere. This is an exciting prospect, as I imagine it will open up new forms and contexts for our entertainment.
The Nebula Capsule projector is available on Amazon.