'House Of Cards' Season 6 Trailer: President Robin Wright Leads The Final Season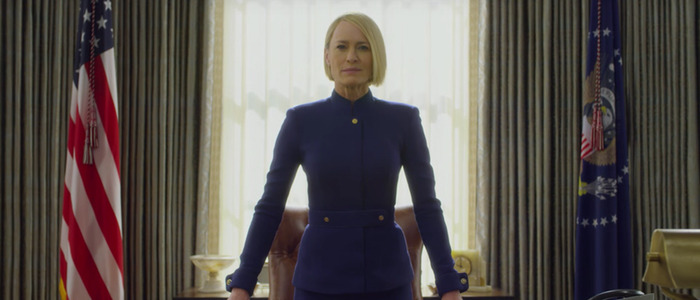 Netflix dropped a trailer for the final season of House of Cards during the Academy Awards, and what an effective trailer it is. Following the scandals surrounding former star Kevin Spacey, co-star Robin Wright has stepped into the lead for the final season. And she's just getting started. Watch the House of Cards season 6 trailer below.
I won't lie: this House of Cards season 6 trailer made me gasp ever-so-slightly. The trailer arrived unexpectedly as the Academy Awards were nearing their end, and signaled the new direction for the series. After a successful run on Netflix, House of Cards found itself at a crossroads in the wake of sexual assault allegations against star Kevin Spacey. Spacey was fired from the series and production on season 6 was briefly shut down. Word came in December 2017 that House of Cards would resume filming its third and final season without Spacey, and now here we are, with a brief-yet-effective teaser elevating Robin Wright to lead.
House of Cards Season 6 Trailer 
I suppose the question one has to ask is this: can House of Cards rise above the toxic atmosphere the prevails due to Spacey's previous involvement? I think it can, mostly because Wright is a phenomenal actress. She's been consistently great on the series since the beginning, and giving her control for the final season is a great idea.
House of Cards ended last season with Spacey's President Frank Underwood resigning his office, enabling his wife and Vice President Claire Underwood to assume power. Before the season concluded, Frank and Claire were at odds. Season 6 will have to address where the show goes from there.
I'm assuming the season will begin with word that Spacey's character is dead – there's almost no other way to handle his character, unless he's meant to be off-screen the entire season. There were unconfirmed rumors last year that Spacey's character would indeed be killed off, enabling Wright's character to take over. From there, Claire will struggle to lead a White House that was already in chaos before she took command.
In addition to Wright, House of Cards season 6 features Michael Kelly, Diane Lane, Greg Kinnear, Jayne Atkinson, Patricia Clarkson, Cody Fern, Constance Zimmer, Derek Cecil, Campbell Scott and Boris McGiver. There's no mention of Neve Campbell in the press release, which suggests her character LeAnn Harvey won't be returning for the final season.
House of Cards season 6 returns to Netflix Fall 2018.