The 10 Greatest LGBTQ Romances In The Movies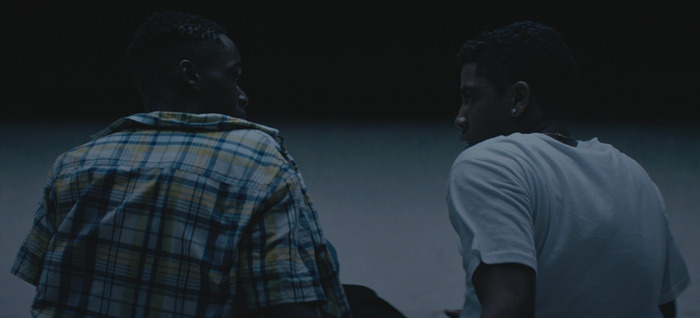 In all the stories that the world of film has to offer, it is surprising how little we see in the way of LGBTQ romances. Sure, there are the obvious examples, but what exactly makes a good love story that celebrates the non-heterosexual individuals out there?
Well, with the release of 20th Century Fox's Love, Simon (which could be a future contender on this list) it is time to take a deeper look at the most beautiful, heart pounding, and memorable silver screen romantic tales that just happen to be more LOGO TV friendly than your typical offerings. These are 10 of the greatest LGBT cinematic romances!
Call Me By Your Name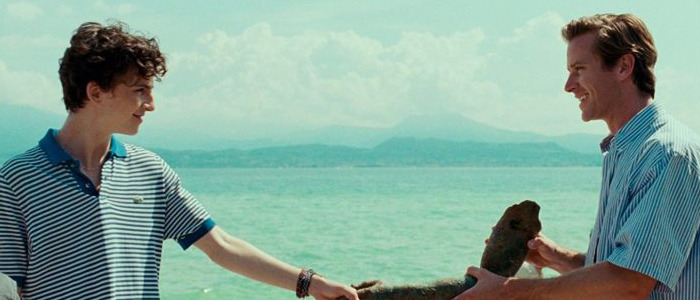 I'm sure it comes by no shock or surprise that this recent Oscar winner would make it to the list, but to dismiss Call Me By Your Name as just a flash in the indie film pan is a disservice to its overall brilliance. Starring new Independent Spirit Award winner Timothee Chalamet and the charming Armie Hammer, Call Me tells the story of Elio and Oliver – a teenage boy with intense piano skills and a 24-year-old archeology major, who just happen to fall in love in the summer of 1983.
Set amidst the beauty of Italy, these two unlikely lovers are infused with an on-screen chemistry that is unmatched in modern cinema. Whether you are one who looks for specifically LGBTQ romances or not, Call Me By Your Name stands out (much like the other films on this list) simply because it is a genuinely good love story at its core. And though some audiences might remember "The Peach Scene" more than the story of this young and emotional couple, this is a movie that should stand shoulder to shoulder with the greatest cinematic romances of all time. And with a sequel on the way, who knows what other adventures and trials are in-store for these two.
Home at the End of the World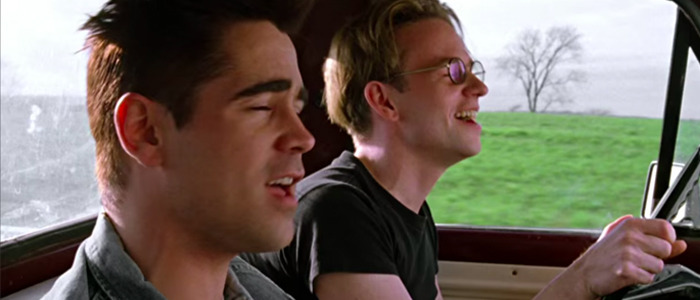 At Home at the End of the World's center is a romance between two friends – Bobby (Colin Farrell) and Johnathan (Dallas Roberts), who meet in school, learn about the struggles of life, and discover their developing sexuality. After a period of silence, the two reconnect in 1980s New York City, where Bobby finds Johnathan living with an eccentric hat maker named Clare (played by Robin Wright.) Through many ups and downs, the three form an unlikely polyamorous family and have a baby in the suburbs of Woodstock, New York. But as time goes on, the strength of Bobby and Johnathan's bond is put to the ultimate test of love and health, in ways they could never have imagined.
Though not received well upon its initial release, Home at the End of the World has seemed to have found a lovely little cult following. Yes, the pacing might have its clunky moments, and some of Michael Cunningham's choices (who adapted his own book into the film's script) are a tad bit bizarre, but those tiny elements do not ultimately take away from what works here, and that is the beautiful performances that Farrell and Roberts offer as the two male leads. You get their complicated relationship, their love for Clare, all the while being placed in a cinematic landscape that accepts their oddities without batting a lash.
This is also one of the few rare representations of a bisexual protagonist who doesn't get harshly treated their sexuality or is told to choose which "side" he is on in terms of his attraction. Bobby's romances with both Clare and Johnathan are treated with cinematic TLC, and Farrell never goes completely overboard with his performance in that aspect, giving a fair and balanced take on a character we still don't see enough in film, let alone pop culture for that matter.
Fried Green Tomatoes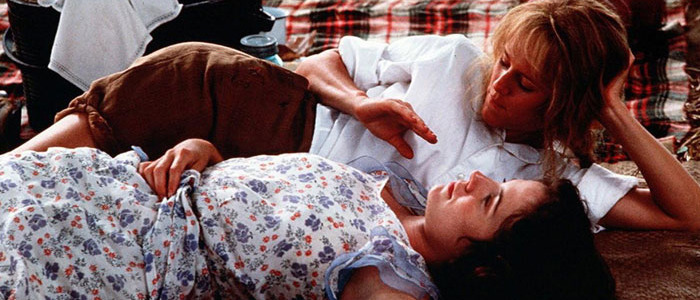 Now some of you are going to arch your eye at me in a curious fashion and ask, "Umm.... why is this movie on your list?" Well, dear readers, let me give you a bit of a personal history lesson. Back in the '90s, my mom was obsessed with a few movies, and one of them just happened to be Fried Green Tomatoes. A story of four powerful women (two best friends from the 1920s and two unlikely friends from the '80s), this is one of the most badass feminist films of all time. And though from the outside the movie might seem like just a typical "chick flick" product of its time, it happens to be one of the most romantically sweeping lesbian tales on the silver screen – even if the film itself likes to act as if it's ignoring its LGBT themes.
In the original novel of Fried Green Tomatoes, there is no denying what the relationship between Idgie and Ruth (played in the film by Mary Stuart Masterson and Mary Louise-Parker, respectively) is all about. Sure, it might not be spelled out in any sort of sentence as to what the two mean to each other, but the community around the characters openly accepts their lifestyle and celebrates it. The movie portrays the relationship in a much more vague fashion, but that didn't stop it winning a GLAAD award for best feature film with lesbian content.
So thank you, Fried Green Tomatoes, for not only being a fantastic movie that represents a good chunk of my childhood, but for later serving as a giant example as to why I have such a huge crush on Mary Stuart Masterson in my adult years.
The Handmaiden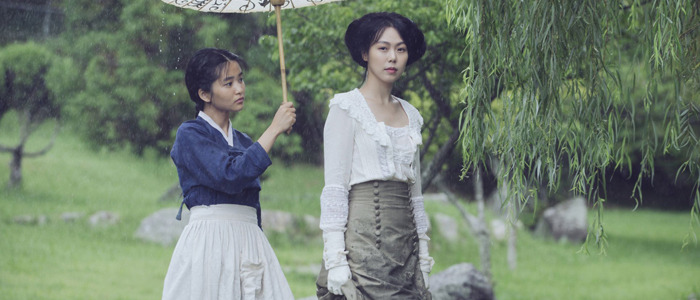 Another recent entry to the list is 2016's The Handmaiden, directed by the electric Park Chan-wook. Based on the thriller novel Fingersmith by Sarah Waters, Chan-wook's take on the tale is set amidst Korea during the Japanese colonial rule. In this version, Sook-hee (Kim Tae-ri) is a orphaned thief given the task of working for a con man who wants to seduce a Japanese heiress and steal her inheritance. Hoping to learn all of Lady Hideko's (Kim Min-hee) secrets, Sook-hee grows a strong bond with the woman, so much so that the two begin to have an intense romantic and sexual relationship, one that is tested by the men in Hideko's life.
What makes The Handmaiden stand out from many other LGBTQ films is how delicate and beautiful the romance between these two is, even set in the gruesome and horrific world of Park Chan-wook's filmography. These are two characters that have been through the worst circumstances imaginable and face male characters who refuse to let them have a happy ending, but true love is something the female protagonists are willing to fight for. Chan-wook and cinematographer Chung-hoon Chung shows us this conflict through the juxtaposition of the female lovers color palette of cream colored lace and various shades of blue, set against the grimy set pieces of charcoal blacks and greys. Sook-hee and Hideko's journey is a thrilling feast for the eyes and emotions, and one that should always be praised.
The Birdcage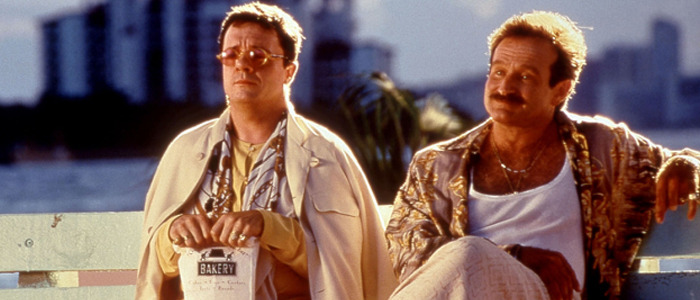 Much like Fried Green Tomatoes, The Birdcage was one of my first cinematic exposures to LGBTQ culture. Sure, it is campy as all hell, sticks to the stereotypes of the past (with a feminine and macho gay couple being the lead pair), but for its time, Birdcage was a great step in the right direction and you can feel the love and attention given to it.
The story is actually a remake of a 1978 French film (and later musical) La Cage Aux Follies, and tells the story of Armand and Albert (played by the late Robin Williams and always hilarious Nathan Lane). This couple runs a nightclub together, in which Armand is the manager and Albert the drag queen star. Much is happy at this Miami paradise, until Armand's son Val (Dan Futterman) tells the two that he's fallen in love with the daughter of a conservative Senator. Now, the couple must scramble to impress Val's fiancée's family, and test their relationship through the struggles of acceptance – comedically, of course.
Despite its aging flaws, The Birdcage makes it onto the list because even through the hardest of moments, Albert and Armand win out with their love in the end, and unlike the original couple from the French film to which this was based, this US remake makes their leads much more heartwarming and sweet natured. The film also made a lot of money and shattered expectations – holding the title for quite sometime as the highest grossing movie with an openly gay lead protagonist. And though more groundbreaking and less stereotypical films would come along after, The Birdcage deserves its fair share of respect.
Carol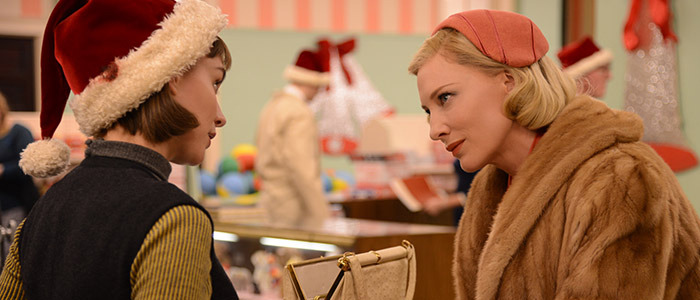 Todd Haynes has become one of the most interesting of filmmakers of the past few decades, and Carol (a film which complements his other work Far From Heaven ever so well) stands as what could be the best film he's ever made. Not only is it a well crafted drama, with stellar performances from all of the leads (especially Rooney Mara and Cate Blanchett), but it lands on this list as being one heck of a romantic drama from beginning to its tear-filled ending.
Based on the novel The Price of Salt by Patricia Highsmith, Carol tells the story of Therese Belivet (Mara) a photographer working at a department store during the Christmas of 1952. One of her customers happens to be Carol Aird (Blanchett), a glamorous woman who is looking for a doll for her daughter. From then on, circumstances bring the women together (during their own personal struggles) and the two begin to a friendship that blossoms into so much more.
Representing similar themes as Call Me By Your Name, Carol takes a much harsher look at life and the unfortunate outcomes of a narrow-thinking society. Therese and Carol's relationship isn't perfect and sadly must be hidden from a world that would never appreciate their love, which makes their moments of romance that much more bittersweet as the film goes on. Still, Carol's take on romantic storytelling leaves an impression of delicate intimacy on its viewers. Those are the kind of stories we (in film and real life) never forget.
Orlando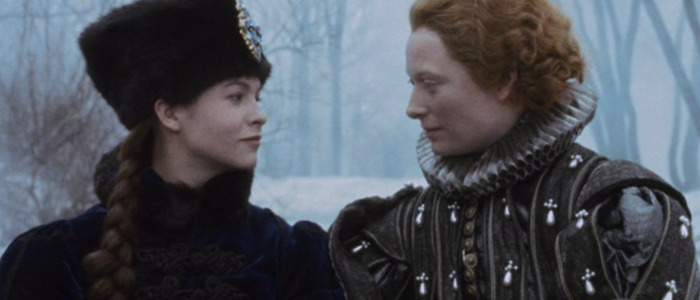 At first glance, Orlando (adapted from the book by Virginia Wolf) might not seem like a movie that speaks to the trials and struggles of being transgender, but it happens to be one of the most progressive movies of its time, and continues to leave an impact on filmmakers and viewers to this day.
Orlando is about the title character, an Elizabethan era nobleman who wakes up as a woman...and also happens to be an immortal. Of course, there are a lot more details, but what is at the center of the story of Orlando is finding what makes them as a person (regardless of gender) feel whole and, in a broader sense, human. Of course, the lead character has to go through quite a bit of heartbreak to discover such an answer, but with director Sally Potter at the helm, all of these elements are handled with care and quite a bit of thought behind them.
The wonderful and stunning Tilda Swinton brings the titular hero to life in ways that no other actor of the '90s (and probably today) could have done so elegantly. Her comedic timing is impeccable, but even more so is the raw emotions you feel in every frame from her performances.
Moonlight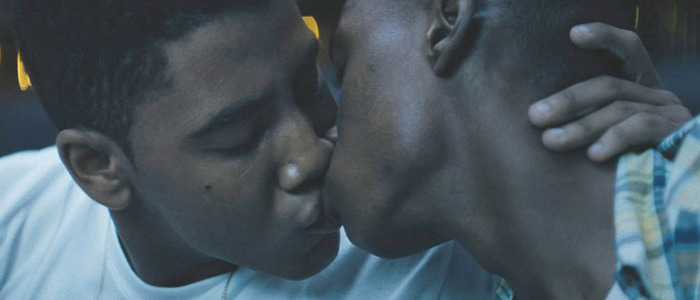 Yeah, there was no way this 2017 Best Picture winner wasn't getting included on this list. Why? Because Moonlight was yet another milestone in the world of LGBTQ filmmaking (and Black filmmaking), being the first movie with an all African American cast (and the first LGBTQ film) to win the coveted Oscar. It was quite the risk for Barry Jenkins to bring such a story to the screen, and it obviously paid off in the greatest of ways.
Moonlight (based on the play In Moonlight Black Boys Look Blue by Tarell Alvin McCraney) tells the three-part story of Chiron, and the moments in which he discovers his sexuality, his identity, and how he's battled throughout his entire life against multiple obstacles (including his drug addicted mother, and the environment in which he was raised). This journey is how we learn of Chiron's homosexuality, an element that is explored in many ways, but mostly through his best friend, Kevin. This character weaves in and out of this story as Chiron's first kiss, first love, and everything in-between, leaving an impact that only matches that of Chiron's admiration for Juan (Mahershala Ali), the only real father figure in his life.
This kind of important romantic tension is why Moonlight needs to be seen. Whether you are gay or not, the imprints of such an individual on your life (romantic or otherwise) can change the course of your destiny more than you could ever have imagined before they entered the picture.
Love is Strange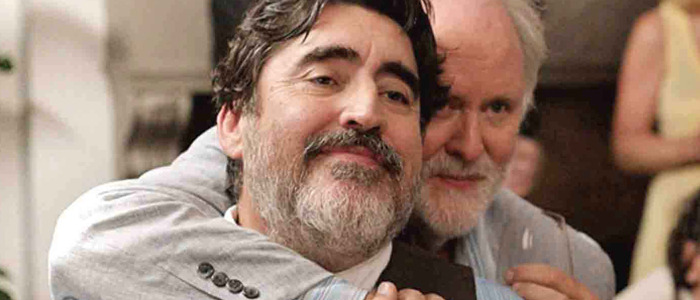 Once in a while, you need a comfy and ultimately fluffy romantic film on lists like these to set a balance, and Love is Strange takes that spot easily...with all the giant cardigan sweaters you could ask for. Starring Alfred Molina and John Lithgow, and directed by Ira Sachs, this tale about a same-sex couple (who have been together for 39 years) finally getting a legal marriage license is filled with a classic film sort of charm, which is needed during the plot's more intense moments of reality rearing its ugly head.
Set in modern-day New York, Ben (Lithgow) and George (Molina) are a gay couple from another time and place. They aren't obsessed with the trends of queer youth or the clubs that have come and gone, but are instead the coziest of couples (gay or otherwise) to exist on the island of Manhattan. But trouble falls upon the happy pair, specifically when George's job as a Catholic music teacher is terminated after word gets out about his marriage. The two then realize they can't support each other financially, and ask for their families to take them in, which by a weird set of circumstances, separates the couple temporarily since space is limited.
This is the point in which Love is Strange becomes more than just a film of about the struggles of a married life, but the changing economic struggles of living in a modern (AKA very expensive) American landscape. The stereotypes of the middle class (especially in Manhattan) weren't the same as when George and Ben first met, and the challenges of living a comfortable life are in a way ever greater than when their marriage wouldn't have been legalized.
Philadelphia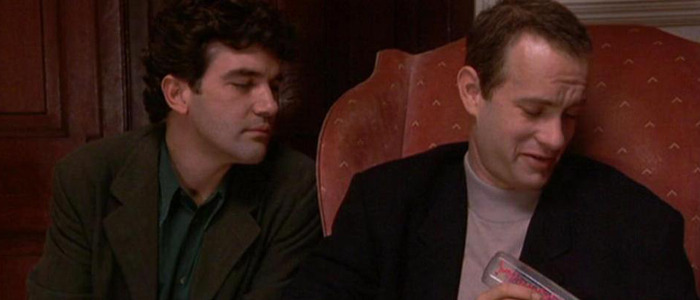 From the genius of casting (at the time) two of America's favorite actors (Tom Hanks and Denzel Washington), to the hard hitting script, there are so many reasons why Philadelphia still remains a modern classic to many who experienced it back in 1993 and to those experiencing it for the first time today. Sure, it might seem bizarre to the youth of 2018 that there was a time in which the majority of the public was fine with an epidemic killing a majority of the gay men in the world, but if any character can prove how hard it was for America to accept LGBTQ culture during the AIDS crisis, it would be Joe Miller (Washington), who only until the end of the film realizes that Andy (Hanks) is a human – not the monster he categorized every gay man to be prior.
But what I remember even more about Philadelphia is it being an example of a cinematic relationship being put to the most incredible of tests. Sure, Andy and Miguel's screen time isn't as big as other couples featured on this list, but the impact their relationship has on the movie and on audiences is worth mentioning. You also can't deny the chemistry between Hanks and Antonio Banderas, who in 1993 were considered both America's sweetheart and one of the sexiest breakout stars of the 90's, respectively. And with this film being one of Banderas' first English roles, the fact that this pairing worked on film at all is a huge triumph.
Yet, at the end of the day, what should be taken away from Philadelphia is the cultural significance it had on so many people's lives, and allowing America to take a moment and examine how they could discuss the AIDS crisis without it becoming a "me vs. them" situation, but rather a fight to save humanity. Because if we didn't have Andy and Miguel's silver screen story (along with so many other important pieces of media that came before and after), movie's like Love, Simon might not even exist in the way they do now.