'Thoroughbreds' Featurette Explains How A Play Evolved Into A Movie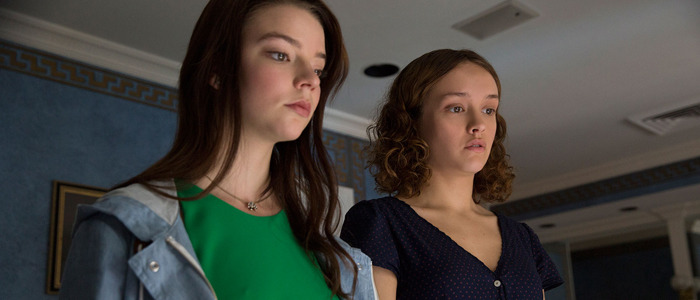 Focus Features' upcoming thriller Thoroughbreds may seem like it's being helmed by a long-time filmmaker with plenty of features under his belt, but it's actually the debut movie for writer/director Cory Finley. We're debuting a brand new Thoroughbreds featurette in which Finley explains how the story morphed from its original form – a stage play – into a wholly cinematic experience.
Throughbreds Featurette
The movie tells the story of two childhood friends, played by Olivia Cooke (Ready Player One, Me and Earl and the Dying Girl) and Anya Taylor-Joy (Split, The Witch, Morgan), who team up with a local hustler (Anton Yelchin, in one of his final roles) and plot to kill Lily's stepdad. House of Cards alum Paul Sparks plays the stepdad, and as anyone who has seen HBO's The Night Of will tell you, Sparks excels at playing creepy relatives.
The film debuted at the 2017 Sundance Film Festival and earned solid reviews on the festival circuit. Collider had nice things to say about the movie in their review:
On all levels, Thoroughbreds is a technical wonder. Finley penned a script driven by snappy dialogue, and it's no surprise to learn that he originally intended the film as a stage play, but he also directs the shit out of this movie, sculpting a world of immaculate, marble-pillared extravagance and high society propriety. Finley builds remarkable tension with little affect, letting the strength of pace, editing and performance do the heavy lifting.
Childhood friends Lily and Amanda reconnect in suburban Connecticut after years of growing apart. Lily has turned into a polished, upper-class teenager, with a fancy boarding school on her transcript and a coveted internship on her resume; Amanda has developed a sharp wit and her own particular attitude, but all in the process of becoming a social outcast. Though they initially seem completely at odds, the pair bond over Lily's contempt for her oppressive stepfather, Mark, and as their friendship grows, they begin to bring out one another's most destructive tendencies. Their ambitions lead them to hire a local hustler, Tim, and take matters into their own hands to set their lives straight.
Indiewire also had high praise for it, describing the film as "like American Psycho meets Heathers as directed by Park Chan-wook":
"Thoroughbred" is a dark and pointed piece of work that depends on the delicacy with which someone can thread the needle between Hitchcockian suspense and capitalistic venom, and Finley — adapting his own play to the screen — demonstrates a cinematic authority that eludes many filmmakers who have worked in the medium for decades. The vast majority of Finley's debut may be confined to Lily's house, but if his snappy and contained script betrays the project's theatrical origins, his direction doesn't.
Thoroughbreds arrives in theaters on March 9, 2018.