Could Snoke Return In 'Star Wars Episode 9'? Andy Serkis Would Be "Very Happy To"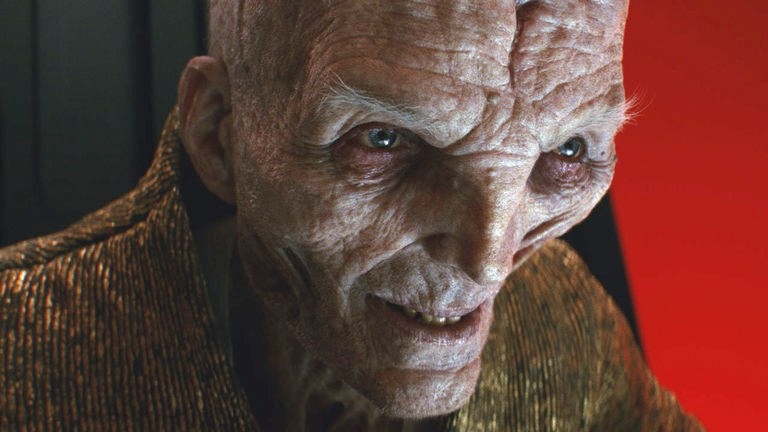 Andy Serkis is happy to stoke the speculation of a Snoke return in Star Wars Episode 9.
The ominous figure at the top of the First Order, Snoke and his mysterious backstory was one of the most anticipated parts of Star Wars: The Last Jedi. But Johnson's radical Star Wars movie left many Snoke fans dissatisfied — and unfortunately, they will likely stay that way. Unless Serkis' many interviews needling for Snoke's return can garner the attention of J.J. Abrams.
Minor spoilers for The Last Jedi follow.
Throughout Force Awakens, Snoke was teased as the heir apparent to the original trilogy's Big Bad, Emperor Palpatine. But in Last Jedi, those expectations were flipped when Kylo Ren unceremoniously kills his master and mentor and assumes rule of the First Order.
It was a grisly end for Snoke, and a pretty finite one at that. But he is the most powerful villain in the Star Wars universe after all — could he make a comeback?
In an interview with The Hollywood Reporter, Serkis weighed in on the possibility of Snoke returning in Star Wars Episode 9:
"It's a great character, and I'd be keen. I know it frustrated a lot of people that Snoke came to such a sticky end so quickly, but I loved that big scene and the relationship between Daisy Ridley's character and Snoke — and where it goes from there and what escalates from that moment, you know the fight that kicks off after that. So I really think it's great in the movie, but yeah, I could quite happily — I'd be very happy to extend Snoke's life for sure."
Is It Even Possible for Snoke to Return?
It'll be difficult to recover from being bisected, but if there's a will, there's a way. Serkis has teased the possibility of a Snoke return before, in an interview with /Film's Ben Pearson.
"Look, it's Star Wars, so you never know how life, or whether life can be come back to or not," Serkis said. Whether you can be resuscitated or brought back. I was shocked... But I do, I know it's left fans feeling like, that they were really searching for something there. And what I'm saying is, who knows?"
For now, it seems like wishful thinking on Serkis' part. And who can blame him? He's an incredibly talented actor who got a chance to be in a Star Wars movie, only to appear for all of 15 minutes. Maybe Abrams can get him another motion-capture role in Episode 9.
Star Wars: The Last Jedi will be available on Digital HD starting March 13, 2018 and will be released on 4K Ultra HD and Blu-ray on March 27, 2018.