'Jurassic World: Fallen Kingdom' Viral Video: Meet The Dinosaur Protection Group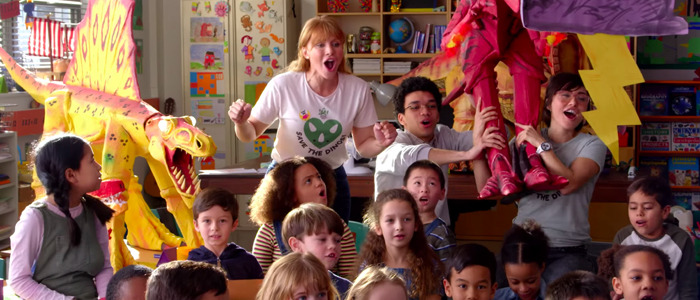 We're inching closer to the release of Jurassic World: Fallen Kingdom, and Universal is slowly unveiling more marketing for the dino-sized sequel. The latest drop from the spigot comes in the form of a piece of viral marketing that introduces us to the Dinosaur Protection Group, an organization founded by Bryce Dallas Howard's character Claire Dearing that aims to – you guessed it – keep dinosaurs safe. Check it out below.
Jurassic World Fallen Kingdom Viral Video
Building on the groundwork they already laid with viral websites and an online campaign, Universal released this video that gives us a look at Claire and her team (Daniella Pineda's Zia Rodriguez and Justice Smith's Franklin Webb) teaching young kids about the wonders of dinosaurs. I wonder if there's a lesson about what to do if a pteranodon snatches you in its jaws and flies away. The nice dinos in the petting zoo aren't the only ones out there, you know.
"What are you going to do to make sure that your children have the same experience that you did?" Claire asks the audience. Considering how things have gone horribly, horribly wrong every time we've visited Jurassic Park or Jurassic World, she's probably not addressing the fictional people who were in the parks during those fateful events.
The video is well produced, and looks very true to life for this type of activist organizations. In fact, it almost looks too real: I'm hoping young kids don't stumble across this, because its straight ahead tone may actually convince them that dinosaurs are real.
Learn More About the Dinosaur Protection Group
For more information, check out DinosaurProtectionGroup.com. There are  character bios, testimonials (including from one fictional person who witnessed the T-rex in San Diego in The Lost World), and articles that explain what's happened to the Isla Nublar since the events of the most recent movie:
"Since the 2015 Jurassic World incident, the last remaining dinosaurs on Nublar have been abandoned, left to fend for themselves while the world decides their fate. The controversial decision by Masrani Global to "do nothing" has caused more harm than good. In the years since, there have been reports of certain species falling back into extinction (like the Metriacanthosaurus and Edmontosaurus), dozens of cases of illegal activity around Nublar, as well as rumors of rogue groups claiming to have access to the cloning technology. It would appear that these animals are still not safe from the intrusion of humans and, with dozens of species still fighting for survival on 30 square miles of landmass, it is time for the tide to turn. It is time for humans to step up and do the right thing."
Here's the movie's official synopsis:
It's been four years since theme park and luxury resort Jurassic World was destroyed by dinosaurs out of containment. Isla Nublar now sits abandoned by humans while the surviving dinosaurs fend for themselves in the jungles.
When the island's dormant volcano begins roaring to life, Owen (Chris Pratt) and Claire (Bryce Dallas Howard) mount a campaign to rescue the remaining dinosaurs from this extinction-level event. Owen is driven to find Blue, his lead raptor who's still missing in the wild, and Claire has grown a respect for these creatures she now makes her mission. Arriving on the unstable island as lava begins raining down, their expedition uncovers a conspiracy that could return our entire planet to a perilous order not seen since prehistoric times.
With all of the wonder, adventure and thrills synonymous with one of the most popular and successful series in cinema history, this all-new motion-picture event sees the return of favorite characters and dinosaurs—along with new breeds more awe-inspiring and terrifying than ever before. Welcome to Jurassic World: Fallen Kingdom.
Jurassic World: Fallen Kingdom arrives in theaters on June 22, 2018.