Former James Franco Student Sues Over 'The Disaster Artist' Screenwriting Credit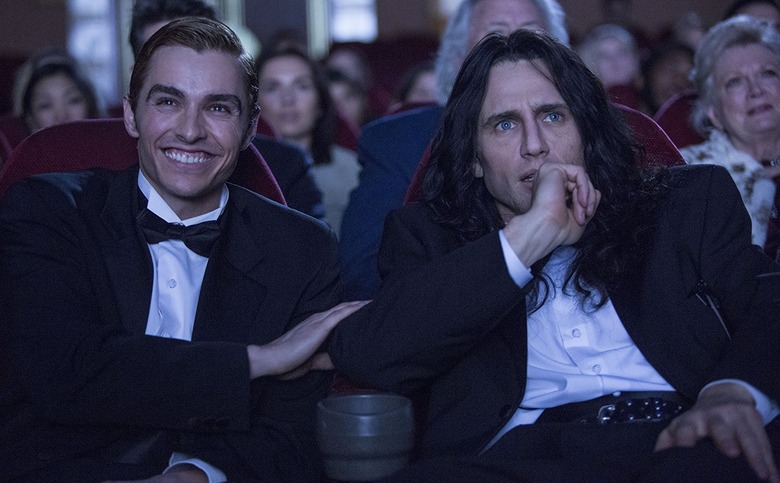 A former student of James Franco is suing the director over The Disaster Artist, claiming that he was duped into selling his screenplay for the movie for just $5,500. The Disaster Artist lawsuit accuses Franco and his production company of failing to live up to their agreement with him as an uncredited writer.
Ryan Moody, who was a student at Franco's UCLA class and later served as Franco's teaching assistant, filed suit with the Los Angeles Superior Court on Wednesday, according to Variety.
In his suit, Moody claims he was tapped by Franco to adapt Greg Sestero and Tom Bissell's book in 2013. However, after he delivered his drafts to Franco's production company, Rabbit Bandini Productions, and Seth Rogen's company, Point Grey Pictures, Moody was told that he would be replaced with more established writers. Franco persuaded Moody to give up his writing credit with the promise that Moody would be listed as an associate producer and get the chance to work on his passion project under Rabbit Bandini, a film titled On the Bus. In an April 2014 email provided in the lawsuit, Franco writes to Moody:
"Hey. Seth and evan [Goldberg] and [James] weaver want you on as an assoc producer and to give notes on every draft. Cool? Get going on 'on the bus,' that's yours."
But, Moody says in his complaint, Franco reneged on both promises. Moody said he never received his associate producer credit on The Disaster Artist and that Rabbit Bandini reduced the budget of On the Bus from the $5-10 million range to just $50,000.
The suit notes that there is at least one major similarity between Moody's original screenplay and the finished film. According to the suit, Moody wrote a dramatic scene in which Tommy Wiseau flees from the premiere of The Room, only to return in triumph when he realizes the audience's derisive laughter comes from joy. The scene doesn't appear in the book.
Moody's suit seeks to rescind the purchase agreement and enforce the unsigned agreement, allowing him to receive the WGA minimum. He also seeks damages and attorneys' fees and costs.
You can see the full lawsuit here.
Franco and The Disaster Artist producers released a statement to Deadline denying Moody's allegations. The statement says:
"To be perfectly clear, all screenplay material created by Scott and Michael in connection with The Disaster Artist was adapted directly from the book written by Tom Bissell and Greg Sestero. Their incredible work, which has been repeatedly recognised by countless organisations, should not be denigrated or defamed in any manner by these specious accusations."
The script by Scott Neustadter and Michael H. Weber has been nominated for an Oscar for Best Adapted Screenplay.