'Book Club' Trailer: Diane Keaton And Jane Fonda Get Inspired By...'Fifty Shades Of Grey'?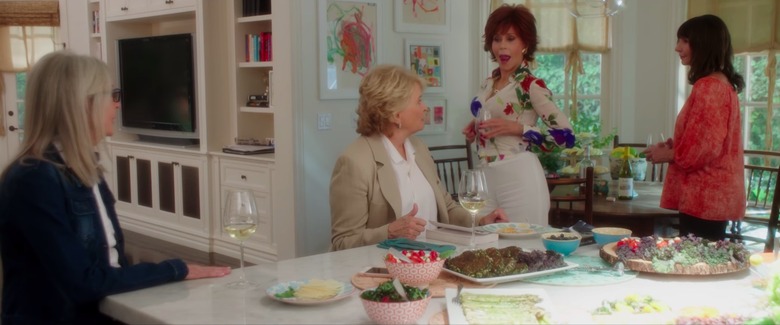 Who knew that Fifty Shades of Grey would inspire more than just seething hot takes and a middling movie trilogy?
The erotic book series by E.L. James was the guilty pleasure for many a real-life book club, and now — astonishingly — it will serve as the springboard for a lusty mom rom-com starring Jane Fonda, Diane Keaton, Candice Bergen, and Mary Steenburgen. The definitive actresses of their generation are starring in the aptly titled Book Club.
Watch the Book Club Trailer
Fonda, Keaton, Bergen, and Steenburgen play four friends who decide to spice up their dull book club with Fifty Shades of Grey.
"We started this club to stimulate our minds," a resistant Bergen argues.
"From what I hear, this book is quite stimulating," Fonda's character winks back.
What follows is a cheeky montage of the four women blushingly reading the book, which inspires them to spice up their own sex lives. Steenburgen tries to introduce a little BDSM into her humdrum life with her husband (Craig T. Nelson). The single Bergen and Keaton try to get back into the dating game, eventually hooking up with Richard Dreyfuss and Andy Garcia, respectively. And Fonda strikes things up again with an old flame, played by none other than Don Johnson, the stately father of Fifty Shades of Grey star Dakota Johnson. How much do you want to bet there will be at least one self-deprecating wink at this connection?
The trailer is a fun romp filled with shenanigans like Steenburgen spiking her husband's drink with too much Viagra, and Keaton emerging from her closet in what she deems a "cute date outfit": a baggy plaid coat that threatens to swallow her whole. Book Club plays like a sexy, saucy Golden Girls, and if you ignore the slightly embarrassing Fifty Shades tie-in, it looks like a pretty fun movie.
Here is the official synopsis for Book Club:
The lives of four 60-something women are altered after reading "50 Shades of Grey" in their book club.
Book Club is directed by Bill Holderman. It hits theaters on May 18, 2018.