New 'Cobra Kai' Teaser: 'The Karate Kid' Bully Takes A Young Kid Under His Wing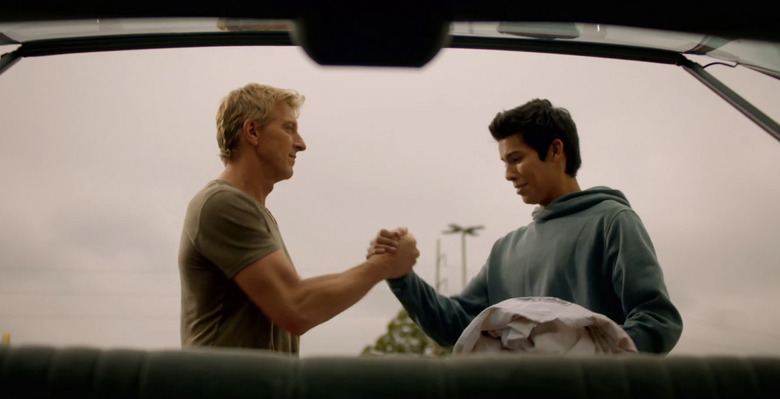 Looking to finally make a splash in the original programming game, YouTube Red has a new series called Cobra Kai that picks up where The Karate Kid left off. Or at least it picks up about 30 years later with a grown-up Johnny Lawrence (William Zabka) trying to turn his life around by reopening the Cobra Kai dojo, the same place he learned karate when he was a teenager.
The first Cobra Kai teaser trailer was all about establishing the premise and teasing the reunion of Johnny Lawrence with The Karate Kid himself, Daniel LaRusso (Ralph Macchio). But this one strictly focuses on Lawrence and the return of the Cobra Kai dojo. There's not a ton of new footage, but it does provide a somewhat better introduction to the teen that Lawrence takes under his wing.
Watch the New Cobra Kai Teaser Trailer
Since there's not a lot of footage to be seen here, we don't get much information about Johnny Lawrence. But we've heard the series finds him as a septic tank cleaner whose life has become rather depressing, so much that he's even mistaken for a homeless person. Apparently, the best way to turn that around is to start teaching karate.
Who Else Is In Cobra Kai?
While the series follows the return of both William Zabka and Ralph Macchio as their grown-up characters from The Karate Kid, there are plenty of new characters to drive the series as well.
Xolo Maridueña plays Miguel, a convenience store clerk who has some difficulty with bullying. Essentially becoming the new Mr. Miyagi, Lawrence hopes to give Miguel's life some focus by making him his apprentice at the Cobra Kai dojo. Of course, that only ends up stirring up more trouble because his bully, a wrestler named Kyler, thinks karate as a joke, and his thug brothers do too.
Lawrence also has a son named Robby (Tanner Buchanan) who is determined to prove himself to be nothing like his father. There's also Lawrence's step-father Sid Weinberg, who will be played by Ed Asner.
Meanwhile, in Daniel LaRusso's life, there's his wife (Courtney Henggeler from Mom), who also happens to be his business partner at a car dealership. And there's Mary Mouser as their daughter, Samantha, who will likely end up becoming yet another karate kid.
Josh Heald (Hot Tub Time Machine) wrote Cobra Kai with Harold & Kumar franchise creators Jon Hurwitz and Hayden Schlossberg, and they're all executive producing the series with Susan Ekins, Will Smith, James Lassiter, and Caleeb Pinkett.
Even though we haven't seen much from the series, this has the potential to be something fun and hopefully doesn't rely on nostalgia alone. But we'll find out when the series hits YouTube Red sometime later this year.