'Harry Potter: Hogwarts Mystery' Trailer: The Role-Playing Mobile Game Looks Absolutely Magical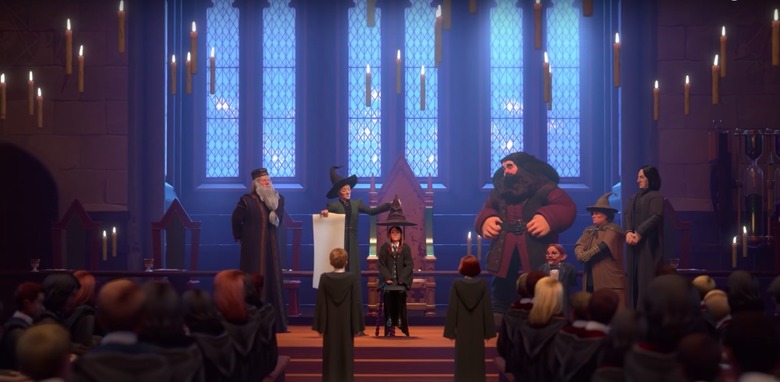 Soon, you will have to make the choice between what is right and what is easy.
Just kidding, your time at Hogwarts won't be quite so dire as that. The Harry Potter: Hogwarts Mystery role-playing video game allows you to become a student at the wizarding school, but without the life-or-death stakes of Harry Potter. Just a normal school year battling killer trees, solving mysteries, and fighting reanimated suits of armor. Casual.
Despite the title, Harry Potter doesn't appear once in the Harry Potter: Hogwarts Mystery mobile game. You will meet familiar supporting characters like Hagrid, Professors Snape, McGonagall, and Dumbledore, but otherwise, the mobile game allows you a year at Hogwarts all your own. Hogwarts Mystery allows players can to create an avatar that gets sorted into a House, attends classes, solves mysteries, and even embarks on "relationship quests" with other students.
Harry Potter Hogwarts Mystery Trailer
The game takes place in the 1980s, but other than young versions of your favorite characters (spot the young, fratty Bill Weasley!), there isn't anything else that ties it to that era. All the better, because the game envelops you completely in the magical world of Hogwarts.
Judging by the trailer, Hogwarts Mystery takes the basic premise of Pottermore and the classic EA games (Make potions! Cast spells! Get sorted!) and expands it into a full-fledged role-playing game. It's more involved than the last trailer, showing us the full potential of the game along with some neat gameplay.
The game will launch under Warner Bros. Interactive Entertainment's Portkey Games, a label dedicated to creating gaming experiences inspired by J.K. Rowling's Wizarding World. Here are some more details of the game, courtesy of the game developer, Jam City:
Harry Potter: Hogwarts Mystery features both large plot arcs and smaller stories such as relationship quests. The game features a new encounter system in which player's decisions in both actions and narrative impact their quests, and how other characters regard and interact with them. These choices will allow Harry Potter fans to create the legacy of the witch or wizard they want to become.
Users can now pre-register on Google Play to be notified when the game launches. Harry Potter: Hogwarts Mystery is slated for release on the App Store and Google Play in spring 2018.