Joel Edgerton Says 'Bright,' An Original Movie, Was Made For The Fans And Not Critics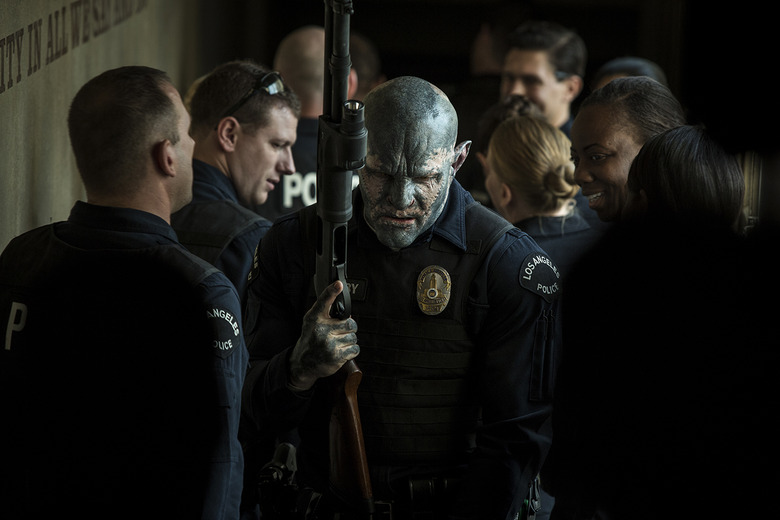 "It's made for the fans, not the critics," is an increasingly common defense that filmmakers and actors are falling back on these days. Now, it's apparently a shield for every middling blockbuster that critics savaged, from superhero movies that do have a built-in audience, to an original Netflix film that...doesn't.
And it's what Bright star Joel Edgerton is sticking by. Bright was David Ayer's sci-fi crime movie for Netflix that broke the streaming service's records for its original films, garnering it a sequel and apparent immunity to negative critical reaction.
More and more, the disparity between critical and audience reactions is something that's being touted as an argument that the critics just don't get it. Netflix's Bright, which boasts a measly 27% on Rotten Tomatoes but has an audience score of 85%, is one of those movies at the center of this furious debate.
In an interview with Collider for his new film Red Sparrow, Edgerton said that this disparity is a sign that critics are threatened by disruptive streaming platforms.
I think there was a little bit of extra critical hate towards it because it's changing the landscape of the movie business, but I think 'Bright' is maybe a movie that needs to be reviewed by public opinion rather than viewed through the highbrow prism of film criticism.
Edgerton went on to emphasize the film's high streaming numbers — which Bright did set records for with 11 million viewers in its first three days. And those numbers speak for themselves, he said:
Whatever it was, it amounted to a $100 million-plus opening weekend. But, I have to be honest, that's considering that people don't have to get in their car, go buy a ticket, go buy the popcorn. There's a certain age where you can roll over and press play on the remote control. But, according to them, the numbers were there.
It seems like Edgerton is conflating movie critics with studio executives, aka people whose job revolves around box office numbers and ratings. People often forget that movie critics are fans too — no one goes into a movie with the intent to hate it.
Despite Edgerton's admirable efforts to defend the film, Netflix doesn't seem to much care about critical opinion. Bright was just the first in an avalanche of critically lambasted films that premiered on the streaming service, and speaks to Netflix's apparent strategy of quantity over quality. And it's working. Netflix's subscriber base is larger than ever, and the supposed disparity between critics and fans seems only to be growing.