VOTD 'Black Panther' Fans Get Surprised By Chadwick Boseman On 'The Tonight Show'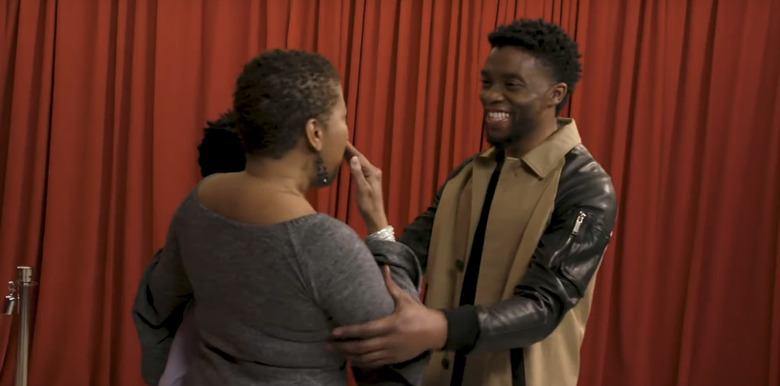 For anyone who hasn't yet gotten a grasp on how important Black Panther is to the black population, this should do the trick.
The Tonight Show Starring Jimmy Fallon brought the film's star Chadwick Boseman onto the show with a wonderful prank. Fans were told to give a testimony of their love  for the Marvel Studios movie by saying what it means to them and thanking the actor specifically for bringing the superhero character to life. Little did they know that Chadwick Boseman was going to pop out and receive their praise personally. See what happens as Chadwick Boseman surprises Black Panther fans on The Tonight Show.
Watch as Chadwick Boseman Surprises Black Panther Fans
The reactions from these surprised fans are absolutely hilarious and delightful. One woman stops to run around the room and ruffle the curtains in excitement. She's even excited to see Jimmy Fallon when he pops out after Boseman makes his surprise appearance. Another gentleman admits to seeing the movie twice in theaters and once on bootleg prompting Boseman to come out by chastising him for seeing the movie illegally (hopefully Disney doesn't try to track him down).
But easily the best part of this movie is when an adolescent boy standing with his mother is completely starstruck when Boseman shows up. The kid can't say a single word and he just stands there smiling and in awe. That's his new hero standing there in front of him, and that's exactly how millions of other kids feel now that they have Black Panther in their lives.
This is why representation is important on the big screen. All of these people are eternally grateful just to have a superhero with his own franchise that stays true to the roots of their ancestors while giving them a contemporary hero to look up to. Plus, let's not forget all of the badass women in this movie played by Danai Gurira, Lupita Nyong'o, and Letitia Wright. It's a shame that all of them couldn't make a surprise appearance as well, but having the king of Wakanda there is isn't anything to scoff at.
Black Panther is currently playing in theaters everywhere, and it has been making major box office bank.
After the death of his father, T'Challa returns home to the African nation of Wakanda to take his rightful place as king. When a powerful enemy suddenly reappears, T'Challa's mettle as king — and as Black Panther — gets tested when he's drawn into a conflict that puts the fate of Wakanda and the e

ntire world at risk. Faced with treachery and danger, the young king must rally his allies and release the full power of Black Panther to defeat his foes and secure the safety of his people.