'Heathers' TV Show Delayed Due To Parkland School Shooting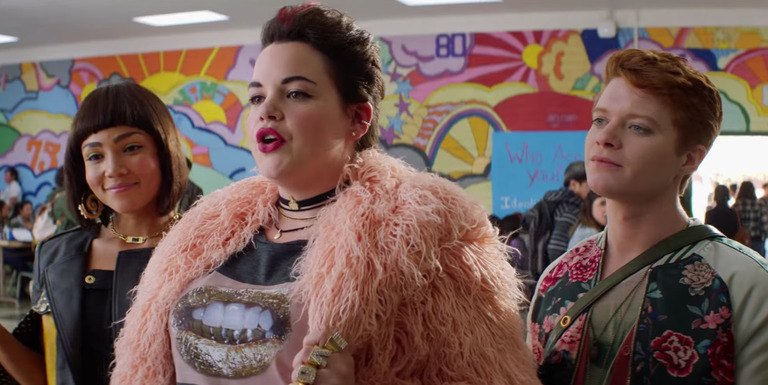 The already-controversial Heathers TV show has been delayed in the wake of the Parkland school shooting. The Paramount Network series was set to debut next week, but will now air at a later, undetermined date.
You'll have to wait a bit longer to see the Heathers TV show, if you want to see it at all. The series, adapted from the1989 cult classic dark comedy starring Winona Ryder and Christian Slater, was set to debut on the Paramount Network on March 7. Now, citing recent tragic events of the Parkland school shooting, Paramount Network has pulled the show – which, if it's anything like the movie, deals with teenagers killing other teenagers – from the schedule.
"Paramount Network's original series Heathers is a satirical comedy that takes creative risks in dealing with many of society's most challenging subjects ranging from personal identity to race and socio-economic status to gun violence," Paramount Network said in a statement (via Variety). "While we stand firmly behind the show, in light of the recent tragic events in Florida and out of respect for the victims, their families and loved ones, we feel the right thing to do is delay the premiere until later this year."
While this is certainly a sensible decision, the Heathers TV show was already up against some controversy. Early reviews of the show have been scathing (it's currently sitting at 20% on Rotten Tomatoes), and many have criticized the show's approach to the material. The original film told a story of a clique of popular high school girls who behave cruelty towards their classmates. The new Heathers TV show, in contrast, seems to flip things, making students normally thought of as outcasts the cruel bullies instead.
"Heathers is a hateful, bigoted exercise in regression hiding behind the guise of dark comedy," writes Birth.Movies.Death. "With nearly 30 years to study and learn from the film, Paramount Network's TV take on Heathers is a one-note disappointment, taking certain surface-level detours from the movie and adding precious little scathing insight of its own," says The Hollywood Reporter. "Heathers skewers teen culture without providing any clear reasoning or critical stance," claims Slant Magazine.
/Film's own (very negative) review will be up tomorrow. Here's an excerpt:
"The Heathers in this version aren't thin and white; they're a self-identified fat girl, a black lesbian, and a genderqueer redhead. The sort of kids that would be punchlines in the original are now making the status quo. It's a concept that might have worked if the show had any sort of insight of the actuality of Millennial youth. Instead, it mocks the social media platforms that are, in reality, galvanizing young people into political action. It mocks body positivity. It mocks queer identification. It sympathies with its new Veronica, a pretty blonde girl who struggles to get into college because she isn't "different" enough. It's about as mind-numbing a concept as you can imagine. The poor white straight kids! It's so hard being them!"
The Paramount Network has yet to announce a new premiere date for the series.