New 'Star Wars Rebels' Series Finale Images And Video Will Help You Count Down To The End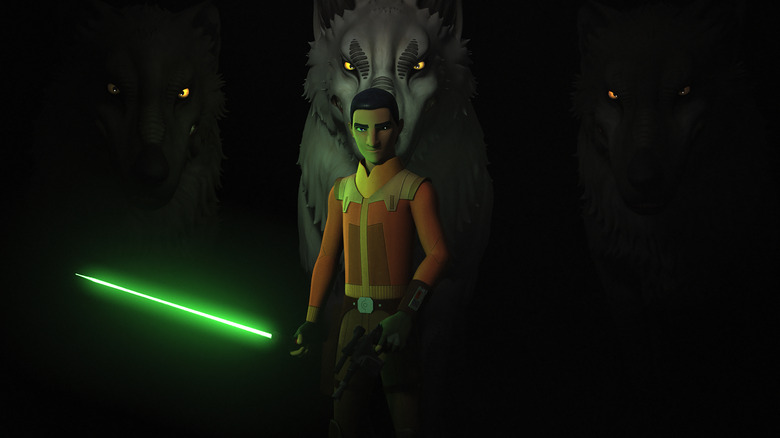 It's time for Star Wars Rebels to end.
The series finale for the beloved Disney XD animated series will air in less than a week, and Lucasfilm and Disney are amping up the marketing machine. A slew of new Star Wars Rebels series finale images and videos have been released ahead of the 90-minute finale, to help you bide your time until you have to say goodbye to the crew of The Ghost.
The two-part finale, comprised of episodes "A Fool's Hope" and "Family Reunion — and Farewell," will air on March 5, but you can see a few new images from the finale now.
Those images come from "A Fool's Hope," which follows Ezra as he rallies together allies to fight Governor Pryce and her Imperial forces.
While we got a glimpse of the action-packed finale in the short trailer yesterday, Star Wars Rebels is not slowing down its advertising train. Along with the new images comes a sizzle reel of new footage from both episodes.
Star Wars Rebels Sizzle Reel
It's an exciting road to the end of Star Wars Rebels, which /Film's Rosie Knight recently argued, "has become a vital part of series canon, expanding the landscape of the films, books, and comics that make up the main Star Wars universe. From the re-introduction of former expanded universe villain Admiral Thrawn to vital new characters like Kanan, Hera, and Ezra, Rebels has always been at the forefront of Disney's plans for the Star Wars galaxy."
And with the game-changing penultimate episode that introduced the concept of time travel to the Star Wars universe, anything is possible in the series finale of Star Wars Rebels. Including that wacky theory that Ezra may become Snoke.
Here is the synopsis for the two episodes that will mark the grand 90-minute finale of Star Wars Rebels.
In "A Fool's Hope" -  Ezra calls in every favor he can to rally together a ragtag group for a seemingly impossible fight against Governor Pryce and her Imperial forces.
In"Family Reunion – and Farewell" – Ezra and team take drastic action to free Loth.
The Star Wars Rebels series finale airs on Monday, March 5, 2018 at 8:30 p.m. ET/PT on Disney XD.