Now Stream This: 'Lincoln,' 'Night Moves,' 'Casino,' 'Night Of The Living Dead' And More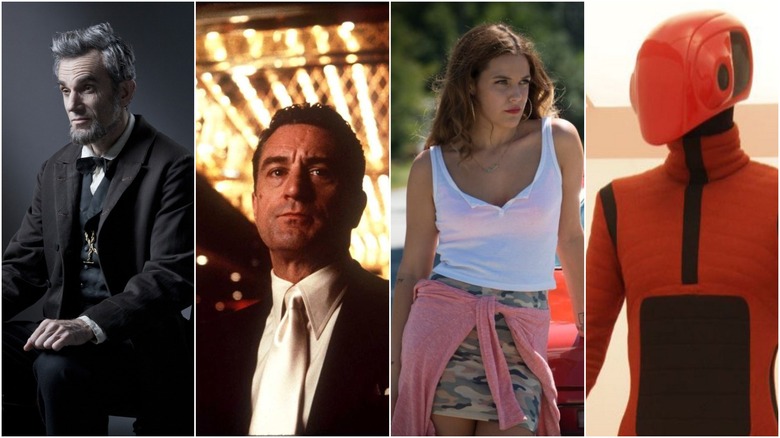 (Welcome to Now Stream This, a column dedicated to the best movies streaming on Netflix, Amazon, Hulu, and every other streaming service out there.) 
The year ticks on. February comes to a close, and March begins. I can think of no better way to kick-off a brand new month than a list of great movies to stream right now (but that may be because I have a limited imagination, who knows). As always, I've scoured the far corners of the streaming world to bring you back these entertaining riches.
In this latest edition of Now Stream This, we have a surprisingly funny history lesson from Steven Spielberg, a horror classic that invented an entirely new genre, a Martin Scorsese crime epic, a '70s mystery movie starring Gene Hackman, a phenomenal new miniseries from Hulu, Steven Soderbergh's return from retirement, a '90s thriller, and more!
These are the best movies streaming right now (and a little TV as well). Let's get streaming.
Now Streaming on Netflix
Release Date: 2012Genre: Historical DramaDirector: Steven SpielbergCast: Daniel Day-Lewis, Sally Field, David Strathairn, Joseph Gordon-Levitt, James Spader, Hal Holbrook and Tommy Lee Jones
Rather than make a standard biopic about Abraham Lincoln, Steven Spielberg instead focuses on the events surrounding Lincoln's push to ratify the 13th Amendment, and thus end slavery and also the Civil War. Far from being a stuffy history lesson, Spielberg's Lincoln is bustling with life, thanks in part to Tony Kushner's peppy and surprisingly funny script. What also makes Lincoln so special is the lead performance from Daniel Day-Lewis, who manages to make the 16th President of the Untied States seem like a flesh and blood human being, and not just some marble bust from the past. Watching Lincoln, which is filled with moments that highlight the grandeur and dignity of the office of the President, here in 2018 is a little depressing – when Day-Lewis' Honest Abe thunders, "I am the President of the United States, clothed with immense power!", it's nearly impossible to not shudder involuntarily when you remember who occupies that office today. Beyond that, though, this is a phenomenal film, and one of Spielberg's best. It's also a who's-who of great character actors: Adam Driver, Bruce McGill, Lee Pace, Michael Stuhlbarg, Walton Goggins, Tim Blake Nelson, John Hawkes and more all pop-up for memorable appearances.
For fans of: The Civil War (the Ken Burns' documentary, not the actual war), Young Mr. Lincoln, Bridge of Spies, jokes about George Washington.
Now Streaming on FilmStruck
Release Date: 1975Genre: MysteryDirector: Arthur PennCast: Gene Hackman, Jennifer Warren, Susan Clark, Melanie Griffith, James Woods.
FilmStruck recently added the entire Warner Archive collection to their platform. There are a ton of new titles to pick from, but one that particularly stands-out is this 1975 flick from Arthur Penn. The great Gene Hackman (please come out of retirement for one last role, Mr. Hackman) plays Harry Moseby, a former football player now working as a private eye. Harry is hired by an aging actress to find her missing daughter, and the case takes Harry down to the Florida Keys. Once there, he finds the daughter rather quickly – she's hiding out with her stepfather. Rather than take the girl back home right away, Harry ends up falling into an affair with Paula, the girlfriend of the stepfather. Things only get more complicated from there. Night Moves is a slow-burn thriller; the type they don't make anymore. Hackman is, as always, fantastic, and he carries almost the entire film on his shoulders. Also, there's a scene where he's lounging in bed following sex making some fondue. The film culminates in a thrilling sequence out at sea, with shocking result.s
For fans of: The Conversation, The Long Goodbye, Blood Simple, post-coitus fondue.
Streaming on Netflix March 1
Release Date: 1995Genre: Long and violent dramaDirector: Martin ScorseseCast: Robert De Niro, Joe Pesci, and Sharon Stone
In 1995, Martin Scorsese reunited with Robert De Niro and Joe Pesci for another crime saga. Casino is vastly different than GoodFellas, though. With Casino, Scorsese ratchets up the excess – because excess is part of the film's theme. Everything is bigger, and louder, in Vegas – including the violence. De Niro is an expert gambler who heads to Las Vegas in the '70s to run a casino. Pesci is his mobbed-up pal who follows him down there, and proceeds to run a ruthless crime empire in the process. Sharon Stone plays the high-roller De Niro falls for, much to his regret. At a whopping 178 minutes, Casino unfolds like a great epic. This is Lawrence of Arabia with neon.
For fans of: Goodfellas, Mean Streets, Bugsy, characters being cut-off mid-voice-over because they've been hit with a baseball bat.
4. Night of the Living Dead
Now Streaming on FilmStruck
Release Date: 1968Genre: HorrorDirector: George A. RomeroCast: Duane Jones, Judith O'Dea, Marilyn Eastman, Karl Hardman, Judith Ridley, Keith Wayne
No one involved with George Romero's low-budget horror movie Night of the Living Dead could've predicted it would change the face of cinema forever. Romero and company thought they were making a drive-in monster movie, only to create a film that would redefine independent cinema, horror movies, and more. With this one film, Romero effectively created an entirely new sub-genre of film: the zombie movie, which lives on to this day. By now, you know the story, right? A group of strangers get trapped in a house during a zombie outbreak, and proceed to go at each other's throats while also trying to save their own necks from the ghouls outside. It's so damn simple, yet Romero milks the concept for everything it's worth, and creates a film with social undertones in the process. FilmStruck's Criterion Channel has added the recent Criterion Collection release of the film, and this is without question the definitive version of the film, remastered to perfection. All of the disc's special features are available to stream as well, so what are you waiting for?
For fans of: Dawn of the Dead, Day of the Dead, Land of the Dead, ghouls galore.
Now Streaming on Hulu
Release Date: 2018Genre: MiniseriesDirector: Alex Gibney and othersCast: Tahar Rahim, Jeff Daniels, Peter Sarsgaard, Wrenn Schmidt, Michael Stuhlbarg, Bill Camp
One of the best new TV shows of 2018 hits Hulu this week. The Looming Tower is adapted from Lawrence Wright's Pulitzer Prize winning book of the same name, and traces the events that lead to the rise of Al-Qaeda and Osama bin Laden. The series tells the story from the point of view of several different groups, most notably the FBI, represented by Jeff Daniels, and the CIA, represented by Peter Sarsgaard. As the series unfolds, it becomes clear that the events of September 11, 2001 might not have happened at all had these warring agencies been able to get on the same page. This is a pulse-pounding, supremely well-acted series that hooks you from the get-go.
For fans of: Zero Dark Thirty, Fair Game, Breach, great character actors wearing great wigs.
Now Streaming on Shudder
Release Date: 1985Genre: Foreign HorrorDirector: Lamberto BavaCast: Urbano Barberini, Natasha HoveyLamberto Bava, son of Mario Bava, helmed this gnarly 1985 horror film, featuring a script co-written by Italian horror master Dario Argento. The premise is...odd. A group of strangers are invited to watch a sneak-peek of a new movie. It ends up being a horror movie about demons, and, wouldn't you know it, members of the audience watching the film find themselves turning into demons. It's wild, and it doesn't really make any sense. But that's okay, because the film is loaded with gory style and charm. Are there '80s punk rockers in this movie? You bet your ass. Are there pastel-colored, baggy fashions? Yes, yes indeed. Are there scense filled with unrealistic blood and goo? Abso-f***ing-loutely. Demons!For fans of: The Beyond, Night of the Demons, Inferno, icky stuff.
Now Streaming on Amazon Prime Video
Release Date: 2017Genre: Heist ComedyDirector: Steven SoderberghCast: Channing Tatum, Adam Driver, Riley Keough, Daniel Craig, Seth MacFarlane, Katie Holmes, Hilary Swank, Katherine Waterston and Sebastian StanSteven Soderbergh came out of semi-retirement to helm this "redneck Ocean's 11," about a team of ne'er do wells who plan a heist during the Coca-Cola 600 race on Memorial Day weekend. Channing Tatum and Adam Driver are a delight as the Logan Brothers who hatch the plan, but the real star of the film is Daniel Craig. Playing tattooed goofball convict safe-cracker Joe Bang, Craig shows off some glorious comedic chops that many might not even be aware of. This isn't what I'd call one of Soderbergh's best films, but it's got a lot of charm, and it's often uproariously funny. There's a lengthy Game of Thrones joke in this film that had me guffawing like a loon.For fans of: Ocean's 11, Ocean's 12, O Brother, Where Art Thou?, Talladega Nights: The Ballad of Ricky Bobby, learning how to build a bomb out of gummy bears.
Now Streaming on Hulu
Release Date: 1997Genre: ThrillerDirector: Jonathan MostowCast: Kurt Russell, J.T. Walsh, and Kathleen Quinlan
Back in 1997, Hollywood was open to making movies like Breakdown – compact little thrillers with a simple premise and no intention of ever launching a franchise. Those were the days! Relive the '90s by checking out this incredibly effective thriller from usually not-so-great director Jonathan Mostow. Kurt Russell and Kathleen Quinlan play a married couple on a road trip. As bad luck (and the film's title) would have it, their car breaks down. Along comes seemingly friendly trucker J.T. Walsh, who offers to give Quinlan's character a ride to call a tow truck while Russell waits with the car. Needless to say, this is a huge mistake. Quinlan disappears, and when Russell finally tracks down Walsh with the cops, Walsh pretends he has no idea what the heck Russell is talking about. A taught, intense thriller follows, filled with unexpected moments. It's a genuinely wonderful film, and was a surprise box office hit when it arrived in theaters.
For fans of: The Vanishing, Joy Ride, Unlawful Entry, paranoia.
9. Beyond the Black Rainbow
Now Streaming on Shudder
Release Date: 2010Genre: Science-Fiction HorrorDirector: Panos CosmatosCast: Michael Rogers, Eva Allan, Scott Hylands, Marilyn Norry, Rondel Reynoldson
A bizarre, hypnotic, gorgeous-looking mind-f***, Beyond the Black Rainbow is like the greatest banned VHS that never existed. Blending Cronenbergian body horror with a little Stephen King and a little LSD, Beyond the Black Rainbow stars Eva Allan as a woman with ESP trying to escape from a secret facility. Her main obstacle is Barry Nyle (Michael Rogers), the head of the facility who just happens to be going insane. I'd recommend not trying to make too much sense of this film, and to rather sit back and take all of its beautiful-yet-disturbing visuals in. You might come away asking yourself, "What the hell was that?", but you won't regret it.
For fans of: Scanners, The Mind's Eye, Firestarter, the color red.
10. Behind the Mask: The Rise of Leslie Vernon
Now Streaming on Amazon Prime Video
Release Date: 2006Genre:  Mockumentary horror-comedyDirector: Scott GlossermanCast: Nathan Baesel, Robert Englund, Angela Goethals, Kate Lang Johnson, Scott Wilson, Zelda RubinsteinScott Glosserman's Behind the Mask: The Rise of Leslie Vernon is a film tailor-made for slasher movie fans. This mockumentary both sends-up slasher movie tropes while also paying loving tribute to them. In the world of Behind the Mask, the killers of horror films – Freddy, Jason, Michael Myers – are all real. A documentary film crew begins following around Lesley (Nathan Baesel), an ordinary young man who wants nothing more than to become a legendary slasher like all of his serial killer heroes. Deftly blending both jokes and scares, Behind the Mask: The Rise of Leslie Vernon has gone on to become a cult classic since its 2006 release, and rightly so.For fans of: Man Bites Dog, What We Do In the Shadows, Scream, Kane Hodder cameos.