Trailer Round-Up: 'On Chesil Beach', 'Pandas', 'Pyewacket', 'Andre The Giant' And More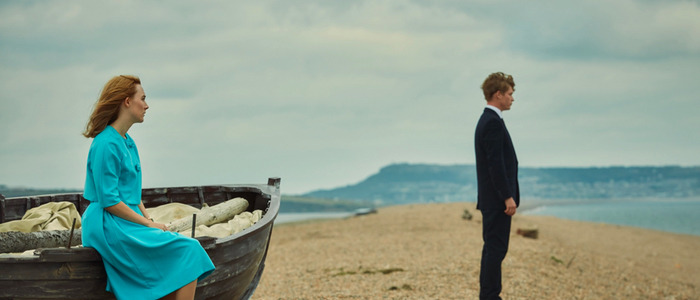 Are you looking for some excitement? Well, nothing, and I mean nothing, is more exciting than a trailer round-up. This latest trailer round-up features a new film featuring Saoirse Ronan; Pandas!; a horror movie that looks good but has a bit of a poor title; a documentary about Andre the Giant; yet another Thoroughbreds trailer; and much more. The trailer round-up awaits you below.
On Chesil Beach
Saoirse Ronan is currently out there on another awards season circuit, telling countless amounts of people how to pronounce her name. Ronan's next film is 
On Chesil Beach
, based on the novella by 
Ian McEwan
. McEwan adapted his own story into a screenplay, and 
Dominic Cooke
directs. The new 
On Chesil Beach
trailer is here, and it looks fine, I suppose. The film played at last year's TIFF, where, despite the presence of the always-great Ronan, it didn't go over very well.
Reviewing the film
for /Film, Marshall Shaffer called it "dead on arrival." Ouch. 
On Chesil Beach
opens 
May 18, 2018
.
Adapted by Ian McEwan from his bestselling novel, the drama centers on a young couple of drastically different backgrounds in the summer of 1962. Following the pair through their idyllic courtship, the film explores sex and the societal pressure that can accompany physical intimacy, leading to an awkward and fateful wedding night. The film stars Saoirse Ronan, Billy Howle, Anne-Marie Duff, Adrian Scarborough, Emily Watson, and Samuel West.
Pandas
Panda watch! Look, I don't know if Pandas will be a great film. But I do know it features a bunch of adorable pandas making adorable sounds and doing adorable stuff. So, honestly, I'm sold. Life is misery, folks! I'll take joy where I can get it. This documentary comes from Warner Bros. and IMAX, and features Kristen Bell providing some very up-beat narration. Also, there's a long shot in this trailer where a panda is just chilling on its back munching on some bamboo. What more do you need? Pandas opens  April 6, 2018.
Pandas are beloved around the world, and now they are coming to the big screen in the IMAX® original film "Pandas," a breathtaking documentary adventure and amazing experience for the whole family narrated by Kristen Bell ("Frozen," TV's "The Good Place").
At Chengdu Panda Base in China, scientists are taking the captive breeding program to the next level and preparing captive-born cubs for the wild. This film follows one such researcher, whose passion leads her to initiate a new technique inspired by a black bear rehabilitator in rural New Hampshire. What starts as a cross-cultural collaboration becomes a life-changing journey for one special panda named Qian Qian. The film, captured with IMAX® cameras, follows Qian Qian on an exciting new adventure into the mountains of Sichuan as she experiences nature for the first time and discovers her wild side.
Pyewacket
Pyewacket is a bad name for a movie. That said, this trailer looks good. It's conflicting! I suppose you should never judge a film by its title, so I'll happily overlook that goofy title and give this indie horror flick a chance. In the film, teenage Leah (Nicole Muñoz) decides to mess around with the occult, which any easily frightened parent will tell you is a bad idea. Pyewacket opens March 23, 2018.
When you're dealing with demons, be careful what you wish for... In this ultra-unsettling occult nightmare, teenage Leah (Nicole Muñoz) finds solace from the recent death of her father—and from her strained relationship with her mother (Laurie Holden)—by dabbling in the dark arts. It all seems like harmless fun at first, until a blow out argument leads Leah to do the unthinkable: put a death curse on her mother. No sooner has the girl performed the ritual than she regrets it. But it may be too late, as an evil presence known as Pyewacket begins to make itself known—and threatens to destroy both mother and daughter. Backcountry director Adam MacDonald builds hair-raising tension around what's both a complex mother-daughter tale and a frightening fable about our darkest desires.
Final Portrait
Very handsome man Armie Hammer co-stars in Final Portrait. Hammer plays an American writer in Paris who is asked to sit for a portrait by a famous artist played by Geoffrey Rush. A friendship develops between the two men, and while Rush's character first tells Hammer's character the portrait will only take a few days, that turns out to not be the case after all. Final Portrait comes from actor and director Stanley Tucci, and opens in select theaters March 23, 2018.
FINAL PORTRAIT is the story of the touching and offbeat friendship between American writer and art-lover James Lord and Alberto Giacometti, as seen through Lord's eyes and revealing unique insight into the beauty, frustration, profundity and sometimes the chaos of the artistic process. Set in 1964, while on a short trip to Paris, Lord is asked by his friend, Giacometti, to sit for a portrait. The process, promises Giacometti, will take only a few days and so Lord agrees — ultimately wondering "how much longer can it go on like this?"
Transit
Christian Petzold's Phoenix was one of the best films of 2015. Petzold is back with Transit, a film that takes a 1944 World War II novel and updates it to modern-day, while still remaining the original novel's plot. Here, the World War II Nazis from the novel have been updated to modern-day fascists. It sounds intriguing, and after Phoenix, I'm interested in watching anything new Petzold makes. Transit doesn't have a U.S. release date, and the trailer above doesn't have subtitles. Still, you can get the feel for the film, and it looks like it might be another winner from the filmmaker.
The German troops are just outside Paris. Georg escapes to Marseille at the last moment. His luggage contains the legacy of a writer named Weidel, who took his own life out of fear of persecution. This legacy comprises a manuscript, some letters and the Mexican Embassy's assurance of a visa. Only those who can prove that they will leave are allowed in this port town, and this means you need an entry permit from a potential host country. Assuming the identity of Weidel, Georg tries to obtain one of the few scarce passages on a ship. Talks between refugees take place in the corridors of his small hotel, the waiting rooms of consulates, and the cafés and bars down at the harbour. Georg befriends Driss, the son of his late comrade Heinz, who died whilst trying to flee. But when he meets the mysterious Marie, his plans change. Transit is based on Anna Seghers' eponymous novel which she wrote in exile. The film is set in contemporary Marseille where these characters from the past move around. And so, refugees from back then meet refugees from today, history meets the present, and all of their stories combine to create one eternal transit space.
The Breaker Upperers
In The Breaker Upperers, "two best friends run a business breaking up couples for cash but when one develops a conscience their friendship unravels." That's a premise with a lot of potential for comedy, and The Breaker Upperers has the added bonus of having very funny person Taika Waititi serving as executive producer. The film comes from written by, directors and stars Jackie van Beek and Madeleine Sami. The Breaker Upperers doesn't have a wide U.S. release date yet, but the film will play at SXSW next month.
 Andre the Giant
Andre the Giant, one of the most famous wrestlers in the history of the medium, and the co-star of The Princess Bride, gets his own documentary from HBO films. The doc, Andre the Giant, chronicles the late wrestler's life, including the ups and downs. I'll confess I know very little about Mr. The Giant beyond the fact that he was a wrestler who occasionally appeared in movies. This doc looks interesting, and also a bit bleak, so I'll give it a chance when it hits HBO April 10, 2018.
Andre the Giant was literally the biggest celebrity in the world. HBO Sports, WWE, and the Bill Simmons Media Group present Andre The Giant, a documentary examining the life and career of one of the most beloved figures in wrestling history.
The Forgiven
Forest Whitaker plays Archbishop Desmond Tutu in The Forgiven, a thriller based on a true story. Whitaker's Archbishop Tutu finds himself summoned to speak with an imprisoned murderer (Eric Bana). I never thought I'd see a thriller featuring Archbishop Desmond Tutu as a character, but this trailer certainly ratchets up the tension and plays up the proposed thriller aspect. The Forgiven opens March 9, 2018.
Academy Award winner Forest Whitaker and Eric Bana deliver riveting performances in this tense thriller based on real events. When Archbishop Desmond Tutu (Whitaker) is appointed to head a nationwide investigation, he's summoned to a maximum-security prison by a notorious murderer seeking clemency (Bana). Inside the brutal prison walls, Tutu is drawn into a dangerous, life-changing battle with the cunning criminal in this captivating film from Oscar  nominated director Roland Joffé.
Thoroughbreds
Thoroughbreds has spent a very long time on the festival circuit, but the official release of this dark comedy is almost at hand. Thoroughbreds stars Anya Taylor-Joy and Olivia Cooke as former childhood friends who reunite, and then proceed to bring out each other's destructive tendencies. This new trailer is very pull-quote heavy, playing up the long list of praise the film has picked-up after playing one film festival after another. Thoroughbreds opens March 9, 2018.
Childhood friends Lily and Amanda reconnect in suburban Connecticut after years of growing apart. Lily has turned into a polished, upper-class teenager, with a fancy boarding school on her transcript and a coveted internship on her resume; Amanda has developed a sharp wit and her own particular attitude, but all in the process of becoming a social outcast. Though they initially seem completely at odds, the pair bond over Lily's contempt for her oppressive stepfather, Mark, and as their friendship grows, they begin to bring out one another's most destructive tendencies. Their ambitions lead them to hire a local hustler, Tim, and take matters into their own hands to set their lives straight.
I Am Evidence
I Am Evidence is a harrowing-looking documentary from HBO that sets out to expose the shocking amount of rape kits that remain untested. The doc features  Mariska Hargitay, whose role on Law and Order: Special Victims Unit inspired her to become an activist for victims of sexual assault. "The rape-kit backlog is just a perfect microcosm for how women and these crimes are regarded, and so through excavating and digging you really see those victim-blaming attitudes," Hargitay said (via Indiewire). "It's painful to watch, but it's something that needs to be uncovered and a big, bright, bright light needs to be shined on it, so that's what we're hoping to do. In this watershed moment we're hoping that the tides turn. " I Am Evidence will debut on HBO April 16, 2018.
I Am Evidence exposes the alarming number of untested rape kits in the United States through a character–driven narrative, bringing much needed attention to the disturbing pattern of how the criminal justice system has historically treated sexual assault survivors.