'Star Wars Rebels' Series Finale Trailer: The End Is Coming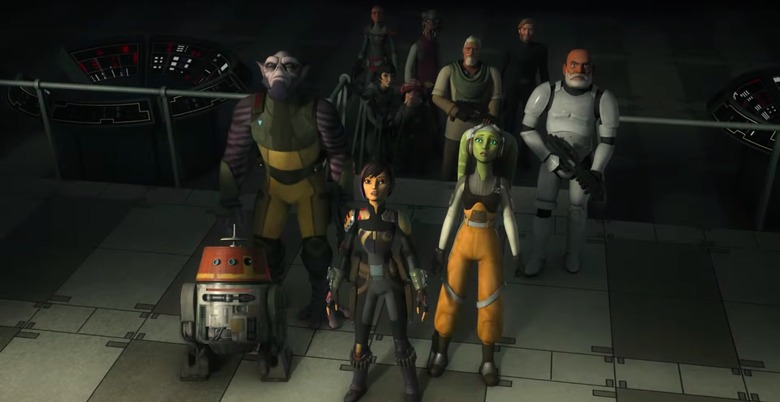 After four seasons of gripping action and heartfelt character drama, Star Wars Rebels is coming to an end. But not without a bang.
The trailer for the Star Wars Rebels series finale, a two-parter that includes "A Fool's Hope" and "Family Reunion – and Farewell," has been released by Disney XD and it shows the crew of the Ghost in dire straits as they go up against the Empire one last time. It's up to Ezra to finally step up to realize his destiny and save the day.
Star Wars Rebels Series Finale Trailer
With the crew of the Ghost reeling from the sacrifice of Kanan Jarrus, it's up to Ezra to live up his mentor's legacy as a Jedi Knight. But will that be enough to defeat the Galactic Empire?
Not only do the Ghost crew face off against their old enemy Grand Admiral Thrawn, but they now must come face-to-face with Emperor Palpatine. The Sith Lord's appearance in the finale of Star Wars Rebels has been teased before, but now his appearance feels more real than ever, with actor Ian McDiarmid voicing the role he originated in the Star Wars live-action films.
Star Wars Rebels is created by Emmy Award-winning executive producer Dave Filoni (Star Wars: The Clone Wars), Academy Award nominee Simon Kinberg (X-Men: Days of Future Past), and Emmy nominee Carrie Beck.
The star-studded voice cast of Star Wars Rebels includes Freddie Prinze Jr. as Kanan, Vanessa Marshall as Hera, Steve Blum as Zeb, Tiya Sircar as Sabine, Taylor Gray as Ezra, Dee Bradley Baker as Captain Rex, David Oyelowo as Kallus, Forest Whitaker as Saw Gerrera, and Lars Mikkelsen as Grand Admiral Thrawn. Warwick Davis joined the cast this season as Rukh, Admiral Thrawn's assassin.
Here is the synopsis for Star Wars Rebels' final season:
The Ghost crew joins the growing Rebel Alliance, struggling to unite against the Galactic Empire. However, when a new Imperial threat arises on Lothal, Ezra leads the crew back to his home world to defeat the oppressive forces of the Empire, under the command of the cunning Grand Admiral Thrawn. Old friends are reunited and new allegiances are forged as the series builds to its epic conclusion.
The Star Wars Rebels series finale, titled "Family Reunion – and Farewell," airs on Monday, March 5, 2018 at 8:30 p.m. on Disney XD.