Antoine Fuqua Is Back In Talks, Again, To Direct 'Scarface' Remake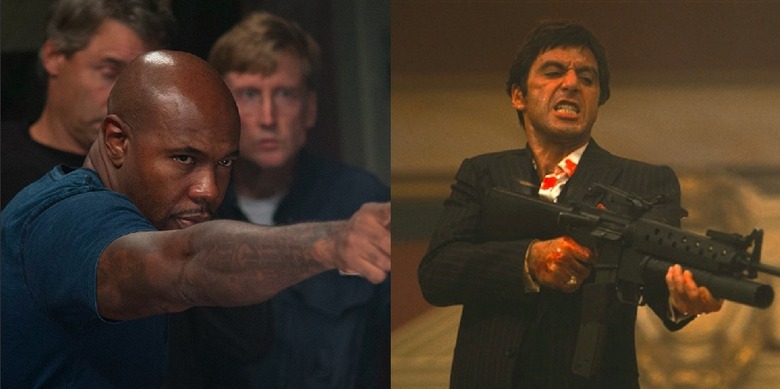 Say hello to your potential new Scarface director. Again.
After initial conversations to direct the gangster movie remake fell through, Antoine Fuqua is back in negotiations to be the Scarface remake director. But as conversations are underway, the remake's release date is once again up in the air.
Fuqua is back in talks with Universal Pictures to direct the Scarface remake, according to Deadline. With the news of renewed negotiations, Universal has dropped Scarface from its planned August 10, 2018 release date. No new release date has yet been announced.
Fuqua was initially set to helm the film back in 2016, and even went as far to discuss his ideas for the reimagining of the classic gangster tale. However, Fuqua was forced to drop out of the project when his schedule became too busy, and the remake courted several other directors and writers, including David Ayer, the Coen brothers, and Patriots Day director Peter Berg.
But now, Fuqua is reportedly back in the running to direct the long-gestating remake.
The film will adapt the classic rags-to-riches crime story, but will be set in contemporary Los Angeles. The most recent script for the film was penned by Joel and Ethan Coen, Jonathan Herman, and Ayer, who wrote Fuqua's Training Day. Rogue One star Diego Luna has been attached to star in the titular role, however, Deadline reports that the changing production timeline could result in potential scheduling conflicts for the star.
The upcoming remake of Scarface would be the third iteration of the gangster story. Paul Muni first played the role in the Howard Hawks pre-Code 1932 film, but people are probably most familiar with Al Pacino's take on the character in the Brian de Palma classic, 1983's Scarface.
Fuqua undoubtedly has a talent for helming gritty action flicks, garnering acclaim and Academy Award nominations for Training Day, and delivering a worthy remake of The Magnificent Seven. And it's clear that Fuqua has a passion for the crime story, returning to it even after the screenplay has been reworked from the version he was originally attached to direct, which was written by Straight Outta Compton's Jonathan Herman. That script dealt with timely issues of immigration, and the corruption of the "American Dream." There's no guarantee that the story has remained the same, but here's what Fuqua had to say about the Scarface remake when he was first attached:
"They all leave these small countries, and it's hard to become Scarface unless you're someone like El Chapo. It's hard to become that guy in America. But what happens when you have a guy who has that same appetite and the doors keep getting shut in his face? What happens when he only knows one thing for sure — which is how to go and take it? I just think being disenfranchised is dangerous. When people are disenfranchised and delusional, it's just dangerous. I think it's more relevant than ever right now, and it can be extremely entertaining. So we'll see."