'A Wrinkle In Time' Early Buzz: A Visually Stunning But Disappointing Adaptation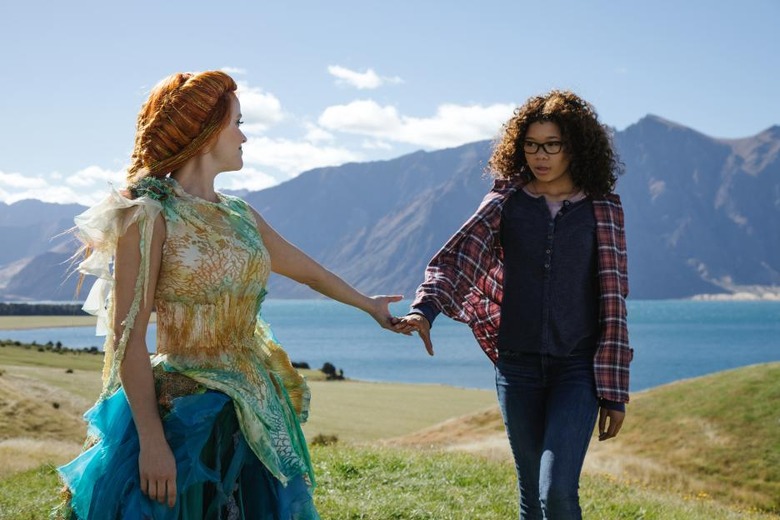 A Wrinkle in Time has a lot of expectations riding on it. It is Ava Duvernay's ambitious passion project, the first non-documentary feature film that the director has tackled since Selma won acclaim and awards love four years ago. It's an adaptation of a beloved children's fantasy novel by Madeleine L'Engle. It has a black lead actress (Storm Reid) in a piece of colorblind casting that differs from the novel. And it's starring some of the biggest names in Hollywood, including Oprah Winfrey, Reese Witherspoon, Mindy Kaling, Gugu Mbatha Raw, Zach Galifianakis, and Chris Pine.
So, does A Wrinkle in Time live up to those expectations? Not quite.
The social media embargo for Duvernay's Disney film has lifted, and reactions are mixed at best and pessimistic at worst. Formal reviews don't drop until March 7 — two days before the film's release — but a few people who attended the premiere shared their opinions on the science-fiction movie.
Several reactions gushed over the lavish visual effects of the film and over the performance by newcomer Storm Reid. But aside from a few critics like Black Girl Nerds founder Jamie Broadnax and Geek Girl Diva, most of the positive reactions to A Wrinkle in Time were notably from figures in the film industry, such as actress Jurnee Smollett-Bell and Queen Sugar showrunner Kat Chandler.
We looked for more reactions to A Wrinkle in Time outside of industry insiders, but critics seemed to have remained largely silent about the film — highly unusual for a buzzy Disney release.
My second viewing of #WrinkleInTime and it was beautiful to watch and witness! The visual effects were groundbreaking and I loved the performances from these actors. Kids and adults will love and appreciate this film!

— Jamie Broadnax (@JamieBroadnax) February 27, 2018
Very emotional after seeing #WrinkleInTime. All I can say is @stormreid is a powerhouse! brought me to tears!! RUN TO SEE THIS FILM!!! Thank you @ava and Disney for giving little girls everywhere a superhero. #BeAWarrior

— jurnee smollett (@jurneesmollett) February 27, 2018
now that the social media embargo is up I can say that #WrinkleinTime has an unexpected beautiful little shout out (or a couple really) to Baldwin. It's not a spoiler but it was a delight.

— shana (@shananaomi) February 27, 2018
A few critics who chimed in were not as kind to this film. Despite the social media embargo lifting about 7 hours ago (at time of publication), critics remained largely silent. But those who were not said the film was clunky and a poor adaptation of a virtually "unfilmable" book.
Since embargo is up...saw A Wrinkle In Time...it's intentions are noble, but this adaptation doesn't work. Movie has a ton of issues. Loved the Sade and Demi Lovato songs tho. Looking forward to what Ava does next.

— Gregory Ellwood – TIFF – The Playlist 🎬 (@TheGregoryE) February 27, 2018
***
Here is the official synopsis for A Wrinkle in Time:
Meg Murry and her little brother, Charles Wallace, have been without their scientist father, Mr. Murry, for five years, ever since he discovered a new planet and used the concept known as a tesseract to travel there. Joined by Meg's classmate Calvin O'Keefe and guided by the three mysterious astral travelers known as Mrs. Whatsit, Mrs. Who and Mrs. Which, the children brave a dangerous journey to a planet that possesses all of the evil in the universe.
A Wrinkle in Time hits theaters on March 9, 2018.