New Blu-Ray Releases: 'Thor: Ragnarok,' 'Coco,' 'Murder On The Orient Express' And More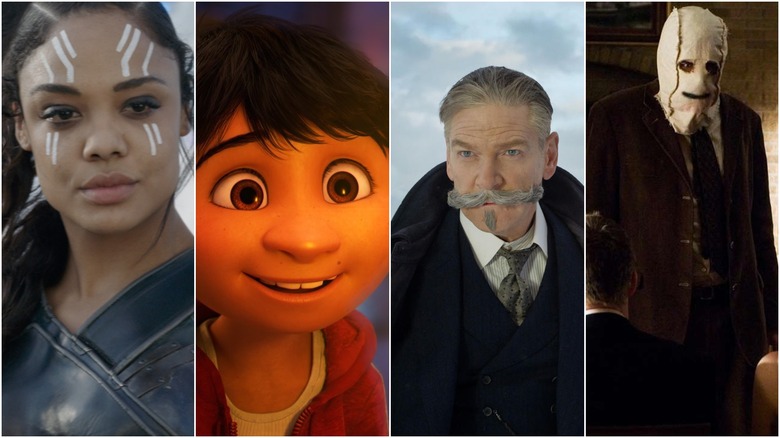 (Welcome to Not Dead Yet, a feature dedicated to new Blu-ray releases and what special features you should be excited about. Because yes, some of us still like to own physical copies of our movies.)
Time for another Blu-ray round-up for all you physical media fiends out there. There's so much good stuff here, folks. Thor: Ragnarok comes home, loaded with hilarious features; the star-studded Murder on the Orient Express also arrives, bringing with it one hell of a mustache; then you have Coco, the latest from Pixar; Gary Oldman's Oscar reel, aka Darkest Hour; the absolutely wonderful The Florida Project; the Stephen King werewolf flick Silver Bullet; and the home invasion horror movie The Strangers.
Here are the new Blu-ray releases you should check out this week, and beyond.
(Available March 6)
The Thor franchise has always been at the bottom-of-the-barrel for the Marvel Cinematic Universe. While the last thing we needed was another Thor sequel, Marvel redeemed the series with a lot of help from Taika Waititi. To be clear: Waititi's Thor: Ragnarok still has a lot of problems that plague the Thor films, but Waititi is so damn funny, and able to get such funny performances from his cast, that it almost doesn't matter.It certainly helps that Waititi has assembled one hell of a cast around Thor mainstays Chris Hemsworth and Tom Hiddleston. Cate Blanchett, Tessa Thompson and, most of all, Jeff Goldblum, shine as the new additions to the series. Blanchett's baddie Hela is woefully underused, but she makes the most of her time. Thompson's hard-drinking, ass-kicking Valkyrie is one of the best new characters in the MCU. And Goldblum's Grandmaster is a wonderful study in lunacy – it's clear that Waititi trained his cameras on Goldblum and let him do whatever the heck he wanted to do, resulting in comic gold.In Thor: Ragnarok, Thor and Loki are out of their element as their long-lost sister Hela returns to Asgard and begins to destroy everything. Thor and Loki end up trapped on the planet Sakaar, where Thor is reunited with the Hulk, AKA Bruce Banner (Mark Ruffalo). After recruiting the reluctant Valkyrie for back-up, Thor and company race back to Asgard to stop Hela once and for all. Along the way, there are lots of jokes.I'm not sure there's much room left for future Thor sequels, but if Ragnarok is to be the end of the line, it's the perfect film to go out on.Special Features to Note:I was one of those weirdos who thought Thor: Ragnarok was good, not great. That said, even if you're so-so on the film, this Blu-ray is a must-own simply because of the wealth of hilarious special features. Taika Waititi is all over the features here, giving interviews and being his usual irreverent self. Even when featurettes slip into standard making-of mode, with cast and crew giving mostly predictable answers to predictable questions, Waititi will pop-up and save the day.The best feature here is Waititi's commentary, which is consistently laugh-out-loud funny. When the filmmaker reveals he did the motion capture for the fire-engulfed god that Thor faces at the start of the film, he adds: "That fire is real; I was on fire when I did the motion capture for this scene." Some other highlights from the commentary:– "I did the motion capture for [Chris Hemsworth] as well; anytime you see him on screen, it's me."– "That hammer really weighs five million pounds; that's how strong Chris Hemsworth is."– "Cate Blanchett was one of the first people to sign onto the film; I tricked her into it. She took one look at me and said, 'Yes, I'll do it, you're my hero.'"– During the scene where Hela destroys Thor's hammer: "This is a very sad scene for people who love tools."In between the jokes, Waititi does take time to talk about the making of the film. For instance: he has a lot to say about how the look of the movie was influenced by the art of Marvel artist Jack Kirby.The second best feature here is "Team Darryl;", a hilarious short in which Jeff Goldblum's Grandmaster moves in with Thor's old roommate Darryl. I could've honestly watched an entire feature-length film based around this premise.
Special Features Include:
Director's Introduction
Deleted/Extended Scenes – Deleted Scenes: The Sorcerer Supreme, Skurge Finds Heimdall & Hulk Chases Thor Through Sakaar and Extended Scenes: Thor Meets the Grandmaster, Stupid Avenger vs. Tiny Avenger & Grandmaster and Topaz
Gag Reel – Watch a collection of goofs, gaffes and pratfalls starring the cast
Exclusive Short/Team Darryl – Fresh off being unseated as the ruler of Sakaar, the Grandmaster makes his way to Earth to start a new life. It's been over a year since Thor left Australia and Darryl has been struggling to pay his rent. Now Darryl needs a new roommate to help make the monthly payments. Unfortunately for Darryl, the Grandmaster was the only one who answered Darryl's "Roommate Needed" ad and with no viable options, the Grandmaster moves in.
Marvel Studios: The First Ten Years – The Evolution of Heroes – Marvel's universe is vast and transcends both time and space. We'll examine the Cinematic Universe as a whole and revisit each of our heroes' current location and their place in the current MCU timeline, as it all leads up to the one culminating event: "Avengers: Infinity War."
Getting in Touch with Your Inner Thor – "Thor: Ragnarok" director Taika Waititi has brought his unique sensibility and sense of humor to the film in a great many ways but it is the evolution of Thor's own sense of humor, which stands out the most in the new film. This piece explores the impact Chris Hemsworth has made on the development of his widely-loved character and celebrates the mighty cast and crew who reveal the fun and hard work that went into assembling Thor's eccentric counterparts.
Unstoppable Women: Hela & Valkyrie – This piece explores the strong female characters in "Thor: Ragnarok," their importance in the MCU, their incredible casting and their epic comic origins.
Finding Korg – A tongue-in-cheek interview with Taika on casting Korg. He describes the difficult search for just the right evolution of the character design, and the nuances of this instantly classic character in the MCU. This conversation will also delve into all the extraordinary visual effects that brought Korg, Sakaar and the worlds of "Thor: Ragnarok" to life.
Sakaar: On the Edge of the Known and Unknown – Sakaar is the collection point for all lost and unloved things. This documentary will answer all known and unknown questions while also exploring the hard work and creativity that went into creating the look and feel of Sakaar. From design inspired by Jack Kirby's classic artwork to the dedication of the visual development team to the awe-inspiring physical and digital production, you will see this distant world come alive.
Journey into Mystery – A deep dive story piece with the writers, director and producer Kevin Feige about the inspirations for "Thor: Ragnarok" within the comics. Most notably, the contest of champions limited series where the Grandmaster pitted our favorite heroes against one another as he does in the film. This piece also further explores Thor's comic book origins and classic arcs through interviews with some of the most important comic creators, such as Walt Simonson and Jack Kirby.
8bit Scenes – Final Bridge Battle + Sakaar Spaceship Battle. Dive into these climactic sequences presented in retro video-game format.
Directors Commentary
Coco
Pixar's latest Coco may not be one of their best films, but it certainly has a lot of charm and heart. 12-year-old Miguel lives in Mexico and dreams of becoming a famous musician, like his hero, the late Ernesto de la Cruz. Unfortunately for Miguel, he lives with a family that has a very strict "no music" policy.A series of misadventures lands Miguel in the super-colorful, skeleton-filled Land of the Dead during Día de Muertos. Miguel's only hope is to track down Ernesto de la Cruz. Along the way, Miguel is aided by Héctor, a dead man in danger of being forgotten forever should no one put his picture up on a ofrenda.To be honest, Coco's plot doesn't make much sense, and it requires more than heavy helping of suspension of disbelief. Once you get beyond that, though, you're treated to a bright, beautiful, often emotional film that also happens to feature a really adorable dog.Even if you try to resist Coco's charms, don't be surprised if you find yourself weeping as the film comes to a close. Damn you, Pixar. You made me cry again.Special Features to Note:The bulk of the special features on the Coco Blu-ray are devoted to the exhausting amount of work that went into creating Pixar's latest. The filmmakers and creators behind the film pop up in several featurettes to discuss how hard they worked to make Coco's Mexican settings and traditions as authentic as possible. They tell us the film was "meant to be a love-letter to Mexico," and that certainly comes through in all their work. The creators of the film went to Mexico for multiple research trips, and nearly everything – from the music to the costumes – is rooted in Mexican tradition,The features I enjoyed the most was "Paths to Pixar", in which members of the crew – artists, writers, designers, etc. –  talk about how they got into filmmaking, and how they came to work for Pixar. This is a rather touching segment, because it has a theme of realizing your dreams, even if they seem impossible.Beyond the featurettes, there are also deleted scenes that reveal the film was originally conceived as a full-blown musical, with songs in almost every scene. The filmmakers realized that it was very hard to craft a musical around a family who shuns music, so most of the songs ended up being scrapped.
Special Features Include:
Deleted Scenes with Introductions – Director Lee Unkrich and co-director Adrian Molina talk about the deleted scenes and the part they played in the development of "Coco."
Di?a de los Muertos – In this musical extravaganza, the colors and excitement of Di?a de los Muertos come to life as we meet superstar Ernesto de la Cruz.
The Way of the Riveras – A musical number in which Abuelita and Miguel prepare their Di?a de los Muertos celebration while she teaches him Rivera family history and traditions.
Celebrity Tour – He?ctor, a Land of the Dead tour bus guide, agrees to help Miguel, revealed to be a living boy, on his quest to find de la Cruz.
The Bus Escape – The Rivera family catches up to Miguel and He?ctor and attempts to halt their mission to find de la Cruz.
Alebrije Attack – Miguel and He?ctor are interrupted on their journey to find de la Cruz by a fierce alebrije.
The Family Fix – After de la Cruz reveals his true colors, the Rivera family puts their dismay aside and comes together to repair the smashed guitar needed to send Miguel home.
To the Bridge – As the Land of the Dead counts down to the end of Di?a de los Muertos, Miguel and de la Cruz come head-to-head on the marigold bridge.
Filmmaker Commentary – Presented by Lee Unkrich (director), Adrian Molina (co-director) and Darla K. Anderson (producer).
The Music of "Coco" – Collaborating with musicians of Mexico and some unique instrumentation, this documentary explores the beautiful fusion of music essential to the story of "Coco."
Paths to Pixar: "Coco" – Explore how the film crew's personal stories resonate with the themes of the movie itself.
Welcome to the Fiesta – A musical exploration of the skeletons that make the Land of the Dead in "Coco" so wondrous and intriguing.
How to Draw a Skeleton – Pixar artist Daniel Arriaga gives a lesson on the quick and easy way to draw skeletons using simple shapes.
A Thousand Pictures a Day – Join the "Coco" crew on an immersive travelogue through Mexico, visiting families, artisans, cemeteries, and small villages during the Día de los Muertos holiday.
Mi Familia – Developing the Riveras was a labor of love that took the cast and crew on a deep dive into the meaning of family.
Land of Our Ancestors – Watch Pixar artists lovingly construct layer upon layer of architecture from many eras of Mexican history, bringing the Land of the Dead to life.
Fashion Through the Ages – The cast of characters in "Coco" are from many different eras, making for some magnificent costuming opportunities.
The Real Guitar – The majestic guitar that spurs Miguel on his journey through the Land of the Dead is a unique creation. Watch as it is initially designed by a Pixar artist and ultimately realized as a real instrument by a master luthier in this poetic ode to craftsmanship.
Dante – How the crew fell in love with the uniquely Mexican breed of Xoloitzcuintli (or "Xolo") dogs that inspired Dante.
How to Make Papel Picado – Join Pixar artist Ana Rami?rez Gonza?lez as we learn how papel picado is made traditionally, and then try your own approach to this beautiful art form.
Un Poco "Coco" – A montage of original animated pieces used to promote "Coco."
"Coco Trailers" – Trailers include "Feeling," "Dante's Lunch," "Destiny," "Journey" and "Belong."
Murder on the Orient Express
Critics didn't care for Kenneth Branagh's star-studded take on Murder on the Orient Express (it's sitting at a "Rotten" 58% on Rotten Tomatoes), but I...liked it? Branagh's film doesn't break new ground, and it often goes to goofy heights, but gosh darn it, this is an entertaining, old-school mystery.Yes, Branagh hams it up big time as master detective Hercule Poirot, but that's part of the fun. Murder strands Poirot on the Orient Express with a cast of suspicious individuals, including Penélope Cruz, Willem Dafoe, Judi Dench, Josh Gad, Derek Jacobi, Leslie Odom Jr., Michelle Pfeiffer, Daisy Ridley, and Johnny Depp. When Depp's character turns up murdered, everyone is a suspect, and only Poirot can crack the case.Full of big, sweeping sequences and long, detailed tracking shots, Murder on the Orient Express feels like an anomaly – a film out of time, completely out of step with 21st-century filmmaking. But again, that's part of the fun. Most critics may have disliked this film, but I'll admit it: I was on board, and I'm more than ready for more movies featuring Branagh's obsessive-compulsive Poirot.Special Features to Note:"Agatha Christie: An Intimate Portrait" examines Orient Express author and Poirot creator Agatha Christie; there's even archival audio of Christie herself, talking about her career. It's an interesting featurette, but there's also a prevailing sense that it exists solely to sell a new batch of Poirot books written by author Sophie Hannah."Let's Talk About Hercule Poirot" provides background into the master detective, and reveals Christie thought she was inventing the character for one book, but that turned into a "whole lifetime" writing about the character.Beyond this, there are featurettes about the making of the film, including the casting, the music, and the overall design of it all. During a featurette that goes into the many characters and cast, Branagh says he wanted the interior lives of the characters to come out through the performances.My favorite tidbit learned from these featurettes: Branagh's shocking confession that it took six months to design the over-the-top mustache he sports as Poirot.
Special Features Include:
Agatha Christie: An Intimate Portrait
Let's Talk About Hercule Poirot
Unusual Suspects (Part One, Two and Three)
The Art of Murder
All Aboard: Filming Murder on the Orient Express
Music of Murder
Deleted Scenes (with and without Commentary by Kenneth Branagh and Michael Green)
Alternate Opening
Newsreel (Extended)
Breakfast
Hotel Check-In
Arasta Bazaar (Extended)
Train Montage
Departure
Poirot Bedtime Rituals (with two alternates)
Pierre Michel Interview
Luggage
Dreamscape
Director commentary by Kenneth Branagh and Michael Green
Theatrical Trailers
Gallery
Darkest Hour
While Darkest Hour succumbs to some predictable biopic trappings, this tale of Winston Churchill's early days as Prime Minister is undeniably watchable. Most of that is due to director Joe Wright's considerable skill at crafting entertaining scenes, and also Gary Oldman's uncanny (albeit a bit heavy-handed) portrayal of Churchill.Unrecognizable buried under pounds of makeup, Oldman pretty much becomes Churchill, and will likely land himself an Oscar for his troubles. Yes, the actor does chew the scenery here and there, but it's fitting for the larger-than-life character he's playing. The simple fact of the matter is, without Oldman, Darkest Hour wouldn't be much. But the film does have Oldman, and is inherently watchable as a result.As I wrote in my theatrical review of the film, "Overall though, the power in Darkest Hour rests on Gary Oldman and how he uses Churchill's words. There's plenty to dislike about Churchill's politics, but the man was a great orator, and Darkest Hour stresses the power of Churchill's words, and words in general, through several key moments. But anyone can go in front of a crowd and deliver words – it's whether or not the speaker believes the words that gives them their power. Oldman understands that, and brings it to his performance."Darkest Hour became the third film from 2017 to feature a plot revolving around Dunkirk, and while it's nowhere near the best of those films, it does show a side of the story the other two movies – Their Finest and Dunkirk – do not. In a sense, you could watch all three films back-to-back and get one complete story.Special Features to Note:There are two featurettes here, both about the making of the film. "Into the Darkest Hour" digs into the historical elements of the film, and how Joe Wright and company recreated them. It's a brief, by-the-book featurette that nonetheless provides insight into the process of the film."Becoming Churchill" is all about Oldman's performance and his transformation into the character. Oldman says he wanted to "Get behind the icon and find the man," and speaks about reading books and looking at archival footage to prepare for the role. Makeup designer Kazuhiro Tsuji is also on hand to discuss Oldman's surprising physical transformation.
Special Features Include:
Into Darkest Hour – A comprehensive overview of all that went into making this epic wartime drama, including how they maintained authenticity in depicting 1940's London.
Gary Oldman: Becoming Churchill – Filmmakers, cast, and crew marvel at Gary Oldman's layered, transformative performance. Oldman himself weighs in on the greatest challenges of portraying a man as iconic and complicated as Winston Churchill.
Feature commentary with Director Joe Wright
The Florida Project
I'm still in a state of shock that the Academy snubbed the delightful, heart-wrenching The Florida Project from a Best Picture nomination this year. But hey, that's the way Hollywood is: stupid. Oh well. Sean Baker's beautiful film may not take home Oscar gold, but I have no doubt it's the type of film that people will still be talking about in years to come.Baker crafts a story set in a run down motel just outside of Disney World. Here, young Moonee (the phenomenal Brooklynn Prince) and her friends run wild, much to the consternation of motel manager Bobby (Willem Dafoe, giving perhaps the best performance of his acclaimed career).The Florida Project may be light on plot, but it's big on emotion, and as the film unfolds from one scenario to the next, it's nearly impossible not to get wrapped up in the tale Baker is telling. The film concludes with one of the most effective and emotionally devastating scenes I've ever seen on screen. The Academy be damned – The Florida Project is the best film of 2017.As I said in my theatrical review of the film, "The final moments of The Florida Project unfold breathlessly – tension is mounting, and there's the queasy sense that something terrible is about to happen, like a destructive storm about to break. And then Baker does something magnificent – he follows Moonee...on one last adventure before the credits roll. Is it real or is it fantasy? It doesn't matter. It's magic. We can all do with a bit more magic in our kingdoms."Special Features to Note:"Under the Rainbow: Making The Florida Project" is not so much a traditional making-of featurette as it is raw behind the scenes footage shot on set. Really, this is what you might call B-Roll, but it's still fun to watch Baker and his cast and crew work together. It also provides some insight as to how Baker got such great performances from his mostly young, inexperienced cast.Beyond this, there are interviews with the cast and crew. Director Sean Baker talks about how he wanted to make a film about children  and how he was inspired by The Little Rascals.Willem Dafoe says what drew him to the film was how much he liked the character – he liked the many relationships he had with the characters. He, too, mentions The Little Rascals.And yes, Brooklynn Prince's interview is adorable. "She's fun non-stop," she says of her character. "She likes to get ice cream, eat waffles...besides the food, she likes to run around." Prince also mentions The Little Rascals, which gives me the sense that everyone got together before their interviews and agreed they'd all mention The Little Rascals.The best feature of the bunch is a charming blooper reel.
Special Features Include:
"Under the Rainbow: Making The Florida Project" Featurette
Bloopers and Outtakes
Cast and Crew Interviews
(Available March 1)
It had been years since I watched Silver Bullet, the Stephen King werewolf movie featuring Gary Busey as a constantly drunken uncle, and I didn't have many fond memories of the film. So it was a pleasant surprise to pop in this new Blu-ray release from Umbrella Entertainment and discover the film really holds up.Yes, some of the werewolf effects are a bit cheap. But beyond that, Silver Bullet is a surprisingly well-crafted '80s horror flick, filled with some enjoyable nasty moments, such as the opening scene where the werewolf literally slaps a man's head off his neck.The late Corey Haim stars as Marty, a young boy who uses a wheelchair. Marty is growing up in your typical small, quiet, Stephen King-esque town. But like all Stephen King towns, this one is in for a world of trouble when a werewolf begins tearing residents to shreds. The beast turns out to be the new Baptist minister, played wonderfully by Twin Peaks actor Everett McGill.Soon, Marty is enlisting the help of his beloved, frequently-intoxicated Uncle Red (a very funny Gary Busey) to do battle against the lycanthrope.Silver Bullet isn't the best '80s werewolf film (that distinction would belong to American Werewolf in London and The Howling), but it's a very entertaining, often genuinely creepy fright flick that has the added bonus of a script penned by King himself.  Special Features to Note:In addition to a commentary track from director Daniel Attias, Umbrella's Silver Bullet Blu-ray comes packed with interviews. Producer Martha De Laurentiis is on hand to talk both about her career and the making of the film. Among the topics she touches on are working with Stephen King, and also revealing that the producers spent "a fortune" trying to get the werewolves in the film to look right.Star Everett McGill is also featured, giving a laid-back, extremely polite and professional interview about the film. McGill reveals he agreed to do the part only if he didn't have to wear the werewolf costume, which producers agreed to. But after some convincing, MgGill relented and slipped into the werewolf costume when needed. McGill also reveals he went method for the part, deliberately alienating himself from the cast and crew to better exploit the threatening outsider nature of his character.The best interviews of the bunch belong to special effects artists Michael McCracken, Jr. and Matthew Mungle, who are instantly hilarious and lively, recounting the shoot with great enthusiasm. They talk about how producer Dino De Laurentiis was not happy with the design of the werewolf, calling it a "were-bear". The duo also recount times effects work went wrong, such as a scene where a fake body they designed to fall down simply would not fall over.  The experience of making the film is summed up nicely with this statement: "It wasn't one of those films where you were like, 'God I gotta get off this fucking thing'; it was fun!"
Special Features Include:
Audio Commentary with Director Daniel Attias
The Wolf Within – An Interview with Actor Everett McGillFull Moon Fever – Interviews with Special Effects Artists Michael McCracken, Jr. and Matthew Mungle
Dino's Angel Takes on Lycanthropy: Martha De Laurentis Remembers SILVER BULLET (25 minutes)
Isolated Score Selections and Audio Interview with Composer Jay Chattaway
Theatrical trailer (HD)
TV Spot
Radio Spot
Still Gallery
(Available March 6)
The Strangers is one of the better early 2000's horror films, filled with one shocking moment after the next and some genuinely unnerving sequences. Director Bryan Bertino understands how to create tension and use silence to make things extra scary, and some of The Strangers' best scenes involve perfectly silent scenes instead of your standard horror movie jump-scare.Liv Tyler and Scott Speedman are a couple going through an extremely rough patch. The pair end up at a family cabin, and their troubles only increase when a trio of masked killers attempt to invade the home and end their lives.On the surface, this is an extremely simple film: a couple is terrorized in their home. That's it. But The Strangers has a surprisingly efficient script. Early scenes, establishing the relationship woes between Tyler and Speedman's characters, makes them seem extra real and not like your usual disposable horror movie leads. As a result, when the killers start attacking, we genuinely care about what happens.The end result is a fantastic, low-frills but high-thrills horror movie. And hey, the sequel is coming out soon, too!Special Features to Note:Most of the features on this must-have new Blu-ray from Scream Factory are ported over from an earlier DVD release, but there are also new interviews – two with two of the actors who played the masked killers, and one with director Bryan Bertino.Bertino reveals the film actually sat on a shelf for almost a year after it was done – not exactly a sign of confidence (even though it all turned out well in the end). Bertino also talks about how the film's premise was inspired by an actual event in his childhood. Someone knocked on the door of his family home very late one night, and asked to speak to someone who didn't even live there. Bertino turned the stranger away, only to learn the next day that several houses in the neighborhood had been robbed. Spooky.The filmmaker also confesses that he was fired from the project at one point after turning the script in, and other directors – including Justin Lin and Mark Romanek – were considered before Bertino returned to take over director duties.
Special Features Include:Disc One:
NEW HD Master Of The Theatrical Cut Taken From The 2K Digital Intermediate
The Element Of Terror – Interviews With The Cast And Crew
Strangers At The Door – Interviews With Writer/Director Bryan Bertino And The Cast
Deleted Scenes
TV Spots
Theatrical Trailer
Disc Two:
NEW HD Master Of The Unrated Cut Taken From The 2K Digital Intermediate
NEW Defining Moments – An Interview With Writer/Director Bryan Bertino
NEW All The Right Moves – An Interview With Actor Kip Weeks (Man In The Mask)
NEW Brains And Brawn – An Interview With Actress Laura Margolis (Pin Up Girl)
NEW Deep Cuts – An Interview With Editor Kevin Greutert
Still Gallery