'Captain Marvel' Casts Gemma Chan As Kree Spy Minn-Erva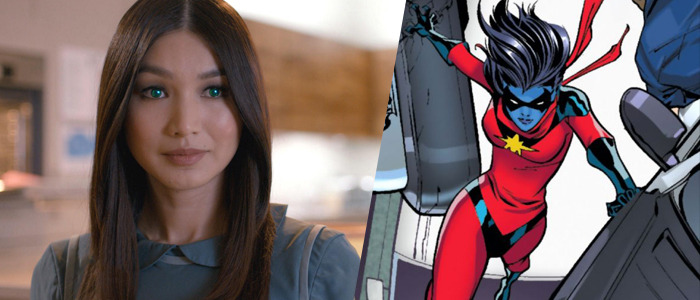 Marvel Studios' Captain Marvel has always felt like one of those movies the studio would make eventually, but now that we're just over a year away from its release, it's finally starting to feel like a real project. Brie Larson is suiting up as the title character in Marvel's first movie with a female lead, and now another woman has joined the team. Actress Gemma Chan (Humans) will play Minn-Erva, who, in the comics, is a Kree scientist and spy. Learn about the Captain Marvel Minn-Erva casting below.
Deadline reports that Gemma Chan will play Minn-Erva in Captain Marvel, joining a solid cast that already includes Larson, Samuel L. Jackson, Ben Mendelsohn, Jude Law, and DeWanda Wise. Chan is no stranger to franchise filmmaking: she played Madam Ya Zhou in Fantastic Beasts and Where to Find Them, portrayed the villainous Quintessa in Transformers: The Last Knight, and had a small role in Jack Ryan: Shadow Recruit. Later this year, she'll appear in Mary Queen of Scots alongside Margot Robbie and in Crazy Rich Asians, one of /Film's most anticipated films of the year.
That's "Doctor Minerva" To You
In the comics, "Minn-Erva" also goes by the name "Doctor Minerva." She's a member of the Kree, an alien race that plays a significant role in the Marvel comics universe and was featured on screen in Guardians of the Galaxy. (Lee Pace's Ronan the Accuser was a member of the Kree.) In one storyline, Doctor Minerva takes a human hostage to convince the original Captain Marvel (Mar-Vell, who's being played by Jude Law in the movie) to assist her in breeding a genetically superior race of Kree.
Will directors Anna Boden and Ryan Fleck include that particular storyline in their movie? It's still too early to say. We know the film will be set in the 1990s (back when Sam Jackson's Nick Fury had both eyes), and we've seen an early look at Larson in her superhero costume. It's a strong guess that a good chunk of the movie takes place on an Air Force base since Larson has publicly visited one and a base is an integral location in the comics – it's where Larson's Carol Danvers first gets her powers and becomes the new Captain Marvel.
As for Chan, she's spoken out about diversity on screen in the past, telling Vice, "You are more likely to see an alien in a Hollywood film than an Asian woman." Now she'll get to do both...assuming she's not buried under pounds of makeup.
Captain Marvel began filming earlier this month, and the movie is slated to arrive in theaters on March 8, 2019.