'Black Panther' Inspires Disney To Fund A STEM Center In Oakland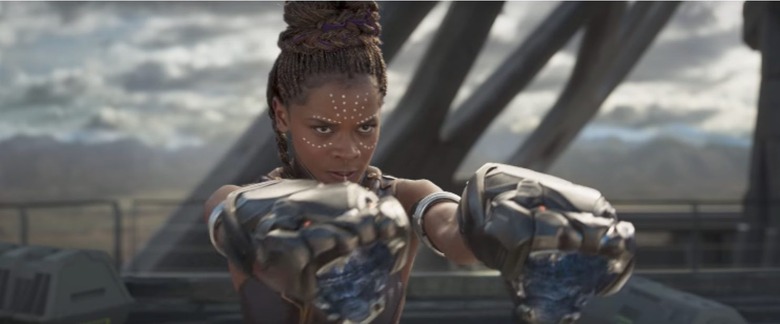 Black Panther has broken record after box office record, which means that Wakanda is rich in more than just Vibranium. Now, Disney is putting that $700 million global box office haul to good use.
Echoing a touching final scene at the end of Black Panther, Disney is donating $1 million to the Boys & Girls Clubs of America to help expand its youth STEM (Science, Technology, Engineering and Math) programs. That includes a new STEM Center of Innovation that's being opened in Oakland, California.
"Wakanda will no longer watch from the shadows," Chadwick Boseman's T'Challa says during an inspiring post-credits scene in Black Panther. "We must find a way to look after one another, as if we were one single tribe."
Toward the end of Black Panther, we see Wakanda opening up its borders after decades of isolation. And poignantly, one of the country's first ways of looking after the rest of its "tribe" is by opening up a new science outreach facility in Oakland, the hometown of Wakanda's greatest mistake and victim, Erik Killmonger (Michael B Jordan) — and of director Ryan Coogler. Now, life imitates art.
Bob Iger, Chairman and Chief Executive Officer of the Walt Disney Company said in a statement following the conglomerate's $1 million donation to the BGCA:
"Marvel Studios' Black Panther is a masterpiece of movie making and has become an instant cultural phenomenon, sparking discussion, inspiring people young and old, and breaking down age-old industry myth. It is thrilling to see how inspired young audiences were by the spectacular technology in the film, so it's fitting that we show our appreciation by helping advance STEM programs for youth, especially in underserved areas of the country, to give them the knowledge and tools to build the future they want."
Disney's $1 million donation will help open up a STEM Center in Oakland, as well as centers in Atlanta, GA; Baltimore, MD; Chicago, IL; Harlem, NY; Hartford, CT; Memphis, TN; New Orleans, LA; Orlando, FL; Philadelphia, PA; Washington, DC; and Watts, CA.
This isn't the first time that charity has been linked to Black Panther. Celebrities and charities raised hundreds of thousands of dollars to fund free screenings of the Marvel movie for underprivileged African-American kids across America. The movie's very existence was inspiring to young black children, who get to see themselves represented for the first time on screen.
And that inspiration continues in the movie itself. Letitia Wright's Princess Shuri is a teen genius (and canonically the smartest person on Earth) who proved to be a worthy role model for young aspiring scientists. T'Challa places her in charge of the science initiative in Oakland, and her breakout role likely plays a huge part in Disney's donation to BGCA.