'Mute' Review Round-Up: A 'Blade Runner' Wannabe With Nothing To Say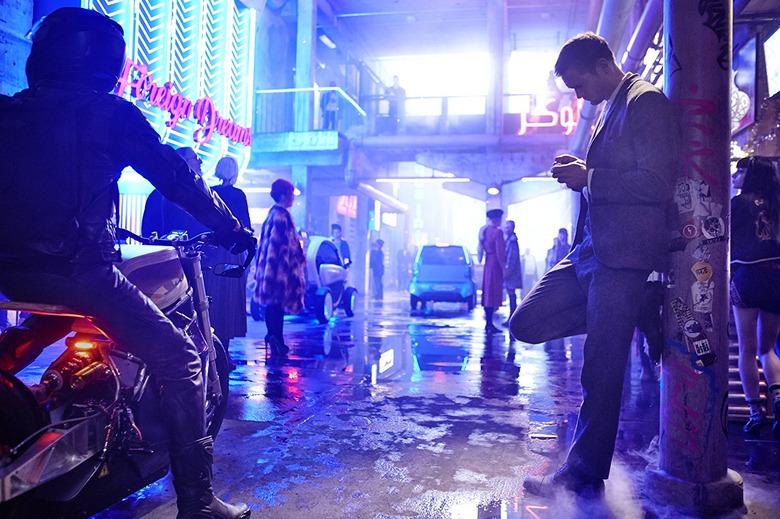 In 2009, Moon put Duncan Jones on the map as one of the most intriguing and promising new directors working today. His debut gave Jones the opportunity to direct the modestly received, star-studded Source Code and the poorly received, big-budget Warcraft. But most importantly, it paved the way for a passion project 16 years in the making. And thanks to Netflix, Jones finally was able to bring that passion project to life. But was it worth the wait?
Probably not, according to the early reviews of Mute, Jones' glossy cyberpunk science-fiction film starring Alexander Skarsgard as a mute bartender waging war against future city gangsters.
See what critics have to say about Mute.
/Film's own review of Mute by Chris Evangelista expressed hope that Mute would "rekindle his cinematic magic" that he first showed so brilliantly in Moon, but the Netflix film ended up being a major disappointment:
Instead, Mute is a disjointed, nihilistic trip through two distinct storylines that have almost nothing to do with each other – save for the fact that they inhabit the same world. Slowly, these storylines do come together, but never in a convincing or satisfying way. The end result is a frustrating film – one loaded with potential, but lacking distinction.
Variety's Peter DeBruge admits that Mute is "undeniably dazzling in the visual department" but is ultimately a "gimmicky" noir with nothing interesting to say:
What is Jones trying to say with "Mute"? One would hardly guess this over-congested generic exercise came from the same mind as the elegant, almost minimalistic "Moon," which made far better use of all that went unsaid. As if intending to untangle its many mixed messages, "Mute" ends with a dedication to the director's recently deceased mom and dad, Marion Skene and David Jones (better known to the world as David Bowie), although its feelings on the subject of parenthood seem deeply conflicted, at best. And yet, Netflix has given Jones the resources to express himself. If only he had done the same for his characters.
IGN's David Griffin praised Paul Rudd and Justin Theroux's performances, but not much else:
Netflix's Mute, which is now available to stream, fails to achieve the heights of other successful entries within the cyberpunk genre like Ridley Scott's Blade Runner and even newcomer Altered Carbon. It's like someone went to a science fiction-themed Home Depot, picked out all the right parts but forgot the most important piece back in aisle 7...the story.
Sheri Linden with The Hollywood Reporter says that Mute "feels like a hyperactive pop culture pastiche," relying on homages to Blade Runner and other great sci-fi:
The feature, which is receiving a limited theatrical platform as it begins streaming, is richly imagined and well played by a cast of movie stars and intriguing new faces. But the handsomely downbeat atmospherics overwhelm its themes of love, parenthood, crime and punishment. The narrative doesn't quite coalesce, and except for a few late-in-the-proceedings moments, it doesn't deliver the grim, indelible shivers of the best noir.
Charles Bramesco at The Guardian said that Netflix and Jones' collaboration was yet another strike against the streaming service:
The problem is that Jones couldn't hold up his end of the bargain and deliver work that rates even as "interesting", the last salvation of flagrantly terrible movies. (How his post-digital Berlin could simultaneously look so expensive and so cheap may be a Zen riddle.) Instead, most disappointingly of all, the volleys of overindulgent inertia mount a convincing argument against the very class of release in sadly short supply at present. Watching Jones passively bob in the deep end of his imagination, a viewer longs for the compulsory baseline competence of the big studios – anything but the blandness masquerading as future cult bait.
The Playlist's Andrew Crump calls Mute "a Blade Runner wannabe" that "lacks mystery and depth":
There's an unearned confidence in "Mute." It's the kind of self-satisfied movie that, rather than fixing its POV and structural issues, believe it's clever to put a winky reference to "Moon" in its background because it's 2018 and everything has to exist in a shared universe for no reason other than Marvel did it. If nothing else "Mute" takes better aim at exploring deep, personal, human experiences as shaped by a tech-centric culture, making it of a piece with the expectations Jones set for himself in 2009. But this has the unintended consequence of making overt connections to "Moon" all the more puzzling. Blame Hollywood's franchise industrial complex. Blame Jones, too. For a movie that's been stuck in development hell for ages, "Mute" feels like a first draft begging for focus.
Michael Rougeau at GameSpot calls Mute a "plodding, meandering" movie along with a litany of equally derisive adjectives:
From Netflix and Duncan Jones, Mute promised to be a return to form for the director and writer behind the instant classic 2009 mind-bender Moon (and, more recently, the less-than-classic Warcraft). Unfortunately, Mute is a cartoonish, nonsensical, tone-deaf, derivative, outrageously awful nightmare without a single redeeming quality. Bummer, right?
Den of Geek's Ryan Lambie says Mute is a "left-field, downbeat thriller":
After the humanistic, deeply moving Moon and the taut thrills of Jones' second film, Source Code, Mute comes as something of a surprise. Not just because of the grotesque proclivities of its characters, but also because its pacing feels so slack. Nevertheless, Jones is a talented director, and there are moments when the brilliance of Moon shines through: the opening shot has an eerie, dreamlike quality; his more intimate moments with Leo showcase his ability to impart a sense of character with lighting and cinematography rather than words. Clint Mansell's low-key, murmuring score also matches the story's increasingly dour mood.
The Wrap's Robert Abele calls Mute a "dull, empty exercise in crime, grime and slime," adding:
A dystopian noir that's neither especially compelling as a vision of the future nor as a hard-bitten mystery — much less as a quirky tale about a woodwork-gifted anti-hero — its arrival on Netflix this weekend suggests that the content-ravenous streaming service add a new category alongside "Trending Now" and "See It Again": "Because You Literally Have Nothing Else To Watch."
Film School Rejects' Rob Hunter praised Mute's visual style and tone, saying that Jones "succeeds better than most in dropping both characters and audiences into a believable and fully-functioning world." Hunter had the most positive review, adding:
Mute is ultimately an engaging story about human foibles and frailties set against a sci-fi backdrop, and while it may not be something to shout about it's definitely worth an indoor-voiced cheer.
***
Mute is currently available to stream on Netflix.