Watch: 30-Minute 'Annihilation' Interview With Director Alex Garland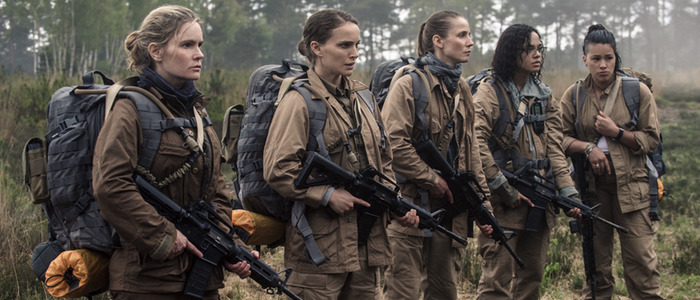 Writer/director Alex Garland's new movie Annihilation was /Film's most anticipated movie of 2018, and it didn't disappoint. It's an intense, unsettling piece of science fiction that will send you staggering out of the theater holding your mushy brain in your hands.
Now, a new 30-minute Annihilation interview with Garland sheds some light on the making of the movie, including his appreciation for subversion, the most surprising element about writing, and more.
The Annihilation Interview
I had a chance to speak with Garland and actor Oscar Isaac at the movie's press junket (you can read that whole chat right here), but Garland sat down with the folks at Google for a 30-minute video interview that works as a nice companion piece to our conversation. He's a notoriously prickly personality, and there are moments in this video where you can see that he's visibly annoyed or uninterested in the interviewer's question. (Check out the section starting at 2:15 for a prime example.) But overall, this is a solid conversation with a lot of insights into the production, including the unorthodox set design, the elements actress Natalie Portman brought to her lead role, and much more.
How Annihilation is Different From The Book
I haven't read Jeff VanderMeer's novel yet, but I've heard a lot of people talk about how Garland's movie diverges pretty severely from the book. The writer/director's reasoning for that is fascinating:
"I thought, 'Reading this book is like a dream, so what I'm going to do is I'm going to adapt it like a dream. I'm not going to re-read the book. I'm going to adapt it from my memory of the book'...In some places, it will correlate very closely, and in other places it won't. It's a dream response to a dream book."
I remember Jon Favreau talking about using a similar process when making his adaptation of The Jungle Book. It's kind of a cool approach, allowing for the big, memorable moments from the book to make it through, but also enough room for an artist to put his or her own spin on a story and make it personal and different enough that it's not just a slavish recreation of what's already on the page.
Here's the film's official synopsis:
Lena, a biologist and former soldier, joins a mission to uncover what happened to her husband inside Area X – a sinister and mysterious phenomenon that is expanding across the American coastline. Once inside, the expedition discovers a world of mutated landscape and creatures, as dangerous as it is beautiful, that threatens both their lives and their sanity.
Annihilation arrives in theaters in the United States today. It'll be available on Netflix in the rest of the world.