'Star Wars: Episode 9' Has A Script; J.J. Abrams To Begin Filming In July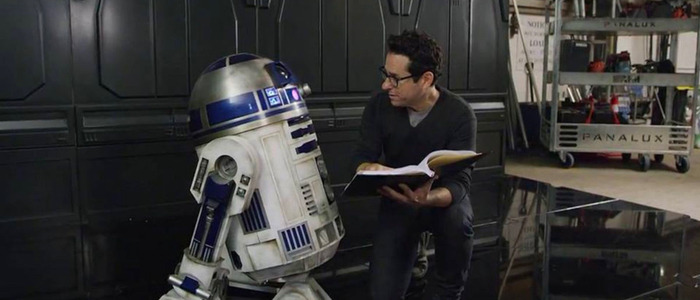 Star Wars: Episode 9 saw its share of behind-the-scenes troubles since Jurassic World director Colin Trevorrow was first attached to direct the science-fiction sequel in 2015. The production was shaken after the unexpected passing of star Carrie Fisher and suffered script issues, leading Wonder writer Jack Thorne to join the team in late 2017. A few months later, Trevorrow departed the project.
Star Wars: The Force Awakens director J.J. Abrams quickly boarded the sequel a few days later, and since then, work on Episode 9 has kicked into high gear. And finally, we have a Star Wars: Episode 9 filming date confirmed.
The Episode 9 script has gone through a lot. Multiple drafts from Trevorrow and his writing partner Derek Connolly were scrapped, and Thorne was brought in for rewrites. But Abrams decided to start from scratch, writing the Episode 9 script alongside Argo screenwriter Chris Terrio.
Now, the complete script is finally in place, which means only one thing: it's time to shoot. During a recent episode of The Late Show with Stephen Colbert, Abrams confirmed that filming for Episode 9 will begin this summer.
"We have a script, which is a big deal for me. It starts shooting end of July ... Sometimes having the script in advance is something I haven't always been lucky enough to have ... But I'm writing this with Chris Terrio, who's a genius, and I'm having a great time."
No hints on what the script will entail, though we know it will remain loyal to the pieces that Rian Johnson left scattered at the end of the stunning Star Wars: The Last Jedi, despite some backlash. Episode 9 has the unenviable task of picking up those pieces, and wrapping up the character arcs for Rey, Finn, Poe, Kylo Ren, and Rose, while possibly putting a capper on the Skywalker saga.
Daisy Ridley, John Boyega, Adam Driver, Oscar Isaac and more are set to return for the sequel.
The still-untitled Star Wars: Episode 9 is set to hit theaters on December 20, 2019. But you can return to that galaxy far, far away much sooner with Solo: A Star Wars Story on May 25, 2018.